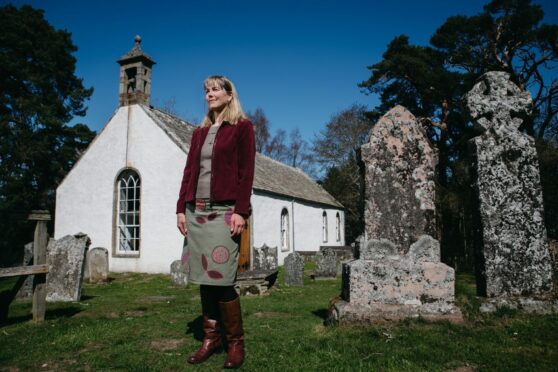 Swirling in history, alive with magical bells and cursed swans, it stands on a knoll at the end of a loch, a little white church with many names and far more myths.
I first saw St Adamnan's from below, when our family on a visit to the Highlands, pulled up our canoe on the shore of Loch Insh, Badenoch. We walked all around it, peering through the clear windows before discovering to our delight that the door was open and, inside, discovered a haven of peace and, little did I know then, a literary inspiration.
Inside, hanging on a wall, there was an ancient hand bell that legend maintains belonged to St Adamnan himself, although, as most bells of the 7th Century were iron and this one is bronze, it is more likely a replica of the original and certainly over a thousand years old.
Whatever it lacks in original metal, however, it makes up for in myth. One story holds that not only did Adamnan use it to call the people, but that he also took it down to the shore of Loch Insh to summon the swans to worship.
Sure enough, a very old name for the kirk is the Chapel of the Swans. The bell was also believed to have healing power and because of this, so the story goes, was stolen and carried to the Palace of Scone, where the Scottish kings were crowned on the Stone of Destiny.
From the moment it was snatched from the chapel at Insh, however, the tone of its special ring began to change. With a mournful, homesick tolling, it cried out Tom Eònan, Tom Eònan, and no sooner was it set down in Scone, than the magic bell took to the air and flew all the way home again, wailing the whole way.
Unfortunately, its powers of healing did not extend to itself, for when someone dropped it on the old cobble floor of the church it broke, losing a chip and its voice. Legend has it, that if anyone tries to ring the bell, a curse will befall them and a family member will die within the year.
For a time, therefore, it was chained up out of reach to prevent such a tragedy. Now it simply hangs on a bar in an alcove of the church under a brace of flame and flanked by doves. Doves are a symbol of peace and of the Holy Spirit and the Gaelic name for St Columba, was Colmcille, which means the dove.
Not long after, we moved to the village of Kincraig, joined the congregation and gradually learned more of its fascinating story. Fifteen years later, the old kirk found its way into my recent novel, Of Stone and Sky, set here in the upper strath of the Spey.
During the Roman occupation of Britain, the peoples living in this area were the Picts, one of the Celtic tribes with a powerful upper class of priests, known as druids. We don't know for certain what the Celts believed or what form their religious practice took, but there is evidence of both human sacrifice and the use of hilltops for rituals.
It is quite probable that where the church sits today was one of their ceremonial sites. But its name, Tom Eunan, points to a later page in its story. In Gaelic, "tom" means "mound" or "hillock" and Eunan or Eònan is the shorter version of Adamnan, so it means: "Adamnan's Mount". But who was Adamnan?
Born around 625 in Ireland, he came to Scotland as a monk, ultimately becoming the 9th Abbot of Iona. A man of rare scholarship for his time, he wrote the first biography of Columba, the original founder of the Abbey and credited with establishing Christianity in northern Scotland.
Written in Latin a century after Columba's death, Vita Columbae is considered our most important text from early-medieval Scotland, giving not just a portrait of the saint but also of the Picts and the early Gaelic monks. Adamnan died in 704, was made a saint himself and at some point, the church at Insh was dedicated to him and called St Adamnan's, or St Eunan's.
Several of the churches in Badenoch, however, including this one, believe their roots could go right back to Columba and his first disciples in the 6th Century. A strong tradition holds that the site of Insh Church is one of the few places in Scotland where Christian worship has been held without break since that time.
The old Irish myth of the Swan Children of Lir has also been linked to the church. In the story, the widowed King Lir marries his wicked sister-in-law who is jealous of his four children.
Turning them to swans, she banishes them from Ireland, but grants them beautiful voices. They fly across the sea to winter in a faraway land, finding refuge on a loch where they are summoned to worship by a monk's bell. Loch Insh lays claim to the honour, of course, but not without some basis.
Not only do we have Adamnan's bell, but this is also one of the chief wintering sites in Scotland of whooper swans. Unlike the mutes, who are here year round, they have a distinctive, mournful cry.
Today a Church of Scotland with an active congregation, its common name is Insh Church, Kincraig. Up until Covid, it was never locked and has always welcomed strangers. One of these, who left his name in the visitors' book, was John Lennon. Perhaps, for a moment, he imagined there was a heaven.
Of Stone and Sky, by Merryn Glover, Polygon.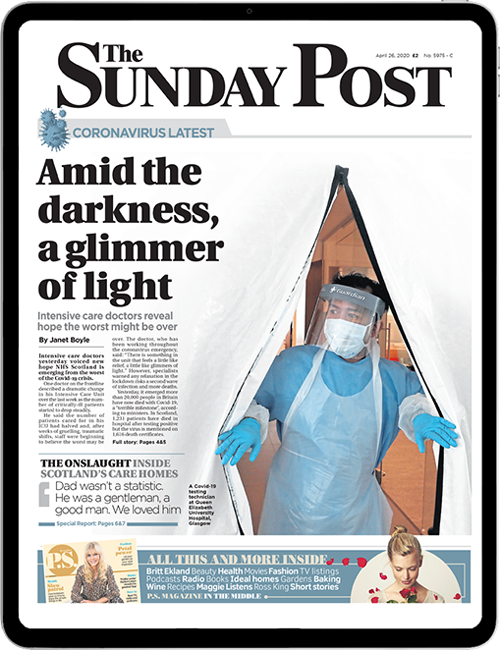 Enjoy the convenience of having The Sunday Post delivered as a digital ePaper straight to your smartphone, tablet or computer.
Subscribe for only £5.49 a month and enjoy all the benefits of the printed paper as a digital replica.
Subscribe