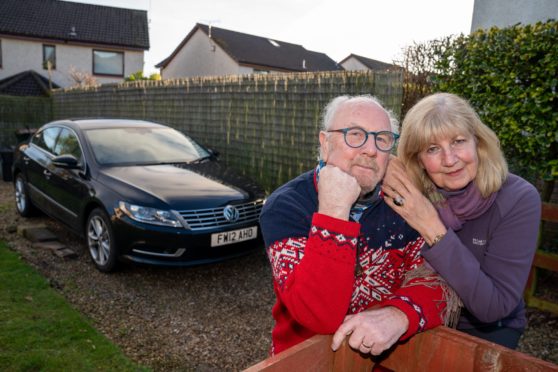 What started out as a straightforward trade-in agreement has descended into a bitter standoff between a car owner and a dealership.
Rab Lawson had enjoyed driving his Mercedes C220 for a number of years but decided it was time for a change.
In mid-December, the retired plasterer, from Crieff, Perthshire, traded in his vehicle for a similar model at AIM Motors in Edinburgh.
He paid £3,600 by debit card for a 12-year old Mercedes-Benz C-class estate after being offered £700 for his old car in part-exchange.
"Within 24 hours of taking it home, I noticed several faults," said Rab. "There was a noise coming from the nearside rear wheel and the tailgate refused to stay shut. The tailgate kept opening of its own accord, leaving it wide open to the elements. Because it had been raining overnight the inside of the boot was soaked."
Rab contacted AIM Motors the next day and the company immediately sent a representative to his house to inspect the problem.
"The man who turned up couldn't fix the tailgate issue, so he left his vehicle behind and drove away in the Merc," said Rab, 72.
"He said I could use his car until ours was fixed but I didn't want to do that because it wasn't insured for me to drive.
"At that point I wasn't too concerned because I thought I would get the car I had just bought repaired and returned within a few days."
In the second week of January, Rab was informed that the dealership was unable to carry out the work and that he would have his £3,600 and his old car returned. He was asked to come back to the dealership to get his money back via a reverse chip and pin transaction.
However, Rab said he would prefer to have this done over the telephone. "I was told that this wasn't possible, but it was then suggested that someone could come to my house with a mobile card machine to process the refund," he said. "But I was later informed they could not do this either.
"I was fed up with the whole carry on. In my eyes, AIM Motors still had my old car and the new one that I had bought from them, plus £3,600 of my money – in return I was left with a car I didn't want to use parked up in my driveway.
"AIM said their vehicle was a courtesy car but I wasn't insured for it and I was reluctant to give them it back until this was all sorted out."
When the dispute dragged on Rab wrote to Raw Deal and we contacted AIM Motors.
The company took a very different view of things. A spokesman told Raw Deal that Rab was "most welcome" to a refund and could not see why there had been such a fuss. "We have offered him a full refund but it has to be done in the same manner it was paid," said AIM. "He kept insisting we give him a refund over the phone or by cash or bank transfer, which we were not comfortable with."
AIM also said that the Volkswagen Passat they left at Rab's house was double the value of the vehicle he had bought from them and if it wasn't returned, they would report it as being stolen.
Following weeks of more to-ing and fro-ing, Rab eventually received his £3,600 back via a chargeback transaction instigated by his bank as he had disputed the payment.
After further input from Raw Deal, Rab's old Merc was returned to him by AIM and the courtesy car was recovered at the same time.
But the bizarre dispute hasn't ended there. Rab has since billed AIM £976 for expenses and storage of the courtesy car at his house for more than two months. This in turn has prompted the firm to invoice him for £4,363, mainly for storing his old car at their premises and rental charges for the Passat.
On top of that, AIM now says Rab has not returned the log book for the courtesy car and as a result is considering launching a chargeback scheme of its own to attempt to have the £3,600 that was refunded to him sent straight back to its account.
"This whole thing has been a complete fiasco," said Rab. "I'm sick of it."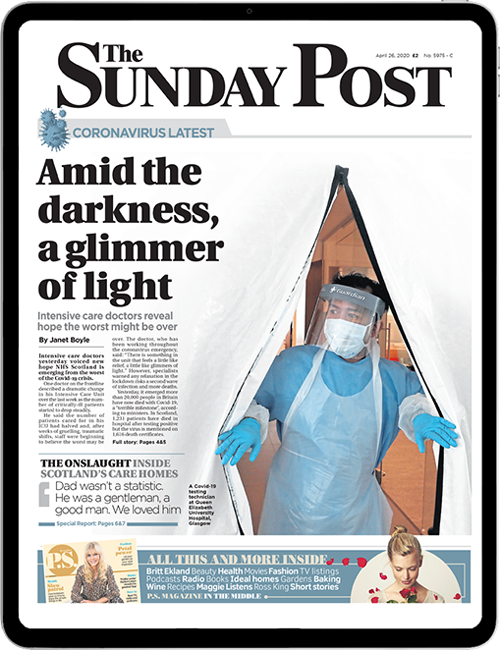 Enjoy the convenience of having The Sunday Post delivered as a digital ePaper straight to your smartphone, tablet or computer.
Subscribe for only £5.49 a month and enjoy all the benefits of the printed paper as a digital replica.
Subscribe