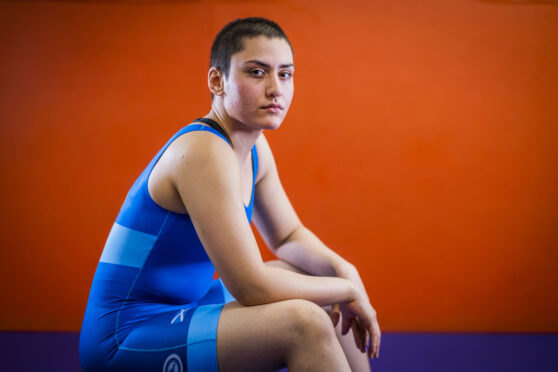 It was one of her proudest moments but as wrestler Melika Balali won gold for Scotland, her adopted homeland, she was thinking only of the women in the country of her birth, Iran.
During the medal ceremony at the British championships, the new freestyle champion held a sign demanding: "Stop forcing hijab, I have the right to be a wrestler."
Her protest in July came two months before the death of Mahsa Amini, who died after being beaten by Iran's brutal morality police for allegedly wearing her hijab, a mandatory hairscarf, too loosely. News of the murder went viral on social media, igniting mass protests in Iran led by university students and schoolgirls. As the protests spread, the panicked regime ordered a clampdown and hundreds of demonstrators have now been killed, including dozens of children.
Balali said: "The young generation has courage and are not afraid. They shout and protest though their hands are empty while the police target them with bullets. Now their parents are joining them because they will not leave their children to die in the streets."
At a recent protest in George Square in Glasgow, Balali shaved her hair, mirroring the symbolic defiance seen by women in demonstrations around the world and on social media resounding to the slogan of protest "Women, Life, Freedom".
On Thursday Glasgow City Council passed a motion of solidarity with the Iranian protesters proposed by councillor Roza Salih who, like Mahsa Amini, is a Kurd. On Tuesday, Salih will lead a unity gathering of Iranians and Kurds at the City Chambers where Balali will speak.
The wrestler, who now lives in Edinburgh, said: "It is important for athletes, for all of us across the world and here in Scotland, to use our voice to condemn the terrorist Islamic Republic. Together all these tiny things in unity across the world will break this regime. I have a stronger hope than ever before."
But the consequences of action can be severe and Iranian climber Elnaz Rekabi is reportedly under house arrest after competing in South Korea without her hijab. She apologised on her return but sources suggest the authorities had threatened to take her family's property if she did not.
Athletes competing abroad are often ordered to put up their families' property to ensure their return but a number have still defected and later competed under other nations' flags.
Balali, who at 22 is the same age as Mahsa Amini when she was killed, was born in the small, traditional city of Shahrekord, 300 miles south-west of Tehran.
Her farmer father and film producer mother were devout and made her wear the hijab from the age of five. The compulsory scarf which covered her head and neck has long been a symbol of Iran's suffocating restrictions of women and girls. As a young girl, Balali was banned from even riding a bike, or singing and dancing.
Three years her junior, it was her brother's right as a male to reprimand her and enjoy the freedoms she could not: to be educated, to do sports and to take part in the family tradition of wrestling, Iran's national sport.
She said: "I learned from a young age that my brother was the king and I was the maid in my household. I wanted to wrestle, to sing and dance but everything I dreamed of was taken from me.
"I was angry all the time, I cried all the time and I didn't know why but now I look back and it was because as a girl in Iran you are pushed and bullied from the beginning."
But at 18 she was allowed a marriage to progressive filmmaker Javad Daraei who helped open up her world. He encouraged his wife to pursue her gifts as an artist and poet and to follow her ambition to wrestle.
In 2018, surprisingly, the Iranian Wrestling Federation established a women's classic freestyle team and Balali grabbed her chance.
She had female coaches, would compete in body suit, baggy T-shirt, shorts and hijab, and matches were stopped if a competitor's stray hair came loose, despite only women being allowed to watch.
But Balali said: "I wanted this sport with all of my soul and I was good at it."
She won the gold at her first serious competition but shortly after moved to the United States so her husband could pursue his film-making career. Though the door of her caged life was now open, she remained trapped by cultural conditioning.
She said: "It was weird when I went out without a hijab because we were raised to believe that without it men would rape us.
"It took me a long time to tell myself that I wouldn't be attacked. I would walk on the street with my eyes to the ground."
It was only when the couple moved to Scotland, when Daraei had a scholarship at Edinburgh University, that Balali allowed herself to accept her liberation. She even learned to ride a bike, precariously wobbling through Edinburgh traffic.
Balali said: "I was shocked at how free women were. That men couldn't hit you because of what you were wearing. I thought at first perhaps God lived here but then I realised people created this and that people can one day build that same freedom in Iran too."
She has been warmly embraced by Scotland's women's wrestling team, despite not being a citizen. She said: "The coaches encouraged me, they taught me and gave me such an energy. I am so grateful."
The photograph of her victory and protest at the championships in Manchester was shared with the world and Iranian men and women thanked her for using her voice. But she also received death threats and her family were outraged she had shamed them with her immodesty.
She said: "My family became crazy over it, that I was wearing a singlet and no hijab and that I had protested. They consider me no longer their daughter and they will not speak to me. It is painful. They think I should be at home in the kitchen looking after a husband and children."
Women's freestyle wrestling now no longer exists in Iran with the regime's excuse that it is due to costs but Balali is determined to fight for the women she left behind in Iran to be given the chance to be as free as she now is.
She said: "Scotland was the first country that made me believe I could do whatever I want. I have a land which accepts me and is proud that I won the medal for them. I will fight with my last breath to get the same rights I now have for the women of Iran."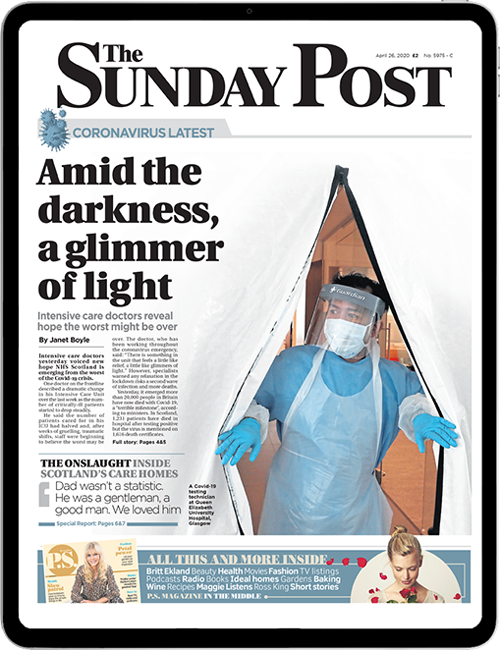 Enjoy the convenience of having The Sunday Post delivered as a digital ePaper straight to your smartphone, tablet or computer.
Subscribe for only £5.49 a month and enjoy all the benefits of the printed paper as a digital replica.
Subscribe