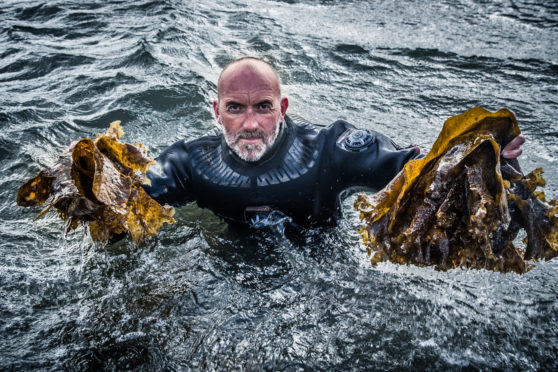 Originally crafted in illegal stills and smuggled into Edinburgh's Leith port in the 1700s to sate the country's thirst for illicit alcohol, Scotland has a long-held love affair with the humble gin.
And news this week suggests the gin revolution shows no sign of slowing down, with UK exports sky-rocketing to £612 million in 2018.
As a result, gin distillers – small and large – are looking for increasingly unique ingredients to set themselves apart in a crowded market. From seaweed sourced in the waters off the Hebridean coast, to Scots pine needles, and milk thistle, artisan gin brewers are scouring the fruits of the land to give their brand a competitive edge.
Ashleigh Gibbs, writer for website The Gin Kin, believes we're at a crucial point in the rising "gin-naissance", for which Scottish brands make up 70% of overall UK production.
She said: "There's been a notable rebirth in the image of gin from being something many will fondly recall their grannies drinking to a hip and cool drink people want to be seen with today.
"Scotland has a rich history of gin making, and that has definitely influenced some of the smaller distilleries we're seeing come to the market, particularly when it comes to heritage and botanical choices. Red Door Gin – from the Scottish Highlands – for example, is very much inspired by Scotland's mountains, forests and coastal fringes and features the likes of sea buckthorn, heather and rowanberries."
She added: "You can see 'gin-novation' happening in all areas of the industry from the tiniest producer in Scotland creating the craziest flavours all the way to the large scale producers offering something different."
Here, we speak to three foraging fanatics who are pouring their passion into gin.
---
Lewis's story: I dive for the sugar kelp single handed, swimming along at low tide with mesh bags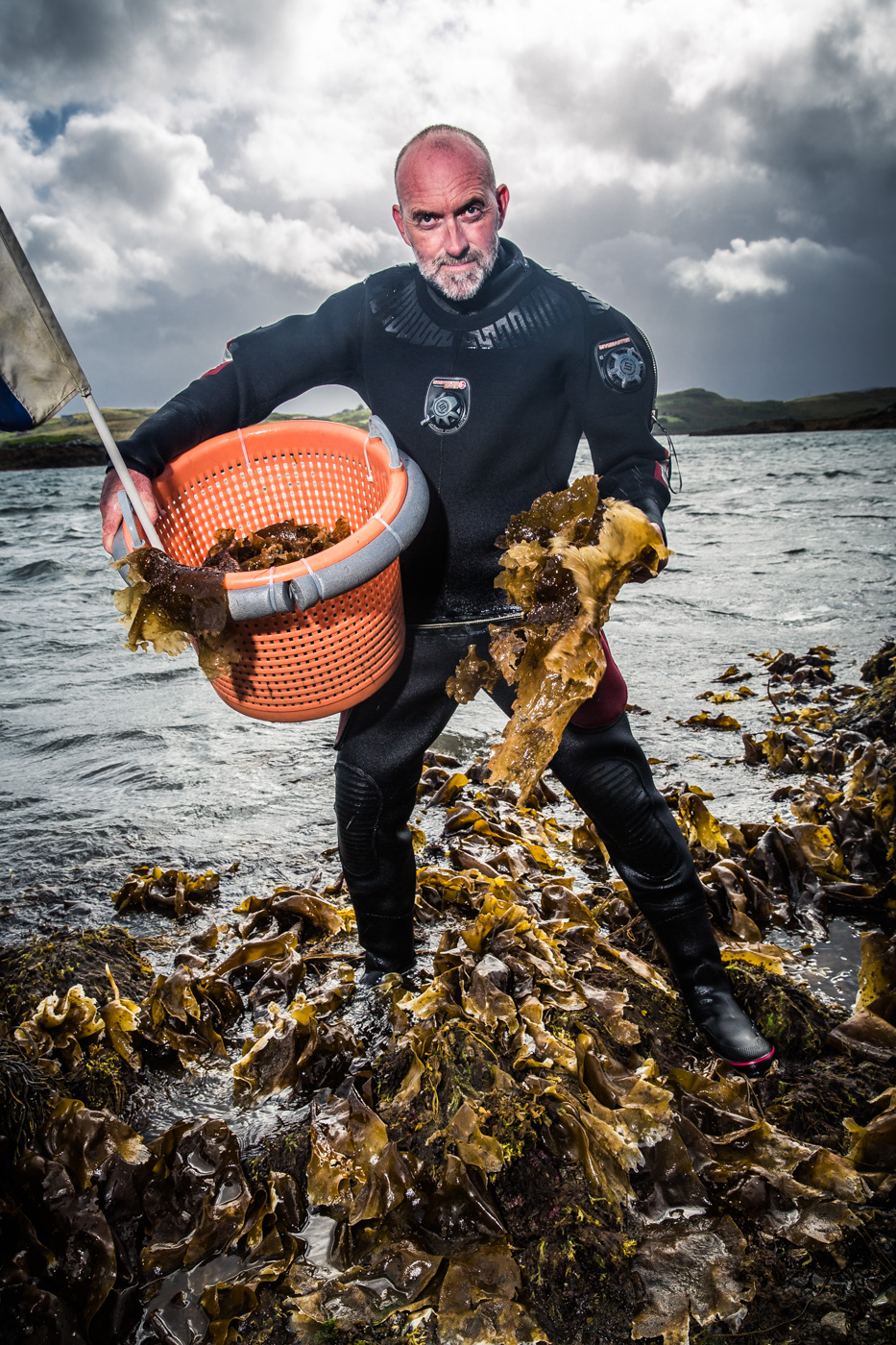 Diving into the Hebridean coast's icy waters wouldn't be a task relished by most – but for seaweed expert, Lewis Mackenzie, it's just another day at the office.
Lewis gathers the sugar kelp seaweed that plays a starring role in Isle of Harris Gin, and dons a dry suit, snorkel, mask, weight belt and flippers to hand-pick the magical plant from the seabed.
With decades of experience, the hardy diver ensures his foraging trips are sustainable, harvesting only what he needs.
"I dive for the sugar kelp single handed, swimming along at low tide with two or three mesh bags," he explained.
"I cut off the thorns of the sugar kelp just above the stalk and only take the leaves that are in good condition and free from contaminates. I follow a code of conduct for low-impact harvesting, which is a fully sustainable way of gathering the plants.
"The sugar kelp plant lives for up to four years, and I can harvest the same plant three times a year – all we do is remove some of the leaf, and don't touch the stalk. The quality of the leaves has actually improved in the areas I harvest regularly, and there's new growth all the time."
Once Lewis is on the surface, he checks for crustaceans – which he puts back into the water unharmed – and the seaweed is then processed in a factory just outside Stornoway, before being vacuum packed and sent to the distillery for use in their secret recipe.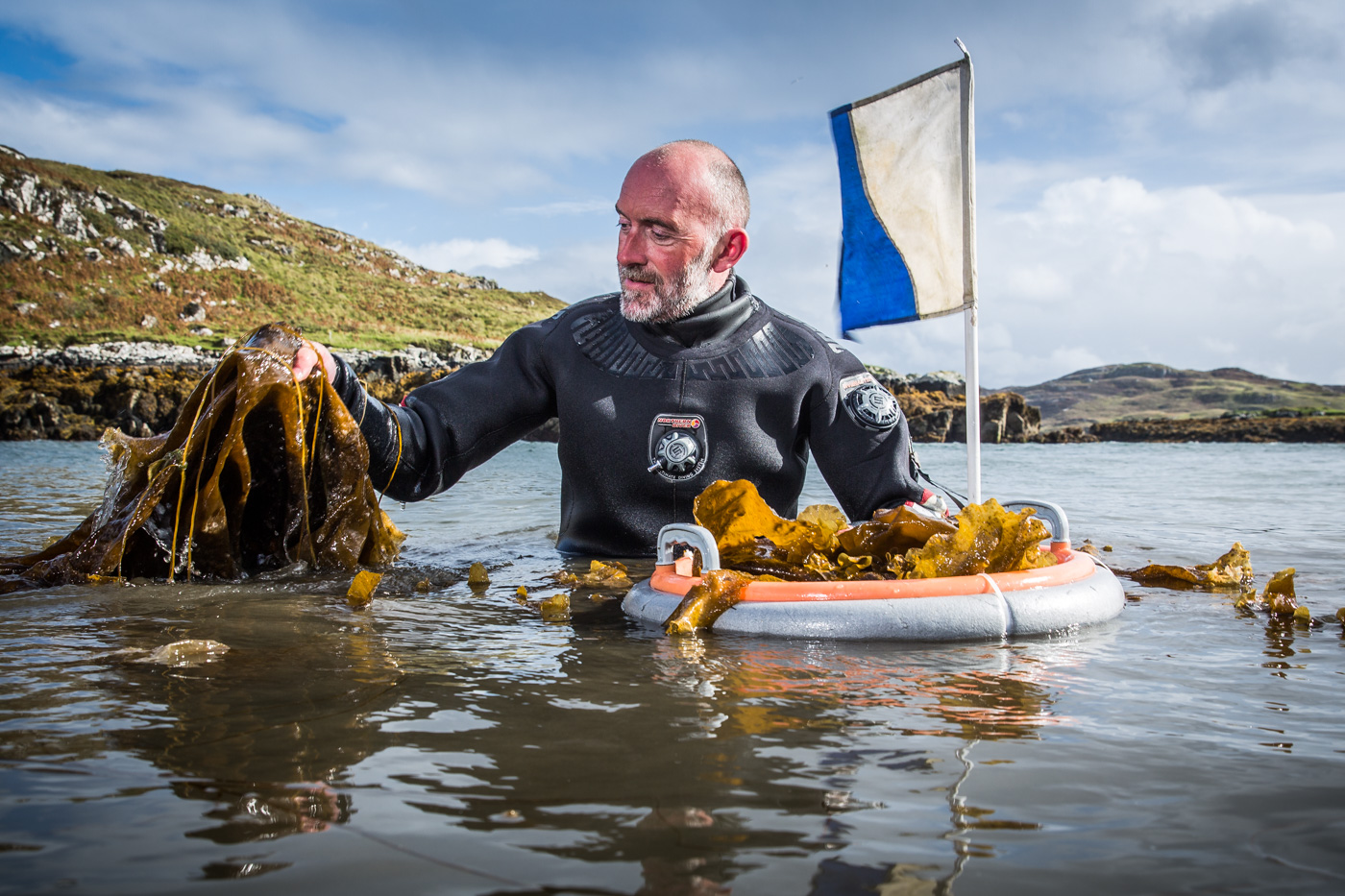 As the name would suggest, the gold-green plant has a naturally sweet taste, and is very, very delicate at only about a millimetre thick.
He said: "The use of seaweed in gin is quite an inspirational idea. There has been a lot of trial and error and it's been a huge learning curve for everybody involved. We're still learning every day.
"We don't fully understand yet how the flavour of the sugar kelp will change each month as it dies back in the winter and has a growth spurt in the spring. It will be interesting to see how these subtle changes affect the flavour.
"There's quite a science behind it – it's not just a case of chucking on a diving suit and grabbing a handful of seaweed!"
Lewis harvests during the winter months, and admits he's never managed to get used to the chilly temperatures.
He said: "When we had the cold snap a few weeks ago I missed a few days of diving because I literally couldn't get the boat out of the harbour. And on the days when it did melt, there were bits of ice floating past my face.
"You are shivering and cold, but I can stick it for about two hours.
"It's cold work, there's no doubt about it!"
---
James's story: Foraging outside in cold and wet weather…it's great!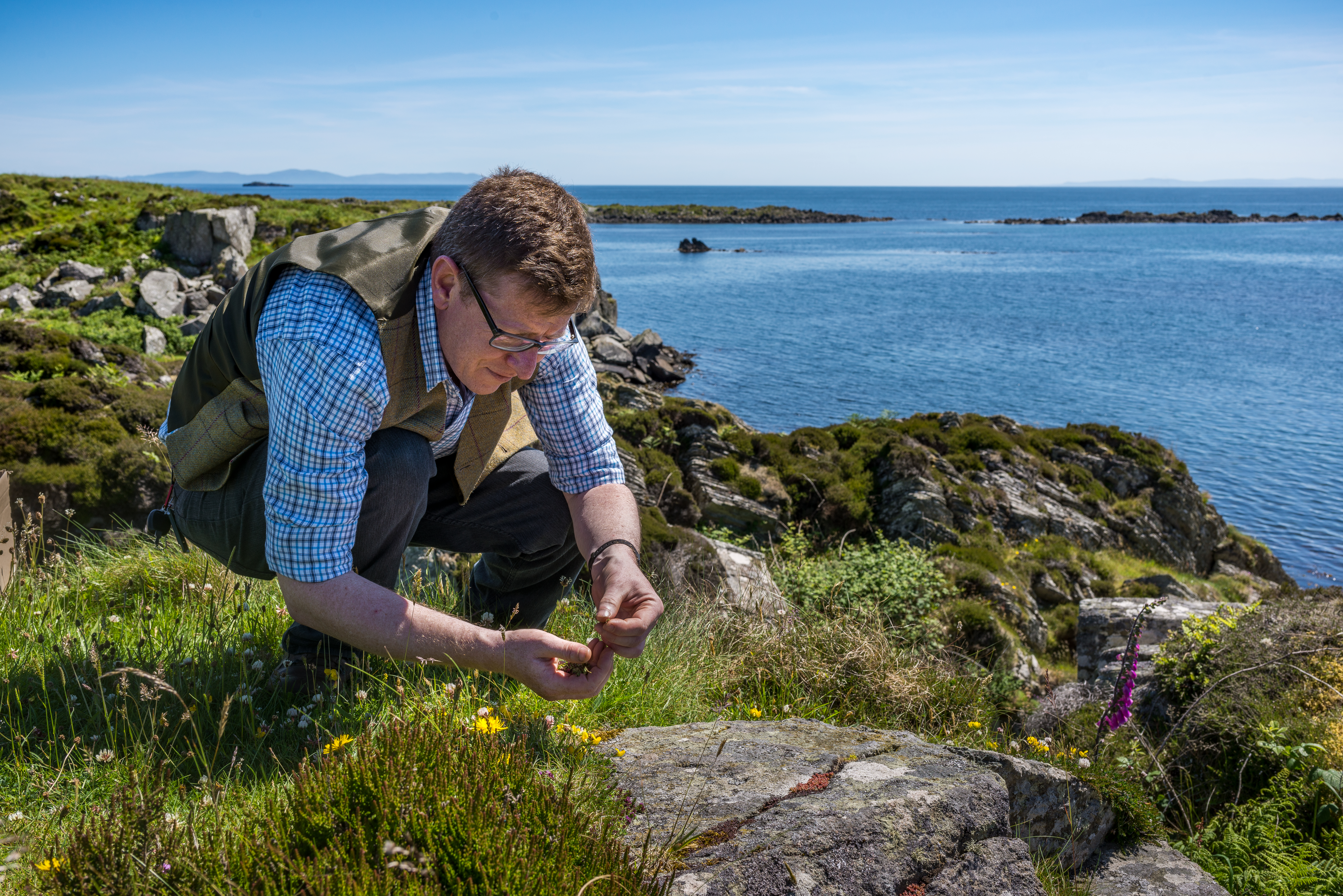 Working outside and getting covered in mud, James Donaldson describes being a full-time forager as his dream job.
He spends his days seeking out the botanical ingredients that make The Botanist Gin, which is distilled at the Bruichladdich distillery on Islay.
Growing up in Angus, James developed a love for Scotland's varied landscape, and admits our natural environment is a gold mine for amazing produce.
He said: "Our woodlands, hedgerows, moorland and seashores offer an abundance of delicious, nutritious, free food.
"The Botanist Gin is distilled with 22 hand-foraged Islay botanicals, including apple mint, chamomile, creeping thistle, downy birch, Scottish juniper, lady's bedstraw, lemon balm and bog myrtle.
"I pick them between March and October, and the biggest challenge is getting dry days to pick them in order to preserve their flavour and aroma."
Sustainability is key, and James manages the amount of botanicals he picks and only readily available plants are included in the distilling process.
He added: "It's great working outdoors, getting cold and wet and sharing my knowledge and passion for Islay with visitors.
"Bruichladdich are the only distillery on the island making gin and whisky and, needless to say, I'm a fan of both!"
---
Kim's story: Foraged Scots pine is one of our main botanicals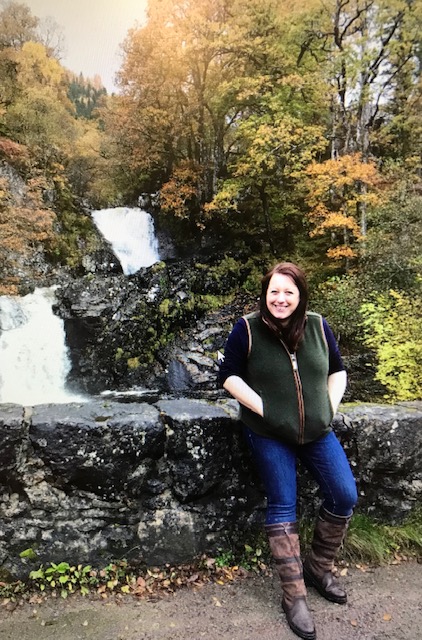 Describing herself as an "accidental gin maker", Kim Cameron first embarked on her spirit-making journey four years ago.
The Angus local was an avid jam maker, who had even won a prize at the World Jampionships, and often found herself with lots of leftover fruit and juice.
Hoping to avoid any waste, her mum suggested adding the extras to gin, creating tasty liqueurs – and the rest, as they say, is history.
Kim now runs an artisan distillery called the Gin Bothy, and uses only locally sourced ingredients in the recipe for her Original Gin and fruit liqueurs.
She said: "Our philosophy is that if it's there and it's natural, why not use it? All our products are 100% hand bottled, hand poured and hand batched. If it's local and we can use it, that's what we'll batch.
"It's the bothy way – it just makes sense. We've got some of the best Scottish fruit and plants right on our doorstep, so we just have to be clever about how we use it."
Original Bothy Gin is made with botanicals from Scotland, including Scots pine needles, heather, milk thistle, hawthorn root and rosemary, much of which are gathered locally.
"Scots pine is one of our main botanicals. We used to buy our pine and then dry it out, but we then got in touch with the Woodland Trust and started gathering our own," explained Kim.
"We forage in Loch Arkaig, which is one of Scotland's oldest Scots pine forests, and £1 of every bottle of Original Gin sold goes back to the Woodland Trust."
Kim and her all-woman team do everything by hand, and she works with a local vodka distiller to share their production space. This has allowed her to grow her business without impacting the local environment.
She said: "When I first started playing about with adding my fruit to gin, I bought in the first batch of spirit. But I found I couldn't control the juniper, so I started a collaboration with a vodka distiller just down the road.
"We share the facilities, which has meant I've been able to the grow the business without having to put in a full distillery. It's worked really well."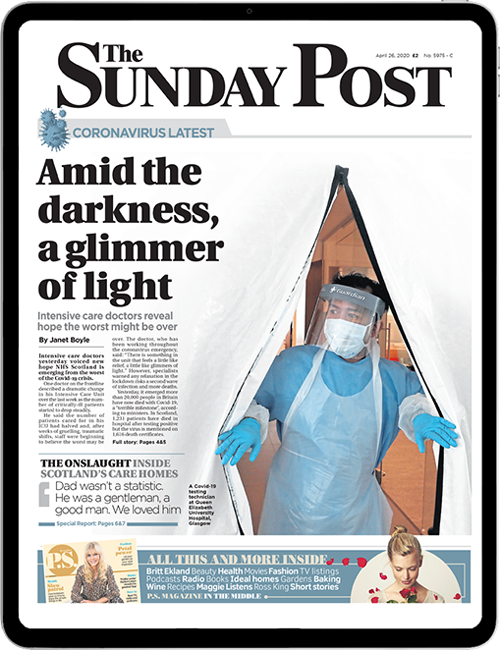 Enjoy the convenience of having The Sunday Post delivered as a digital ePaper straight to your smartphone, tablet or computer.
Subscribe for only £5.49 a month and enjoy all the benefits of the printed paper as a digital replica.
Subscribe