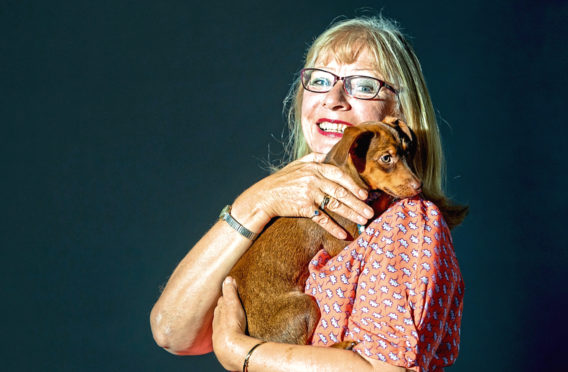 Alex Gray stumbled on the idea for The Stalker at a book event in 2015 – where two fans followed her with particular enthusiasm.
When they turned up at the event four years ago, the host announced: "Here come your stalkers," and the embryo of a novel began to form.
The crime writer explains: "I started thinking about an author at a book event and someone – a stalker – sitting in the audience."
The emergent fictional author is Maggie Lorimer, the wife of her longstanding protagonist, Glasgow Detective Chief Inspector Lorimer who had his first outing with Dr Solomon Brightman in the 2002 novel, Never Somewhere Else.
Alex has written a book a year since, The Stalker being her 16th in the series. In it, Maggie is in the sights of a stalker who murdered his two previous victims.
The victims not only looked alike, but also bear a resemblance to Maggie. And as she sets off for a book tour with her first children's novel, readers cannot help but fear that it could be her last.
Glasgow-born Alex – who is just back from the Tobermory Book Festival and will appear at A Write Highland Hoolie in Mallaig on Sunday – reveals that after such a long gestation, the book finally drew breath when she was grounded by major surgery.
She explains: "I had a knee replacement and was housebound during the writing of The Stalker (out in paperback on November 14).
"I decided to feature Tobermory on the Island of Mull and the real book event in The Stalker. My mum was born there. I had great fun going all over Scotland in this book and revisiting places I had toured like Elgin, St Andrews, Ayr, the Borders and Edinburgh. But it starts off at Waterstones on Sauchiehall Street in Glasgow."
And this time she included a real-life science sleuth, Professor Lorna Dawson.
She is head of soil forensics at Aberdeen's prestigious Hutton Institute and has helped to crack a string of high profile cases, including the 1977 World's End pub murders of Christine Eadie and Helen Scott, both 17.
The writer, who has two children and two grandchildren, says: "I have Prof Lorna Dawson as herself in the book. She and I are great chums. She gave me fantastic research insight. It's great having her there.
"I will be speaking about the book in Mallaig. It is my first appearance there and I am really looking forward to it. I haven't been to Mallaig in decades."
Alex's 17th book, When Shadows Fall, is out in March, and she is already working on a yet-to-be-titled novel for 2021 featuring refugees in Scotland.
---
Alex Gray The Stalker, Sphere, £14.99