Sarah Morgan has written more than 80 books and sold 18 million copies globally in 28 languages.
But, for all her international appeal, the romance and mainstream women's fiction writer can think of nowhere better to set her novels than in Scotland – especially at Christmas.
The former accident and emergency nurse, who dreamed from childhood of becoming an author, started writing medical romance for Mills & Boon in the millennium year.
Now, 20 years on, the mum of two grown-up sons is a fully-fledged novelist, tackling family dramas with warmth and a good dose of humour.
Her latest offering, One More For Christmas, is no exception. It sees sisters Samantha and Ella Mitchell, buying presents for an unexpected guest – their mum Gayle, a hard-nosed career-woman. It's been five years since they last saw each other. Gayle's tough-love approach to parenting, designed to ensure resilience, only served to alienate her daughters. But, when she calls out of the blue, they cautiously agree to spend Christmas together.
And, as the snow falls on their Scottish Highlands retreat, the Mitchell women learn that facing up to the past can be all that's needed to heal wounded hearts.
Bubbling with enthusiasm, Sarah tells P.S: "I love Scotland. I had my honeymoon many years ago in Fort William and Glencoe and we went to the islands. We love to go walking in the Highlands as a family.
"What makes Scotland so captivating is its history and romance, and series like Diana Gabaldon's Outlander certainly help raise the country's profile.
"I have a large international audience, and a big American readership. Everyone knows about the Scottish Highlands. Lesser-known places wouldn't have the same appeal.
"My readers want a magical escape and when I write it has to have a setting I find lovely because I am vicariously there for the six months I'm writing. I have photographs and all sorts of inspiration around me as I write. Equally, what I'm writing has to intrigue and entertain me.
"I had a lot of fun writing this book. It made me laugh and a lot of readers are saying it's making them smile, and that's what we need right now (in a pandemic)."
She finished the book just as Covid-19 plunged the country into lockdown in March. She has penned other books since, but says she is no way tempted to write about the crisis. She wants to create a world in which readers can lose themselves; a distraction from everyday stress. And, while her creations are contemporary, it's her deliberate intention not to date them, helping to ensure their longevity.
But coronavirus has seen her receive more letters than ever from readers, many of whom are struggling.
She reveals: "I get a lot of emails from people saying how my books have helped them through hard times, and I always write back.
"I have had more of those since the pandemic. You can't fix things for people but you can certainly make a moment better and that's what books do. I want to make people feel better. I think that's the nurse in me. It's very satisfying."
---
Sarah Morgan, One More For Christmas, HQ, £7.99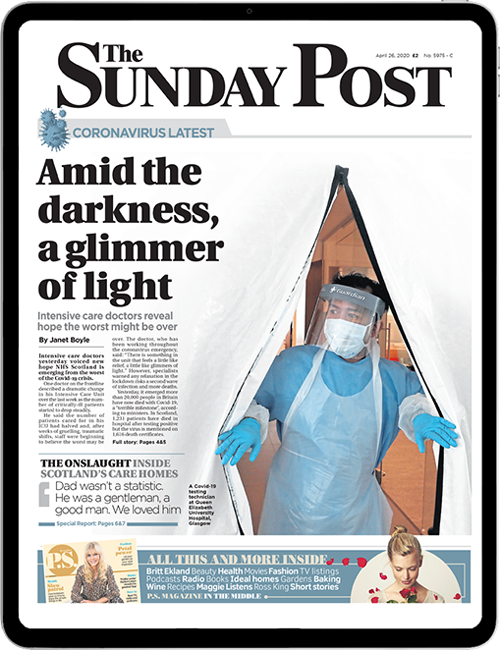 Enjoy the convenience of having The Sunday Post delivered as a digital ePaper straight to your smartphone, tablet or computer.
Subscribe for only £5.49 a month and enjoy all the benefits of the printed paper as a digital replica.
Subscribe