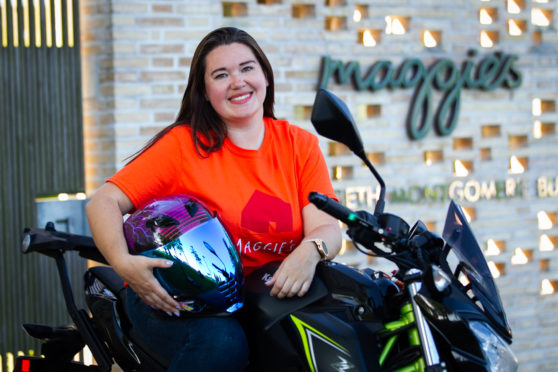 With the road unwinding in front of her, Kat McLeod hops on her Kawasaki Z650 and takes off with a rumble of engine noise.
Mum-of-two Kat, 32, is part of a growing group of women heading out on the highway and looking for adventure on two wheels, bucking the stereotypical idea of bikers, as portrayed in 1969 hit Easy Rider, which saw two Harley-riding hippies make their way through southern America.
There are 1.5 million motorcycles registered in the UK, with 72,000 owned by women, and insurance aggregator website, The Bike Insurer, say that the number is on the rise.
In the last 18 months, more than 23,000 motorcycle insurance quotes were generated by female riders, accounting for 8% of the total, marking a significant increase in the amount of women donning leathers and helmets.
"Growing up in Inveraray, in Argyll, I always used to see motorbikes come whizzing past our house, and I would think about trying it out for myself – but I don't remember seeing many women," explained Kat, who lives in Hamilton with her two daughters, Rachael, 12, and Elena, nine.
"When I was 29, I think I had a bit of an early midlife crisis, and I decided to start riding. It only took me nine lessons to pass, compared to the two years it took to get my car licence. The bike is actually much easier to pick up, and I would even say it's even easier than riding a bicycle."
For Kat, taking up riding was an easy way to widen her social circle and meet new people. She is a member of the Evolution Women's Motorcycle Club, an all-female group that encourages new learners, organises ride outs and, importantly, provides support for a growing network of ladies.
Since they formed in January, Evolution has seen their membership triple in just six months, going from 30 members to more than 120.
Kat said: "I didn't really have that many friends after school and university, so my social circle was quite small. But when I joined the club, I got so much confidence."
Kat and her biker buddies use their love of riding to benefit the local community holding events and sponsored rides for charity.
They are now fundraising for Maggie's cancer support centres, riding to each of the charity's Central Belt locations from August 18.
When they arrive at Glasgow, Lanarkshire, Fife, Edinburgh and Forth Valley, Kat and the other riders hope the head-turning noise will raise awareness as well as funds.
Maggie's provides free practical, emotional and social support to people with cancer, as well as their family and friends, in eight cities across Scotland. Support the fundraiser at justgiving.com/fundraising/evolutionwmcc
---
Jayne's story
In the more than 20 years she has been riding motorbikes, Jayne has seen lots of change, including more and more women joining her on the road.
She said: "When I first started riding, there was maybe one or two other women in some of my groups. There was a lot of pressure. We could hold our own but some men would still say things like, 'Oh do we have to have her on the ride out? She's a woman.' Even now, the majority of men we speak to assume we're riding on the back of someone else's bike. That really riles me up.
"But gradually it is changing."
Jayne says being in an all-female motorcycle club provides support and guidance that's not necessarily there in mixed groups.
She explained: "One of the big difference between men and women bikers is that we talk to each other and provide support."
---
Leanne's story
Growing up in a biking family, Leanne spent most of her childhood on the back of motorbikes, and got her own licence aged 18.
But after getting married and having daughters, Ella, 10, and Zara, eight, she found less and less time to jump on her bike – until she found the Evolution ladies.
She said: "The Evolution ladies just pulled me right back in and now I'm back riding whenever I can. And my daughters come out with me, too!
"We're building the next generation of female riders."
Leanne added: "Women are lot more confident. In years gone by, women would look at big bikes and think, 'Oh I can't even touch that, let alone ride it'.
"Now we have tiny, petite women riding massive bikes."