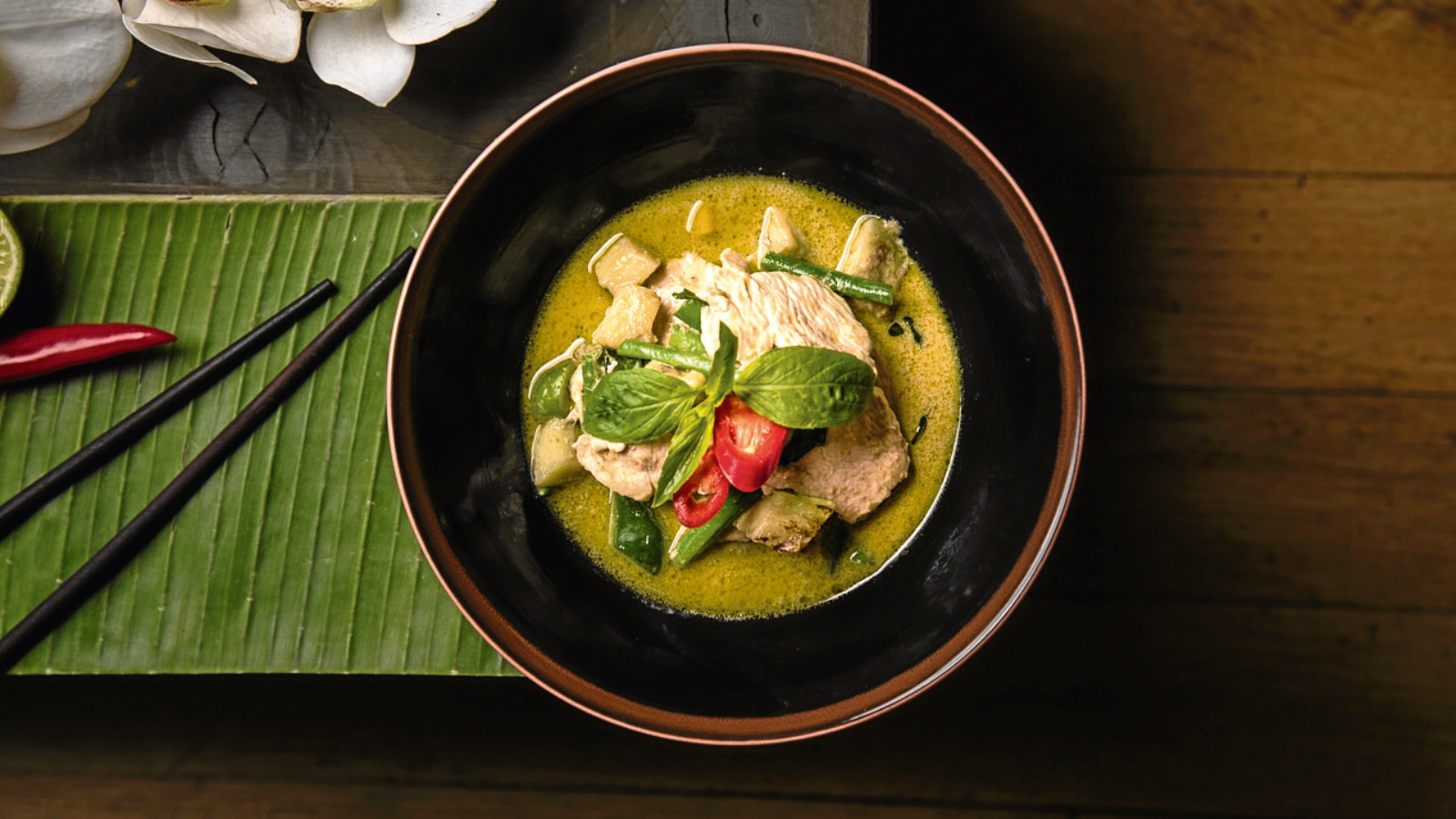 TODAY sees the start of National Curry Week. We don't normally need an excuse to eat curry, but this gives us the perfect one, anyway.
This Thai green chicken curry is from restaurant chain Thai Square. It's an authentic Thai recipe which is packed with flavour.
We predict you'll go back for more!
See thaisq.com for further details.
You'll need
For the paste
1 green chilli
½ cup diced purple onion
3 cloves garlic, minced
1 thumb-size grated ginger
1 stalk lemon grass, minced
1 tsp ground coriander
½ tsp ground cumin
1 tsp shrimp paste
½ cup fresh coriander leaves
2 tsp fish sauce
1 tsp brown sugar
1 tsp lime juice
1/3 can coconut milk
Other Ingredients
4 lime leaves or grated zest
2 tsp peanut oil
1/3 can coconut milk
1 kg boneless chicken thigh/breast
1 red or green bell pepper
Method
Place all the green curry paste ingredients in a food processor and blitz to form a paste.
Separate lime leaves from the stem, (discard the stem) then cut the leaves into thin strips.
Warm a wok or a frying pan over medium heat. Add oil and add the green curry paste. Stir-fry for 1 minute to release the fragrance, then add the coconut milk.
Now add chicken. When the curry comes to a boil, simmer for 5 minutes and check that the chicken is cooked. Stir occasionally.
Add the vegetables and lime leaves or zest. Stir well. Simmer until the vegetables are cooked.
Add some fish sauce and taste. If you like it sweet, add sugar, if it is too salty then add lime juice, if too spicy add coconut milk. Aim for a balance of all flavours.
Serve with jasmine rice.