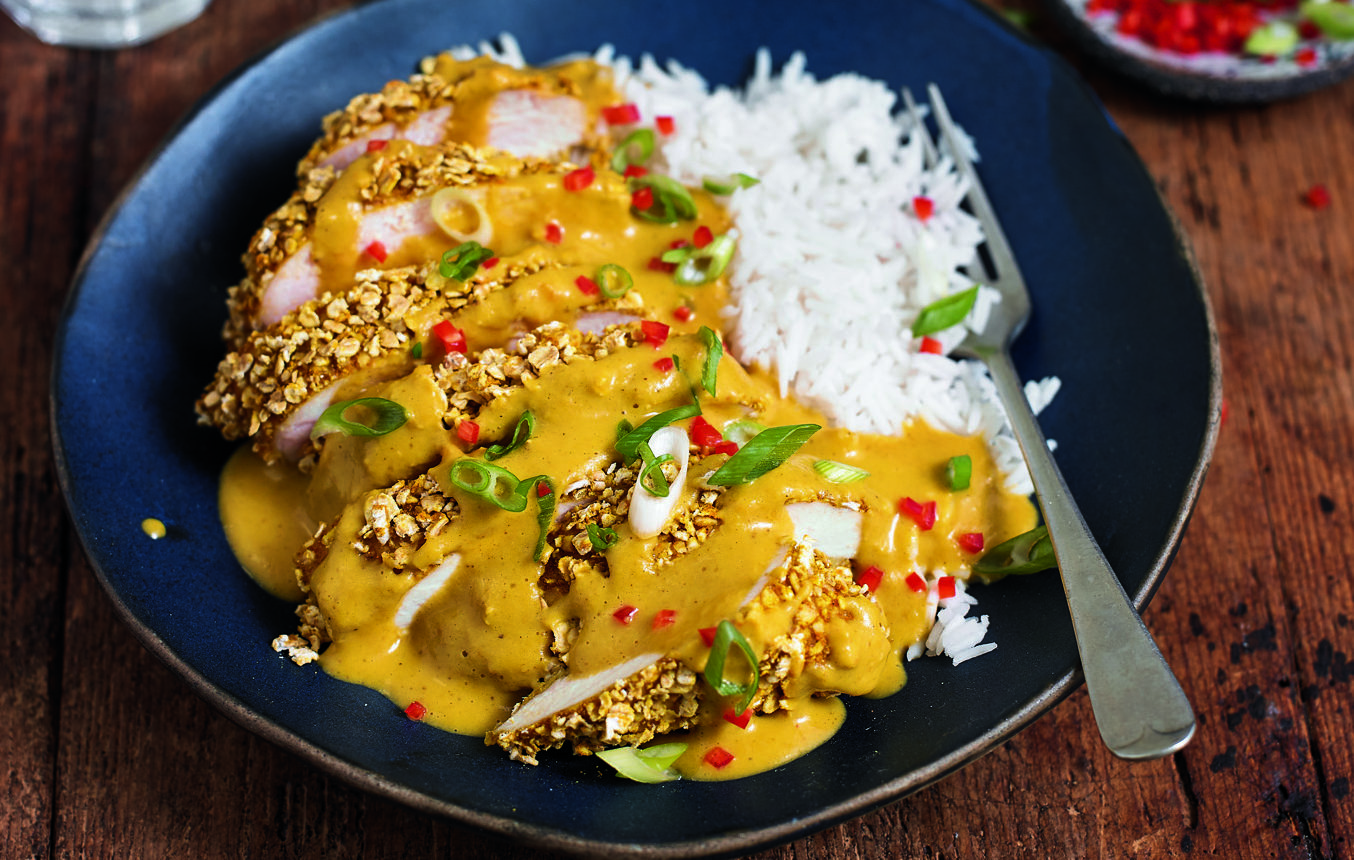 THIS recipe for katsu curry is delicious – you'll love it.
Taken from Eat Well For Less by Jo Scarratt-Jones (BBC Books, £14.99).
You'll need
For the chicken
4 boneless skinless chicken breasts
2 eggs, beaten
150g porridge oats
2 tsp rapeseed oil
2 tsp ground turmeric
1 tsp medium curry powder
300g basmati rice For the sauce
1 tbsp rapeseed oil
1 onion, finely chopped
1 carrot, finely chopped
2 garlic cloves, roughly chopped
1 tbsp medium curry powder
50g peanut butter (no added sugar)
500ml chicken stock
1 tsp garam masala
1–2 red chillies, deseeded and finely chopped
4 spring onions, finely chopped
Method
Preheat oven to 200C/180C fan/gas 6, and line a baking tray with baking parchment.
Season chicken with salt and black pepper. Put eggs and oats into two separate shallow dishes and season beaten eggs with salt and black pepper. Add rapeseed oil, turmeric and curry powder to oats and mix well. Dip chicken into eggs, coating them all over, then add to the oat mixture.
Turn chicken breasts over in oat mixture until they are completely coated. Transfer to baking tray and bake in oven for 20–25 mins until chicken is cooked through and oats are crispy and golden. Cook rice according to packet instructions until tender.
Heat a medium frying pan until hot. Add rapeseed oil, onion and carrot and cook over a medium heat for a couple of minutes until starting to soften, then stir in garlic and curry powder. Add peanut butter and chicken stock and bring to a simmer, stirring occasionally.
Remove from heat and blitz to a fine purée using a hand-held blender, or decant into a blender and purée. Stir garam masala into the sauce and season to taste. Drain rice. Remove chicken from oven and cut into strips. Serve chicken with sauce over the top and rice alongside. Scatter over onions and chillis to finish.