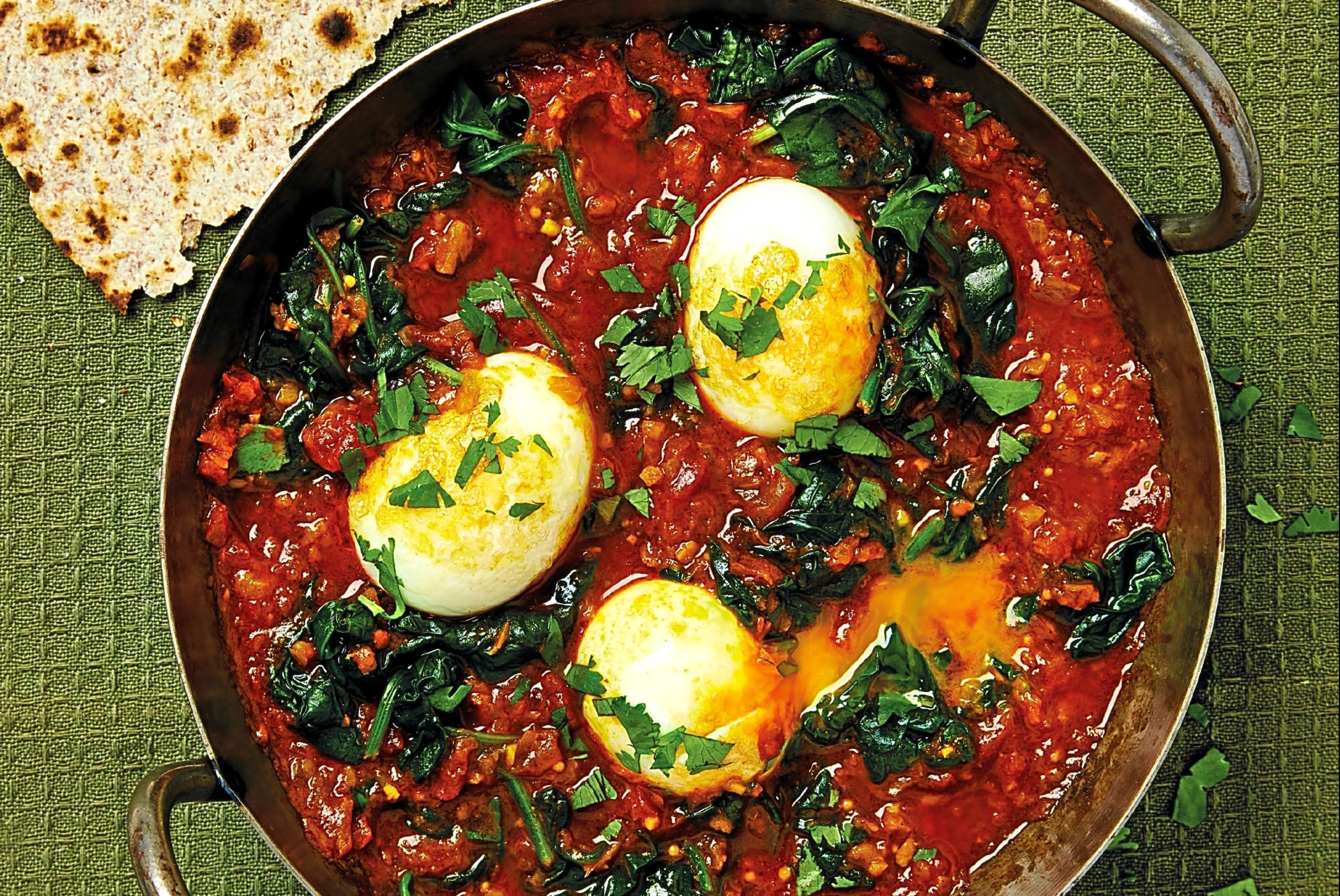 FRIED and blistered boiled eggs make a rich and rewarding addition to a curry.
Once cut, the warm silky yolk will flood through the spiced sauce. Serves 4, takes 30 minutes
You'll Need:
3 garlic cloves, roughly chopped
5cm/2 inch piece root ginger, peeled and roughly chopped
1 red onion,
1 green chilli pepper, deseeded
2 1⁄2 tbsp ghee or groundnut oil
1⁄2 tsp yellow mustard seeds
1 tsp garam masala
1⁄2 tsp turmeric
1⁄4 tsp smoked paprika
400g/14oz tin chopped tomatoes
3 tbsp coconut cream
120g/4oz baby spinach leaves
6 eggs
A handful chopped coriander (cilantro) leaves, to garnish
Warmed chapatis, to serve
Salt and freshly ground black pepper
Method:
Whizz the garlic, ginger, red onion and chilli pepper in a food processor until finely chopped. Heat 11⁄2 tbsp of the ghee in a pan. Add the garlic and ginger paste and fry for 2 mins over medium-high heat.
Stir through all the spices and continue to fry for a further 2 mins. Pour over the tomatoes, coconut cream and 400ml/14fl oz water. Season with salt and pepper and simmer for 15 mins, stirring occasionally, then add the spinach, folding through until wilted.
Bring small pan of water to the boil. Carefully lower in the eggs and boil for 6 mins. Drain and rinse under cold running water to cool quickly and then peel.
In a separate pan, heat the remaining 1 tbsp of ghee. Add the eggs and fry over medium heat for 2–3 mins, until blistered and golden. Tumble the eggs into the curry and cook for a further 1 min. Garnish with coriander (cilantro) leaves and serve with warmed chapatis.
From Posh Eggs: Over 70 Recipes For Wonderful Eggy Things by Lucy O'Reilly, Quadrille, £12.99.
---
READ MORE
Meals for under £10: Stuffed butternut squash
Meals for under £10: Rump steak & griddled chicory salad