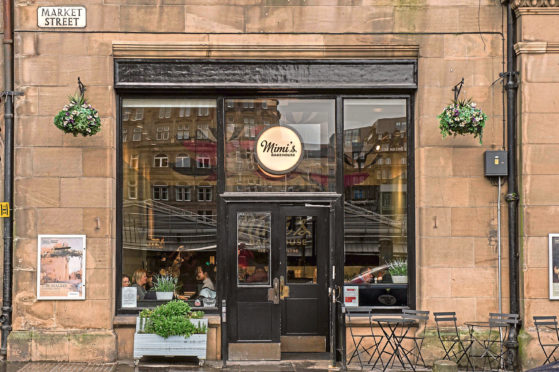 Gene Kelly may have been singing in the rain, but when the first droplets start to fall, I am far from happy again.
Can you imagine splish-splashing about in puddles with a smile on your face? No, me either.
In fact, I would go so far as to say Scotland's constant rainfall almost makes me want to up sticks and move to Hawaii.
Well, almost. I will concede there is one benefit to cold, wet and dreich weather – it provides the perfect excuse to hunker down indoors, stuffing your face with sugar-filled treats.
After all, don't we need a few extra layers of "padding" to keep us warm?
I put this theory into action when I was recently visiting our fair capital and found myself caught in a heavy downpour.
I had barely taken a step outside Waverley Station when, whoosh, a big, fat splash fell from the heavens and landed right on the tip of my nose.
Panicked by the thought of leaving puddles in my wake as I explored the city's cobbled streets, I made a mad dash for the closest café.
On such an occasion, I would usually just gulp down a hot coffee and be on my way once the clouds began to part – but as soon as I stepped inside Mimi's Little Bakehouse I knew I had found a place where I could flex my Scone Spy muscles, too.
I've previously visited Mimi's other venture, located on The Shore in Leith, but I hadn't realised a new shop front had popped up as part of the City Art Centre, which was a welcome surprise.
Taking a seat under a canopy of umbrellas (very appropriate given the circumstances), I ordered a plump, fruit-filled scone and a frothy cappuccino.
Both arrived promptly and with a smile, sat atop lovely crockery.
I find many modern trends irksome, but serving bakes, cakes and treats on slate and wooden boards is particularly high on the list, so it was nice to see some proper chinaware.
The scone, I can report, was fantastic. Robust, moist and finished with a good crumb around the edges, I could easily have eaten two – or more. But with only dregs of coffee remaining and the sky almost clear, I felt perfectly restored and ready to take on the day.
Had I not organised a day of sightseeing, I would certainly have stayed for a serving of avocado toast, homemade soup or a deep-filled sandwich. It took quite an amount of self-restraint not to order all three when I saw the generous portions filing past to other diners.
Bravo, Mimi. You've put on a brolly good show.
---
Welcome
Warm, welcoming and dog-friendly, it's perfect for all the family. 8/10
Location
Just a scone's throw from Waverley Station, Princes Street and the Royal Mile. Very convenient. 9/10
Scones
Light, crumbly and temptingly tasty. 9/10