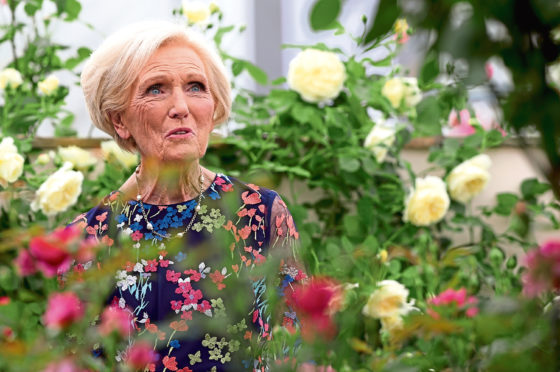 The Great British Bake Off is back on our screens for another 10 weeks of flour power but once again the most famous face in baking will be missing.
While viewers will not see Mary Berry on screen, don't think for one moment that she is putting her wooden spoons into retirement. Not a chance – 84-year-old Mary is not the retiring sort.
"It's not something I have ever really thought about," said Mary. "I am enjoying myself and life goes on. There are always new ideas, new projects, new challenges and so I don't think I would have the time to retire."
Mary is never away from our screens for very long. When she left Bake Off a couple of years ago she immediately went on to visit many of Britain's most amazing stately homes and estates and she took a camera crew plus her cookery books with her for a fascinating series.
"That was such a lovely series to make and so many nice people to meet," she said. "There were many places that we simply couldn't include because of the time but perhaps that leaves the door open for another series some time."
Also the Britain's Best Home Cook competition in which Mary was the chief judge, proved to be very popular and could be set for further series.
"A lot of people enjoyed that because it involved the sort of people you meet in the street every day doing the most brilliant things in the kitchen. That was the sort of cooking that anyone could try, the whole point of the programme really."
The options are open for another series of Britain's Best Home Cook but in the meantime Mary is as busy as ever with her writing, her personal appearances and, of course, her cooking.
Almost every day there is a sackful of mail and she does her best to answer every letter.
She said: "It is not easy but if people are kind enough to write to me it would be unfair and bad manners for them not to receive a response, so I try to keep up with that.
"I also travel a lot and have been to both the Chelsea Flower Show and Wimbledon among other events this year.
"Wimbledon was a bit special because I found myself in the Royal Box and I could get used to that. The Chelsea Flower Show was as beautiful as ever but, really, wherever I go I enjoy myself because it is lovely to meet people and chat about all sorts of things."
Mary Berry is famous for her standards as well as her skills and she believes that cooking has great family benefits that are not just about the food.
"I think it is important for every family to share a meal together as often as possible, perhaps daily if that can be done," she said.
"If the meal preparation is a shared experience and the whole family play some part in it, by the time it has reached the table it is truly something that has united the family.
"Enjoying the meal together adds to that. Sitting around a table with no distractions other than the food and conversation is so good for families drawing close to each other. Then if everyone gets involved in the clearing away after that just completes a wonderful experience.
"Families that eat together regularly tend to be a stronger unit and that has to be something we all want to encourage. It is not necessary for just one person to do all the cooking either.
"The whole point of cookery programmes is to show how it is done and how the viewer can do it.
"It is true that most people are busy and their culinary friends are microwaves and takeaways but when people just try to have a go at something they haven't tried before they start to see the value of making the effort, especially when they have an appreciative family audience."
Britain's Best Home Cook has encouraged many family members to try their hand but they are not the only ones on a learning curve.
"In the show I am one of the judges but I can honestly tell you that I also learn from the competitors," said Mary.
"When you watch them you pick up little tips and that's really pleasing. You never stop learning in life and you certainly never ever stop learning in the kitchen.
"I freely admit that I have learned an awful lot from this show. If you like horses you want to be around horses. I like cooking and cooks so I have been in my element with Britain's Best Home Cook!"
It might come as a surprise that there is one special ingredient that Mary always likes to have in her own kitchen.
"I like to have Darcy my working cocker spaniel in the kitchen with me," she revealed.
"I know some people might say that you shouldn't have dogs in the kitchen but I don't have a problem with that.
"She is very well behaved and house trained and she often sits on a chair alongside me while I'm cooking at home.
Mary Berry likes nothing better than to champion family life and not just through home cooking. She believes in families spending time together at work, rest and play – and that family includes the dog!
She has a ready smile and a ready pat for any dog that crosses her path and what sensible dog would not cross her path. The scraps in her kitchen would certainly be worth waiting for.
"I think that one of the reasons I am attracted to dogs is that no matter what you are going through they are there for you.
"They know if the slightest thing is wrong, even a minor headache and they are there by your side, loyalty at its best. They also help to clear up at the end of your cooking session – they like that bit."
Programmes about food and cooking are among the most popular offerings on television which delights Mary although she used to worry a little.
"It used to concern me that cookery programmes used to attract spectators who liked watching other people work," she explained.
"With so many takeaway shops or the ability to just buy a ready-made meal and stuff it into the microwave, quite a few TV cooks wondered if they were just presenting a spectator sport.
"Going around the country and talking to people I have been thrilled to find that we need have no such worries.
"I often have people chat to me about how they tried this recipe or that because they saw us preparing it on television.
"That was music to my ears because you just cannot beat home cooking and to know that so many people are trying so many different dishes and other things because they have seen it on television is really marvellous.
"If only we could have Smell-O-Vision too. I promise you that when the cooks are in action on the shows the aromas that float around us are fabulous.
"It can make you quite hungry and also on the new show we have to keep an eye on Claudia Winkleman our hostess. She likes to put her finger into the dishes and have a sneaky taste when she thinks nobody is watching.
"I don't blame her really. I like to be in the kitchen making something but second only to that, I like to be in the kitchen when someone else is preparing something.
"Sneaking a taste of something is part of the joy of being there. I intend to keep doing both. Why should I retire when there is so much food about and so many great ways of cooking it?"