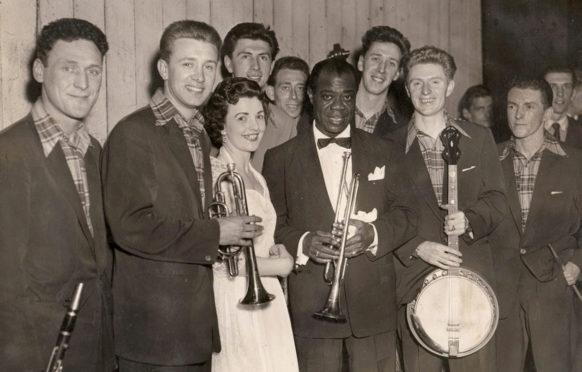 She had fame and fortune at her fingertips thanks to a powerful voice that belied her small frame.
Mary McGowan performed for The Queen and was hailed by jazz legend Louis Armstrong, but she walked away from the spotlight for a quiet family life.
As a new stage play about the Glasgow jazz legend tours the country, her eldest son, Robert, has revealed his pride in seeing his mum's story brought back to life.
Mary, who died four years ago aged 85, was singer with the Clyde Valley Stompers and Lonnie Donegan was among her fans.
Their chart hits included Old Time Religion and (Open Up Them) Pearly Gates, which outsold Frank Sinatra and Doris Day in Scottish record shops at the time.
But she stopped singing in 1958 and rarely spoke about her former life as she brought up her three children in the Crookston area of Glasgow.
"She gave it all up before I was born, to start a family, and said she had no regrets. It was her choice," Robert said.
"Mum would never sit down and talk about her career, but she would sometimes just mention it in passing. She was bubbly, but she was humble, not boastful.
"When I was 15, I was watching Des O'Connor on TV and she mentioned he would gatecrash some of the band's parties when they were younger. And over dinner one night, she told us a story of how Louis Armstrong ate a fish supper at the gig they played together at the Kelvin Hall and thought the grease was good for his trumpet playing.
"It was only when I got older that I realised what a huge name he was, yet she didn't make a big deal of any of it."
Robert has kept a newspaper cutting from October 1958 that announces Mary was stepping down from the Stompers after six years, as she was about to marry Bob Menzies, a Merchant Navy officer.
"My dad had gone to a few of the band's concerts and met my mum. The rest is history."
Robert, 59, watched The Sweetest Growl, the stage play based on his mum's life, on its opening night in Glasgow last week, alongside his four children.
Elaine C. Smith plays Mary and Robert admits it was a strange but proud moment watching someone play his mum.
"My brother, sister and I met up with Elaine and the writer, Claire Nicol, seven or eight months ago and she talked about the idea," he continued.
"It was flattering and nice, but strange at the same time. It's good to see my mum getting this recognition."
The play opens with Mary in the dressing room of the Pavilion Theatre in the early 1980s, preparing to take part in a reunion show with the Clyde Valley Stompers.
"I remember that night vividly," said Robert.
"I'd heard her sing at family get-togethers, but this was the only time I saw her sing professionally.
"The Stompers had been on a reunion tour and everyone kept asking if Mary was singing, so my uncle Ian, who was the band leader, asked if she would play just one show.
"I remember about 45 minutes into the gig, she still hadn't joined them, and three guys in the row in front of me stood up and shouted, 'When's Mary coming on?'
"When she did, it was an emotional time. Seeing the play open with that concert, with my kids sitting alongside me watching, was a special moment.
"The way Elaine did it brought back a lot of emotions and I feel they captured it quite nicely."
The play also takes in the famous show when the Stompers played with Satchmo.
"The show was running late and someone said, 'We'll just cut Mary', and Louis said, 'If Mary doesn't sing, I don't sing," said Robert.
"I have the picture of the two of them together on the wall at my house.
"The play is a 50-minute production, so a lot of things have had to be cut, like the performance for The Queen.
"You could write a film script based on everything she did – and maybe that's the next stage."
As a child, Robert thought it odd that everyone would stop his mum when she was out at the shops.
"I used to think, my mum must be really nice, because she's so popular.
"Later I realised it was because she was a famous singer. She always said those people paid for your living, so it goes with the territory. She made time for everyone.
"It's nice to see her story live on through this play."
---
The Sweetest Growl is at the Traverse in Edinburgh from Tuesday to Saturday and The Lemon Tree, Aberdeen, from October 22-26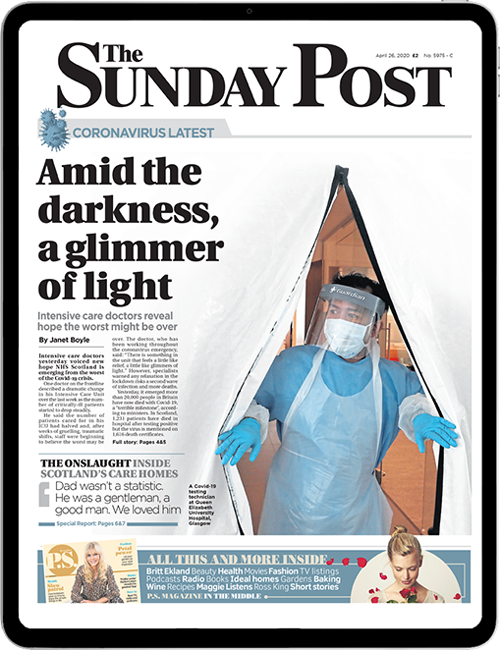 Enjoy the convenience of having The Sunday Post delivered as a digital ePaper straight to your smartphone, tablet or computer.
Subscribe for only £5.49 a month and enjoy all the benefits of the printed paper as a digital replica.
Subscribe