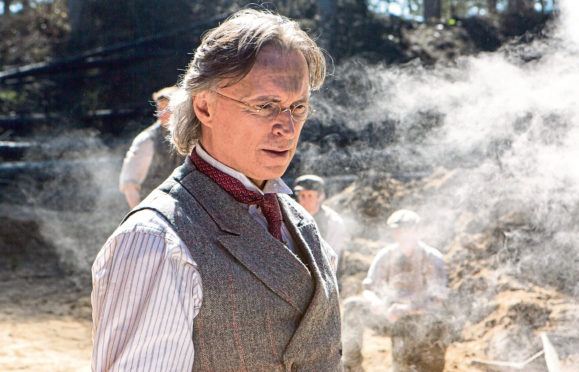 He has faced Edinburgh's underworld in Trainspotting and 007 as a James Bond baddie. Now, Robert Carlyle is set to face an otherworldly opponent tonight.
The Maryhill actor is set to battle invaders from another planet in the BBC's new big-budget version of the H.G. Wells classic, The War Of The Worlds.
Robert was inspired to take the part thanks to a connection to the story going back to his childhood.
"My first encounter was actually the music, the Jeff Wayne's Musical Version of The War Of The Worlds," said Robert.
"When I was a kid I had a friend whose father was a vinyl collector, and one day this album arrived at his house.
"My friend and I just thought it was music so we put it on and quickly discovered it was actually a story.
"I found out it was based on a book, and after hearing Richard Burton's voice as the narrator I was prompted to seek out the book and read it. I just loved it.
"Then recently, when I returned from shooting a long series in Canada and had no intention of working for a while, this script came through the post and I thought, 'It's The War Of The Worlds… I'll do it!'"
For a classic book with multiple adaptations – including Orson Welles' infamous radio play and movie versions in 1953 and 2005 – this is the first time a version has been set in the era in which the novel was set.
"Peter Harness's script was so succinct that I wondered if this was an adaptation of the book," Robert added.
"What I also liked is that it will be the first time on screen that it will be set in its original time period.
"That clash and juxtaposition of the high-tech Martian craft with the Edwardian English landscape is wonderful and exciting."
Each of the series' three parts has a different feel, according to writer Peter Harness.
"The way I have broken it up is that each of the three episodes still feels like it is collectively the same story, but that they each have a different feel to them," he explained.
"The first episode is about building tension, uncertainty and fear, as well as creating the world we are about to destroy. The second is more to do with action and where the war really happens.
"Finally, the third episode is more of a contained horror, a thriller narrative.
"It's an interesting way to create a series, by looking at what the individual tone and feeling is for each episode and what kind of different experience you are giving the audience each time they sit down to watch."