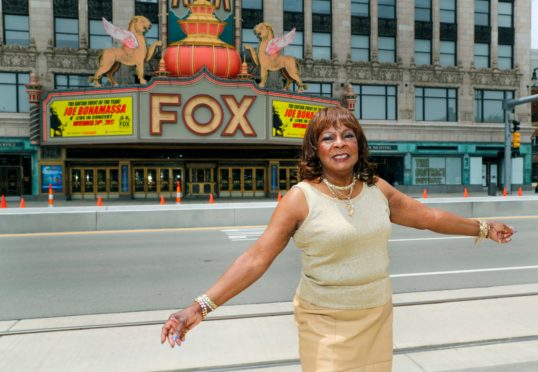 Leaning in a doorway in Motown's Hitsville USA studio in Detroit in 1964, Martha Reeves was watching a legend at work from a respectful distance.
At the microphone was soul sensation Marvin Gaye; his eyes half shut, lost in reverie, picking his way through a new song by Mickey Stevenson and Ivy Jo Hunter.
Marvin, unusually, was struggling.
"It was as if it was to a woman," says Martha, fondly recalling a scene from 57 years ago. "He had this sweet, melodic way of singing this song, like he was telling his girlfriend.
"It wasn't right, though. I was sort of standing in the doorway and he said, 'Hey man, let's try this song on Martha'. And that's how I got Dancing In The Street."
Next month the veteran diva will belt out Dancing In The Street, and her other classics, at Playground Festival in Glasgow.
With her brassy, commanding voice, Martha helped transform the song from a ballad into a clarion call; Dancing In The Street became a Motown masterpiece and one of the most iconic pop records of all time.
Martha and her group, The Vandellas, along with The Supremes and Gladys Knight And The Pips became the power trio of the Detroit record label.
The fledgling starlet was only 22 but hanging around Gaye at the peak of his powers in the studio didn't just mean you might get a chance to sing his songs. It was also an opportunity to bask in, well, Marvin.
"He was such a gentleman," she says, still sounding 22. "He was an introvert. The world seemed to call him out of his reverie. He was always humming songs and writing songs.
"He was hardly paying attention to anyone in the room while he was creating. And good looking? Yes, oh yes. I bet the world agrees with me on that. But he was such a kind spirit.
"He always called us sugar or honey because he couldn't remember all of our names I guess. We were always pursuing him, trying to get in his presence because he was so fine to look at. We sang our hearts out behind him on that first album of his."
Martha had originally worked as a secretary at Motown after failing several auditions. She grabbed a microphone one day during a visit by a union official (rules meant musicians couldn't record without a singer being present) and label boss Berry Gordy was taken.
Soon Martha Reeves And The Vandellas were born. A string of hits followed, as did chart success.
Heading for Playground Festival
Having celebrated her 80th birthday last Sunday, Martha can look back on a time when she sang with Gaye, when she clashed with Motown founder Berry Gordy, or the day she met child genius Stevie Wonder.
Despite the milestone her gaze seems to be focused, though, on Glasgow.
"I'm coming home, honey," she says. "We're back to work now, this is our first adventure after Covid and we're all shot up, we're immunised, our passports are in order and there's nothing that can stop us coming!
"We have a big fanbase in Scotland, mainly because of a song we sang called Forget Me Not which has the sound of bagpipes on it," she says.
"We weren't fortunate enough to have one of the fine artists who plays the bagpipes in Motown or anywhere near the Detroit Symphony Orchestra. So they played the bagpipe sound on horns and it was really good. And once in a while, I have a friend from Glasgow, he'll come and he'll play the bagpipes for us. He'll come on stage and play the intro and we sing Forget Me Not."
At that, Martha launches into the opening lyrics of the song, about lovers separated by the Vietnam war.
Where her voice was once the exuberant, gospel-infused sound of Motown at its prime, one that doused the listener in a bucket of joy, whether they liked it or not, these days it's more relaxed and reposed.
She's sung these words for more than half a century, after all; her unabashed emotional delivery was being belted out when Bob Dylan was still lugging a guitar around New York's folk clubs. Dylan eventually created some of the most iconic and incendiary counterculture songs of the 20th Century.
Dancing In The Street
Although Marvin Gaye initially envisaged it as a ballad, arguably no other track captured the mood of defiance as much as Martha's Dancing In The Street.
Its legacy as a foot-stomping civil rights anthem has always slightly baffled her. It's more suited, she thinks, to an event with a name like Playground.
"Really in my heart I was singing about being a teenager dancing on my block with the permission of the police," she adds, thinking about where the passion in her voice on the track originated.
"That's where Dancing In The Street came from for me. We would block the street off, with permission from the city council in Detroit, and that's where I danced. I hate for people to make it plural because we weren't dancing on all the streets, we were dancing on our block. For me it was about that special privilege of being able to dance outside your home."
Martha is often asked about the civil rights movement both in the '60s and more recently with the Black Lives Matter movement. The idea of racial disharmony leaves her as confused now as it did growing up in a segregated America of the 1950s.
"My mama, Ruby, and daddy, Elijah, never taught us hate, they never taught us that somebody was different from us," she adds. "They always instilled in us that we were just as good as anybody else.
"We only hated the people that oppressed us, the policemen who used to ride the streets who, if they saw blacks gathered on the corner singing or shooting dice would hit them with clubs.
"After the riots in the '60s we learned that there were some good law enforcement people and there were some people who were just mean, who just wanted to take advantage of people in poverty."
It's early morning in Michigan and Martha plans to go for a bath at her leisure. She lives alone and, having grown up in a big family, hugely enjoys the luxury of being able to have a soak without a knock on the door.
"I only had one child and at the age of 18 he fell in love and eloped," she says. "They moved to California. He left momma!
"I didn't marry his dad so I learned how to live alone and enjoy it, actually. I'm privileged I can come home and there's no one here saying, 'Where you been?' I'm at peace with my saviour. My heart is right, and I can survive with just me and Jesus. And it's a good place to be."
---
Playground Festival, Rouken Glen Park, Glasgow, Sept 24-26. Tickets and info from playgroundfestival.co.uk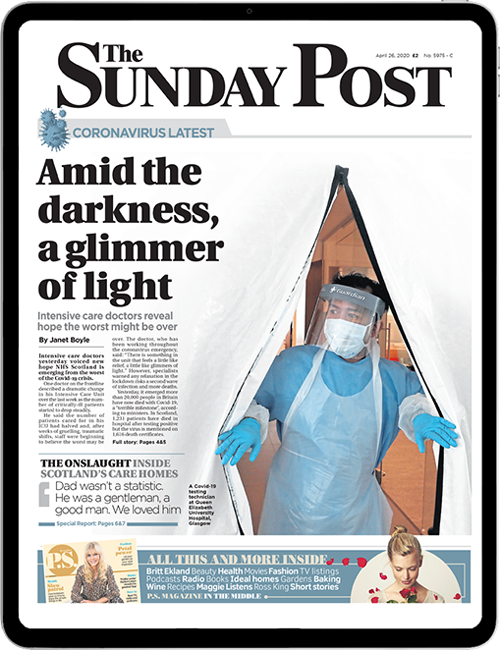 Enjoy the convenience of having The Sunday Post delivered as a digital ePaper straight to your smartphone, tablet or computer.
Subscribe for only £5.49 a month and enjoy all the benefits of the printed paper as a digital replica.
Subscribe