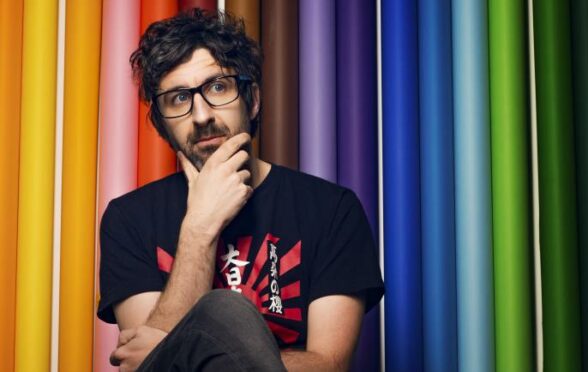 The tickets were only booked a week ago, and many things remain up in the air, but comedian Mark Watson can't wait to step onto a train heading for Edinburgh.
After the cancellation of last year's Fringe and with restrictions easing, the award-winning stand-up will once again be able to make the pilgrimage back to comedy's holy ground.
While it'll be a festival with a difference this year as performers and audiences re-adjust, it'll be a very welcome trip for Watson, who is something of a festival veteran having been a staple there for the best part of two decades.
"It's a funny word to hear about yourself, because I don't feel that old but in terms of Fringe experience, I think it's only Richard Herring probably with more on the clock," he laughed.
"It feels very strange to be heading up, it looked quite unlikely for most of the past year. Any form of it is better than not having it at all, two years without a Fringe would have been really damaging for everyone.
"It's been a weird few months, watching announcements by Nicola Sturgeon more than I'd have imagined I'd be doing."
Well, for the 21st time I am heading to the Fringe. This year won't be much like the first 20 but it's an awful lot better than last year's void. Details of my + friends' efforts below. I'll be recommending other stuff, as always. https://t.co/4OWD4BixBH

— Mark Watson, the guy with that book, 'Contacts' (@watsoncomedian) August 4, 2021
While Scotland will be beyond level 0 when the festival gets going, there will still be some Covid mitigations in place.
With many performers and visitors from around the world not travelling, and a reduced programme of shows and events, it will very much be a slimline edition this year.
But it just means there's a different type of excitement for the acts and their audiences.
"It feels like the buzz you get when you just book a holiday impulsively and can't quite believe you're doing it," Watson said. "There's a rawness to the excitement which you wouldn't normally have.
"The Fringe has been about people coming together as much as it's been about the comedy. There's nothing else like that in the year, so even if it is a very pale version of it, it will still feel like some sort of return to what we all value.
"Normally the city is in the grip of the whole festival, and there are a lot of downsides to that especially if you live there, but there is something magical about the way the whole city becomes this madhouse for a month. We'll miss that but we'll make it work the best we can."
Watson hopes that it can be a "stepping stone" back to a normal festival in 2022, but also realises the opportunity the recess has given for reform.
Many took the opportunity last year, when the Fringe was cancelled, to highlight frustrations about it, including a lack of representation, prohibitive costs, and the impact on locals in Edinburgh.
"The Fringe is amazing but certain aspects need refreshing," Watson said. "I think that it's absolutely precious to the whole ecology of comedy in this country, but I do understand it's much harder for some people to make an impression compared to others, through no fault of their own.
"Possibly this is a moment we step back and think about how we can make it a bit more egalitarian.
"The difficult thing is who's going to do that. The Fringe is so far out of any sole control, so exactly how those conversations start to happen I don't know, it's probably going to have to come from comedians and venues.
"Comedy has come together more as a result of the pandemic, we have a live comedy association now, which is the closest to a union that there's ever been while I've been a comedian.
"I don't think the answer though is to tear everything up and not have it at all, which is what some were suggesting last year."
While communities return to in-person gatherings, Watson is a champion of the online connections formed even before the pandemic.
He has spoken in the past of his struggles with mental health, and how technology has been a lifeline, allowing a place to open up that can often be less difficult than in-person.
Last month, when going through a tough spell, he tweeted: "Sorry, but if you've ever enjoyed anything I've done, this would be a great time to tell me."
What followed was an incredible response, with over 4,500 replies praising his appearances as a stand-up and on TV shows like Mock The Week and Taskmaster.
"Being British, it was quite embarrassing actually," Watson admitted. "It was an impulsive tweet and I didn't expect the response it got. It was great, genuinely enriched my day, and week, and it made a positive impact on me which I hope can be long term.
"During the pandemic, people have formed communities in unexpected ways because we've had to. We've seen the value of the internet as a way of bringing people together and hopefully that's something we'll move forward with rather than just using it as a massive playground to all attack each other."
Mark's show is called This Can't Be It, based around the fact that according to a life expectancy app, he's halfway through his days on earth.
It's billed as a tour preview, but the show is much more than a work in progress as most of it was prepared for last summer.
"The show's about the prospect of getting older and dying and not doing everything that I wanted to with life. It's been on my mind a lot, even before the pandemic," Watson explained.
"Having had to sit on it for as long as I have has changed the nature of it a bit. I was 39 when I put it together, now I'm 41, on the other side of that landmark.
"A lot of stuff this show's about directly or indirectly has been ramped up by the pandemic, we've all thought about how frail happiness and our lives are. Some things that would've worked really well 18 months ago won't be relevant anymore. Other things feel much more relevant."
Watson also feels it's his duty to promote others' shows, especially in a year where the industry has struggled so much.
"It's always been important to me, every festival I've tried to champion other people. It's important for us all to support each other's efforts even more than usual this year.
"I take that responsibility quite seriously because the Fringe has been enormous for me and my career and has helped me get to the stage I'm at just now.
"I always try to pass a bit of that on, not through charity just genuine enthusiasm. Some of the best stuff I've ever seen has been in that Fringe format, in those little rooms."
---
Mark Watson, This Can't Be It, August 17-25, Pleasance Rear Courtyard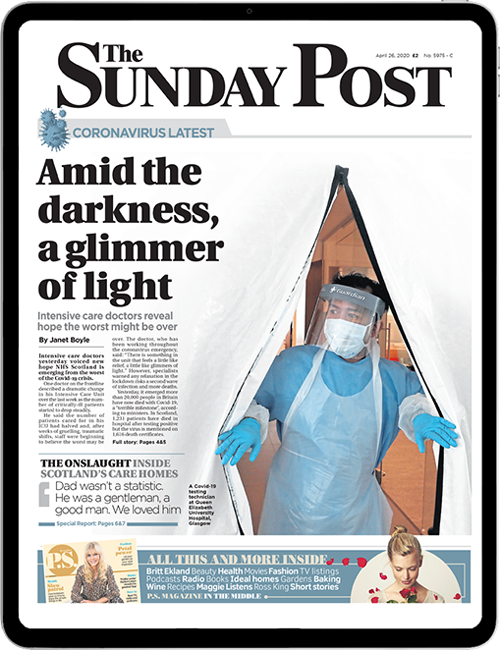 Enjoy the convenience of having The Sunday Post delivered as a digital ePaper straight to your smartphone, tablet or computer.
Subscribe for only £5.49 a month and enjoy all the benefits of the printed paper as a digital replica.
Subscribe