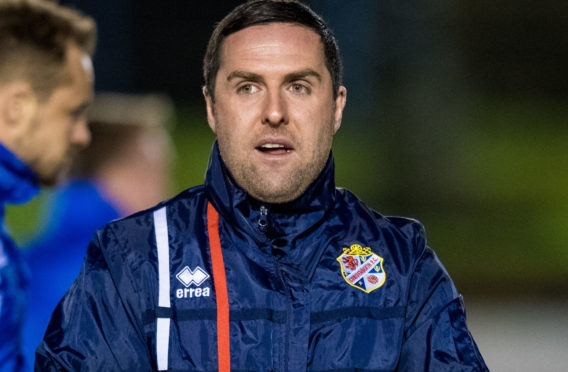 There are reminders aplenty if he cares to looks hard enough.
But Mark Fotheringham could be forgiven for thinking he has gone back to the days before coronavirus.
At a time when Scotland is bracing itself for the possibility of no football for months – maybe even the rest of the year – the 36-year-old Dundonian is putting players through their paces ahead of a May return to action.
Throw in the fact he is doing so in Ingolstadt, Germany, where the author Mary Shelley had Victor Frankenstein create his monster, and he would have cause to be a little alarmed.
But Fotheringham responds with a laugh, stating: "I think it is fair to say things are very different over here than they are back home.
"The move has all been a bit mad.
"I was back in Dundee three weeks ago when Tomas Oral, who I had worked with at Karlsruhe, gave me the shout to say he was going back to Ingolstadt, just north of Munich, as manager and wanted me to come and work as his assistant.
"I said: 'Aye, absolutely'. We had promised to work together again, and this is a brilliant project.
"Ingolstadt are in the German Third Division just now, but five years ago they were in the Bundesliga and they are on a mission to win their way back up there.
"With the financial backing of car giant, Audi, who are based in the city, they have a pathway to make that ambition come true.
"Tomas was there last year, did really well but then left. He got a lot of offers from Bundesliga 2 clubs, but instead decided instead to come back. Luckily for me, he wanted me at his side.
"The thing was, though, he needed me right away, and I was 1,130 miles away in Scotland.
"The big problem was that lockdown had started and there were no flights to Munich to be had.
"So I just jumped in the car and set off.
"It was a long trip. You are talking two eight-hour-plus stints of straight driving, broken up only by an hour-and-a-half on the Dover-to-Calais ferry.
"I knew it was something that just had to be done, though, so I just ploughed on.
"Fortunately, there was hardly any traffic on the roads – even on my route through north-east France, Belgium then into Germany – which was great.
"It meant I wasn't being held up at any point, and also you know the car is a safe environment, which was very important.
"Germany hasn't had anything like as rough a ride from the virus as the UK.
"The death rate is one of the lowest in the world, so they are starting to get back to something like normal life.
"The plan for the top two leagues is to restart fixtures early next month, and play all the remaining matches in the season by the end of June.
"The games will be behind closed doors to limit risks of a second wave of the virus.
"But all will be screened live on television to give a boost to all the fans who have been stuck at home.
"Our understanding is that the lower leagues will get the go ahead, too, so we are on a countdown to get the players fit again.
"For that, you need at least a month – preferably a couple of weeks longer – so there really was no time to waste."
Fotheringham, whose playing career included time at Dundee, Celtic, Norwich City, Fulham and Notts County, says a feeling of safety is at the heart of Germany's phased return to football.
"They are very calm, but also extremely thorough and professional about everything," he said.
"All of us at the club have been tested for the virus and posted negative.
"The word of the club doctor is God right now and our programme is absolutely bound by his instructions.
"In practice that means we are not wearing masks in training, but we are social distancing.
"The guys arrive in their training gear, ready to go, and when they are here, we work on getting the kilometres into them.
"When the go-ahead comes through we will be able to include practice games in the sessions, but for now there is no tackling at all.
"While it is not the normal way of doing things, it is surprising how quickly you adapt.
" I guess that is the same with social distancing measures in normal life, really.
"Our job is to get the players into the best shape we possibly can within the restrictions that are placed upon us.
"People back home have asked if I am worried for my own safety, at training just now and when we return to games behind closed doors.
"My answer is no. No one can say they are completely safe from the virus, but I am in very safe hands over here.
"I had to leave my wife and two young boys behind, which wasn't easy because we are a family and normally we are together.
"Amy and I talked it all through, though, and she was very supportive of my decision to get involved in the project with Tomas, and to do so straightaway.
"Technology allows me to see their faces every day, and I have the comfort of knowing they will be out here as soon as the flights start up again.
"In the meantime, I have a job to do and the excitement of looking forward to the prospect of being involved in live football again.
"It is a privileged position to be in, especially in these times, and I am sure there are any number of people who would be keen to swap with me."
There would be no shortage of volunteers, certainly, from his native Scotland, where arguments have raged over the best way to resolve the incomplete campaign.
"I am looking from the outside, and it seems there is an awful lot to get sorted out," said Fotheringham.
"People have different opinions on the best way to move forward, which is what you would expect as most solutions will suit some, but not others.
"I would like to see the season played out to a conclusion before a new one is started.
"That is what we are doing in Germany, and that is what looks like is also going to happen in the likes of England and Italy.
"Do that, and there are no excuses. The champions of the leagues are the champions, the teams who finish in the relegation spots go down."