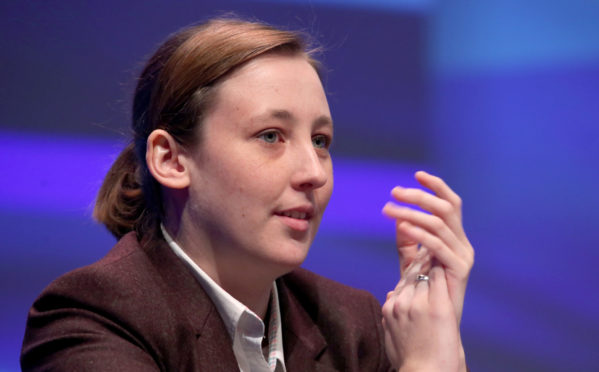 Few would disagree with the principle behind Mhairi Black's assertion that, as a young gay woman, she would have benefited immeasurably from hearing gay people talk to her and her classmates.
The SNP MP went to a Catholic school in the 1990s and has previously described to me the painful experience of being bullied at school for being "different". There was no one she could look to and see herself reflected back. No one to help her navigate through a difficult time. No one to help her simply be herself.
And so, given her past, Black, more than most, understands the power of lived experience to educate young people, calm concerns and eliminate bigotry.
But it was in the crass execution of something that should have been a positive and informative event for children – a visit by the MP and a drag queen, who is transitioning to female, to a school during LGBT History Month – that things went horribly wrong. And, arguably, did damage to the very LGBT community that Black was attempting to promote.
As revelations of the drag queen's more adult entertainment activities emerged, along with the highly sexualised images posted on her social media sites, an unholy but completely justifiable row blew up over her suitability to be invited into a Primary One classroom to talk to five and six-year-olds, at all.
The entertainer's social media feeds show her simulating a sex act, posing in lingerie, shouting at passers-by in the street outside a nightclub, and messages she has posted inciting violence and talking of ongoing addiction problems.
It doesn't take a bigot to ask, what kind of role model is this for a very young child? But, as parents objected to pictures of their children taken during the visit sitting alongside explicit photos on social media, Black, unwisely, doubled down and branded anyone daring to criticise the visit as homophobic.
Accusing someone of being homophobic simply because they object to a very adult entertainer being invited to speak to their children is just wrong. The shadow of Section 28, and the banning of any teaching about homosexuality from schools, hangs heavy and it is vital that we know our LGBT history and learn lessons from the past.
And Black, of all people, should have recognized the sensitivities. But amid the furore, there is also hope in the relaxed silence that greeted the fact that a young, gay, female MP went into the classroom and spoke to young children about her life and experience.
That lack of comment is surely a good thing and shows how far the country has travelled since those dark days of Section 28. It hints at the broad acceptance, indeed complete assimilation of LGBT issues, in our schools. That should be welcomed. Instead it was drowned out because of a poor decision to invite a drag queen into a school and an equally ill-advised decision by Mhairi Black to rush to describe critics of this visit in such intemperate terms.
The school, the council, the education secretary and even the SNP spinner who suggested that the drag queen was no different to any pantomime dame, have all apologized. So, too, should Mhairi Black.