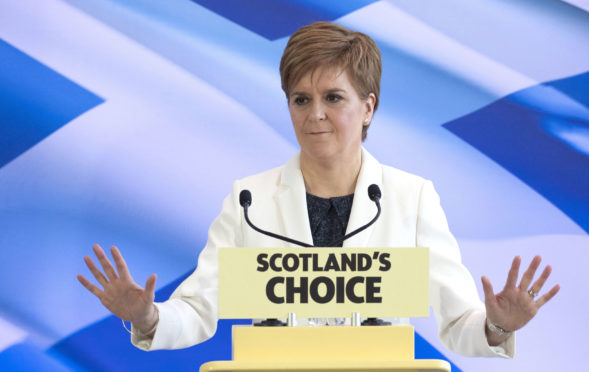 Surely no one still seriously believes that there will be a second independence referendum this year?
And yet Brexit day was too good an opportunity to miss, for Nicola Sturgeon not to use the symbolic moment to reiterate her calls for another vote on indepenence. Albeit, she struck a new note of caution that if not now, then certainly after the 2021 election, and within a timeframe yet to be disclosed.
This lukewarm rallying call will no doubt have disappointed many impatient Yessers who have been marched up and down that hill so often since 2014 that it's a mystery that any of them still have the energy to want more.
But Sturgeon, cognizant of an increasing anger among sections of her support, said that they should not give in to "impatience and frustration". That now was the time to build the case for independence.
"Independence", she said, "will be born from our capacity to persuade". And in answer to the idea of holding an illegal ballot, she said that to deliver on independence, a referendum must be legal and must be legitimate.
So, while the ardent Yessers unlaced their marching boots, the First Minister of Scotland sketched out her decidedly less radical, next steps towards a second referendum.
First, she will ask the Electoral Commission to test the question that would be posed, she will publish a series of "New Scotland" papers and she pledged to double SNP campaign spend.
If anyone was hoping for Sturgeon to rise up against her so-called Imperial masters who have already said "no", and announce a wildcat referendum, then they would be sorely disappointed. For some, having won election after election, already gives Sturgeon all the mandate she needs, but Sturgeon wants to win the next referendum and with just one poll showing Yes narrowly ahead, there is much to be done. And with her political opponents hammering home her perceived failings in government, that is all the more difficult.
Hospitals in special measures, baby deaths, NHS waiting times missed, public sector work force crisis, "economic stagnation", housing crisis, slashed police numbers and police stations shutting up shop, the First Minister of Scotland can point out the dismal picture south of the border under Conservative rule, she can say the Tories "are not governing Scotland, they are goading Scotland", but the clue to her own responsibilities lie in her title.
In every area of government business, the Tories may well be failing in England, but the SNP is in power here. While it is true that "team, record, vision" was the campaigning slogan that won the SNP a majority in 2011 and the right to hold an independence referendum in 2014, it is not one that the party could easily pull out of its armoury now. If Sturgeon is to deliver a referendum but also, this time, win it, then she needs to address all three elements of the old, successful slogan.
And if anything, a debate about Scotland's future needs to be rooted in its present and on that the SNP has some work to do.