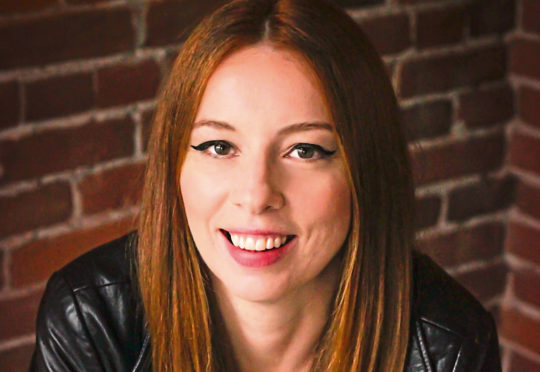 Like a scene from Margaret Atwood's dystopian The Handmaid's Tale, protesters gathered to scream at women arriving at a Toronto library last week.
They were abused and harassed as they came to hear journalist Meghan Murphy speak about her belief that transgender ideology is marginalising women's rights.
Murphy's is an old-school feminism that would normally be celebrated by the left but the mob, some masked, some shouting death threats, was not made up of right-wing misogynists but was of the left. Liberals berating women. And something is not right.
Her view that trans women are not women has become a lightning rod for vitriol and there were also protests when she spoke at the Scottish Parliament earlier this year. She has been banned from Twitter while enduring death threats and a barrage of online abuse.
Ever since I started writing columns exploring why the arguments around changes to the Gender Recognition Act here and to the census had become so polarised, I have also been insulted and harassed. I have been called a transphobe for simply acknowledging that there are women who feel vulnerable about the risk of male-bodied people occupying their single-sex spaces.
To me, it seems ironic that in the attempt to be all-inclusive, choices around diversity are being shrunk so that trans women are not to be celebrated for being trans women but are to be called women. Meanwhile, biological women find themselves becoming a subset of the genre they were born into. And, to add insult to injury, are told to pipe down when they object.
At the SNP conference, I attended an invite-only, password protected, event organised to launch a women's organisation specifically exploring women's rights in the context of proposed legislation on self-identification for transgender people. I heard nothing in that meeting that should upset any women, trans or otherwise but, still, for fear of reprisals we were told to switch off the location function on Twitter.
The debate around sex and gender is febrile but the fundamental fact that women are the focus of such hate when they remain one of the most discriminated against groups of people on this earth should – must – be a cause for concern.
It matters because, in a week when women MPs retired from politics citing the levels of abuse and journalist, Samira Ahmed, argued in an industrial tribunal that she should be paid the same as male colleagues doing the same job, I attended an event with 16 Scottish media editors where I was the only woman. It matters because women represent half the population; we vote, we shape the news, we exist, and we are still waiting for fundamental change.
And while the Scottish Government wrestles with issues of how equality can get messy and institutionalises a woke approach, when even its emails are signed off with preferred pronouns, I reserve the right to ask why, when we are being told that trans rights are not up for debate, women's are?