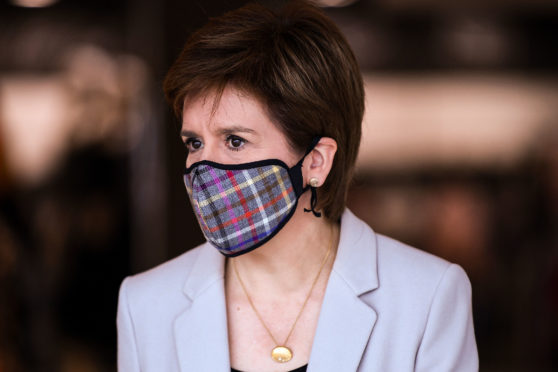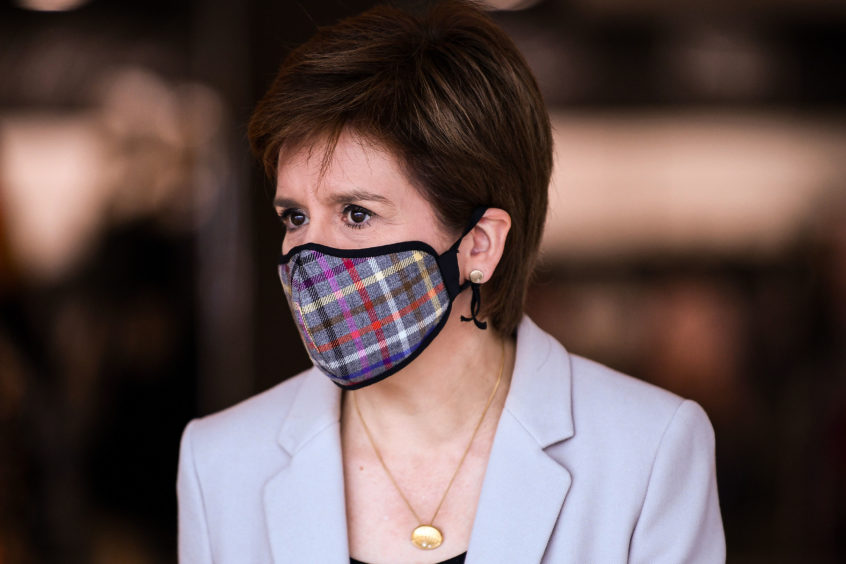 Wearing face coverings will become mandatory in shops in Scotland from July 10, Nicola Sturgeon has announced.
Speaking during the Scottish Government's daily coronavirus briefing, Ms Sturgeon said that, as people start to interact more, it is "vital we take steps to reduce risks".
The First Minister introduced a number of further additions to the already planned measures for lockdown easing that are to be implemented in the coming days.
On social distancing, she said sticking to the two-metre rule has "serious economic implications".
From the end of next week, exceptions would therefore be allowed for specific sectors to operate within a one-metre distance with mitigation measures.
These sectors include hospitality, retail and public transport.
But the general rule in law will be that businesses must take reasonable measures to ensure two-metre distancing is maintained, she said.
There was also good news for young people, with some limitations on their meeting with friends being lifted.
The announcements came as the First Minister confirmed that outdoor hospitality – such as pavement cafes and beer gardens – can open as planned from Monday July 6.
Meanwhile self contained holiday accommodation, such as cottages and lodges, can reopen from tomorrow, July 3.
The Scottish Government is also lifting the guidance advising people not to travel more than five miles for leisure from Friday – although this will not apply to parts of Dumfries and Galloway where there is a cluster of Covid-19 cases.
People in Annan, Gretna, Dumfries, Lockerbie and Canonbie must continue to abide by the five mile limit, and care home visits will not be able to take place in those areas.
Ms Sturgeon said changes elsewhere in the country were possible because the R number – the average number of people infected by each person with coronavirus – was between 0.6 and 0.8.
She also said the number of people who were believed to be infectious with Covid-19 in Scotland had reduced to 1,500 by last Friday.
Here's a round-up of the additional changes to lockdown easing announced today:
---
Face coverings
Nicola Sturgeon said in today's briefing: "Face coverings in shops will be compulsory from the end of next week but please don't wait until then, get into the habit now."
The Scottish Government has already strongly recommended the use of face coverings in enclosed public spaces, with their use already mandatory on public transport.
As with public transport, there will be some exemptions, for example for children under five and people with certain medical conditions.
Ms Sturgeon said: "Let me be very clear – this is not a decision we have taken lightly. Indeed, it's taken us some time to reach this decision. But as we start to interact more, it's vital that we take all reasonable steps to reduce risk.
"And we know that face coverings can help reduce the risk of transmission indoors.
"Also in shops, as on public transport, contact tracing is more difficult because we usually don't know the people we have been contact with. So a face covering provides an additional layer of protection.
"It is therefore for all of these reasons, that face coverings in shops will be compulsory from the end of next week. But please do not wait until then – get into the habit of it now.
"This is an important way for all of us to help protect each other, and to display that sense of solidarity that has served the country so well over these past few months."
---
Two metre rule
The Scottish Government's general advice will remain unchanged on two metre distancing, Nicola Sturgeon said.
They will continue to advise that, as far as possible, people should remain two metres away from people in other households.
Two metres will also remain the benchmark for the Test and Protect system's contact tracing.
But as Scotland enters phase three of the route map, there will be exemptions to the two metre rule for specific sectors where agreed mitigations are put in place.
Ms Sturgeon said: "The exemptions will allow premises in relevant sectors, if they so choose, to operate with a 1 metre distance on the condition that agreed mitigations are implemented.
"To be clear, these will be exceptions – the general rule, in law, will continue to be that businesses and services must take all reasonable measures to ensure that 2 metres distancing is maintained.
"Ahead of phase 3, we will work with key sectors – initially hospitality, retail and public transport – to agree the mitigations that will be required, and to finalise detailed guidance. We will also work very closely with trade unions."
The guidance will be different for different sectors, Ms Sturgeon said.
Mitigations might include improved ventilation, perspex screens, regulation of customer flow, and seating plans that reduce transmission risk.
For hospitality and possibly other sectors, the collection of names and addresses of customers, to help with potential contact tracing, will be required.
Clear customer information on social distancing measures must be displayed in any premises where the two metre rule is not being implemented.
Ms Sturgeon added: "We hope to have most guidance agreed for the start of phase three and ahead of the opening of tourism and hospitality from 15 July. In the meantime the current rules apply – that means, for example, beer gardens opening on Monday must initially comply with the two metre rule."
"In my view, this represents a balanced and proportionate approach to what is a genuinely difficult issue. It allows businesses to cater for more customers – and we know that for some that will be the difference between staying in business and closing."
---
Children
From tomorrow, children aged 11 and under will now no longer be required to physically distance with other people when they are outdoors.
However other rules will remain the same – they should continue to meet in groups of eight or less, and to meet no more than 2 other households in a day.
Adults who are with them should continue to observe physical distancing from each other.
Physical distancing will still apply indoors.
Ms Sturgeon said: "This will enable you to play normally with friends, which we hope you will enjoy. I'm sure this move will also be appreciated by your parents and carers."
For those aged 12-17 there is also some good news.
The limit on the number of meetings they can have in one day has been lifted, as long as the meetings are outdoors and include no more than eight people.
Ms Sturgeon said: "That means that you can meet different groups of friends at different times of day.
"And it also means that you won't be prevented from meeting your friends, just because your parents or carers or your brother or sister are meeting their friends.
"As I said, for now, we are asking older children to still keep 2 metres distant from people in other households.
"I know that the advice we've published today suggests that this is less important for young people – so we hope this will change in the weeks to come – but initially, and for your safety, we want to be cautious.
"These changes are careful but important steps that I hope will make life a little bit more easier and hopefully a little bit more fun for children and young people."
The easings above will, unfortunately, not apply to children who are shielding.
Ms Sturgeon said she hoped to set out more changes for children and adults next week on how households can meet, interact and play.
That includes a hope to confirm that organised outdoor contact sports for children can resume from 13 July.
Ms Sturgeon added: "I hope that these changes allow you as children and young people a bit more freedom in meeting up with your friends, and I hope they allow you to make a bit more of the summer holidays – even if, as will probably be the case in Scotland, it's raining for much of the time."
---
Live updates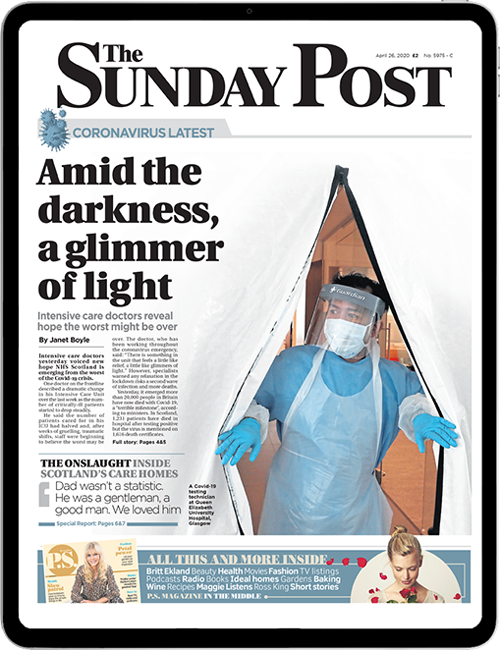 Enjoy the convenience of having The Sunday Post delivered as a digital ePaper straight to your smartphone, tablet or computer.
Subscribe for only £5.49 a month and enjoy all the benefits of the printed paper as a digital replica.
Subscribe