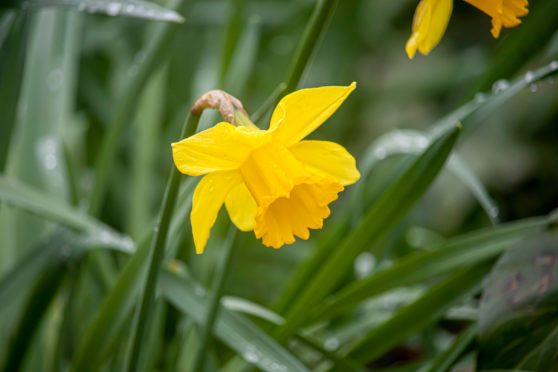 I started keeping a diary when I was 16, and I filled it with things like going to discos on a Saturday night, being asked to dance by the boy I'd fancied for weeks, school gossip, and having a row with mum because she wouldn't let me out in that mini-skirt I'd bought.
Decades later, I still keep a diary to remind me of family birthdays, dental appointments and lunch dates with friends. But lunches out have been off the menu since the arrival of the coronavirus.
It has intruded into our lives suddenly, with a negative impact that is quite staggering.
Empty shelves in supermarkets, no-go areas and banned activities, the fear of being stopped by the police if you do something outrageous, like deliver Easter eggs to your grandchildren.
I know that staying safe at home is the right thing to do but, my goodness, it does get boring doesn't it?
I've read a few of the novels I'd kept for a rainy day. I've watched the DVDs also stored as a safety net. I've tidied out cupboards and drawers, and filled a couple of bin sacks for the charity shop when it opens again.
I've phoned friends and written letters. I've pottered in the garden and realised last week things had gone too far when I congratulated the daffodils on blooming so beautifully this year.
Shopping has lost its charm. Our town's Main Street is deserted. Glasgow is like a ghost town and my weekly therapy of browsing in bustling clothes shops and book stores is off the menu.
I desperately need a haircut – but no chance of that. As for having lunch in a favourite restaurant with friends? Not on.
We are all programmed now to stand far apart from others and absolutely never commit the crime of a hug.
Mind you, enforced solitary confinement with a husband over umpteen weeks doesn't tend to lend itself to hugs.
If anything defines the difference between men and women, it has to be coronavirus.
I miss baby-sitting our young grandchildren, talking to our older grandchildren, having people round for dinner, planning our next holiday – my husband thinks all this free time is perfect for watching old movies, not shaving, going on Amazon to order new tools for his already overstocked tool box, and having the perfect excuse not to see people.
Vive le difference, as the French would say.
The coronavirus will leave its impact on many relationships and, in years to come, we will look back on it as a defining moment because it brought out the best in people who have helped elderly and sick neighbours by shopping for them, handing in home baking, collecting medication from the chemist, among may other acts of kindness.
It has given us time to reflect on so many of the good things in life.
Spring has arrived, the countryside is blooming and we want to enjoy the simple pleasures of a walk down a country lane, or strolling on a beach listening to the sound of the waves.
Sometimes we forget how fortunate we are to have the peace and freedom of living in a land we so often take for granted.
When the restrictions are over, we may well look at life a bit differently.
We will take fresh pleasure in the simple things. Perhaps we will be more responsive to the needs of others.
On the housing estate where my daughter lives, an enterprising mum had the idea of having a weekly movie night outdoors, so people can be out in the garden watching films she has projected on to her garage door. So families have seen Frozen, The Greatest Showman and Mamma Mia! The children have loved it.
Sadly, funerals during this time have to be limited in the numbers attending and this can cause great sadness in many families. But hopefully, when we have seen off coronavirus, those lives can be properly celebrated in memorial services.
We are a nation of enterprising people and, in good times and in tough times, we find a way through.
We always have and always will.
---
Are you, like Maggie, keeping a corona diary? Tell us how your family is bearing up in lockdown. Email ps@sundaypost.com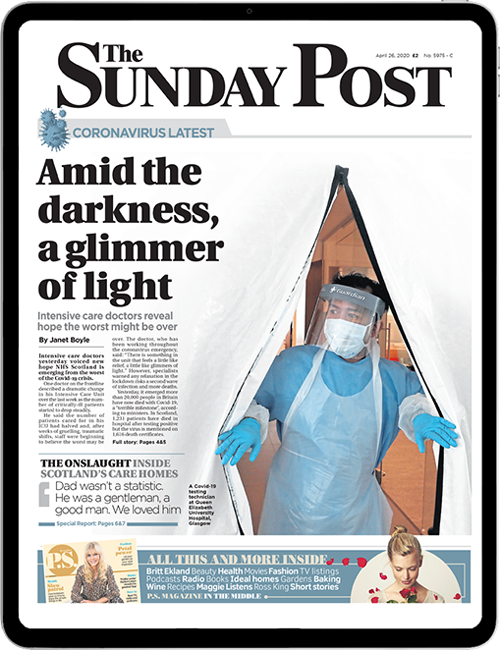 Enjoy the convenience of having The Sunday Post delivered as a digital ePaper straight to your smartphone, tablet or computer.
Subscribe for only £5.49 a month and enjoy all the benefits of the printed paper as a digital replica.
Subscribe