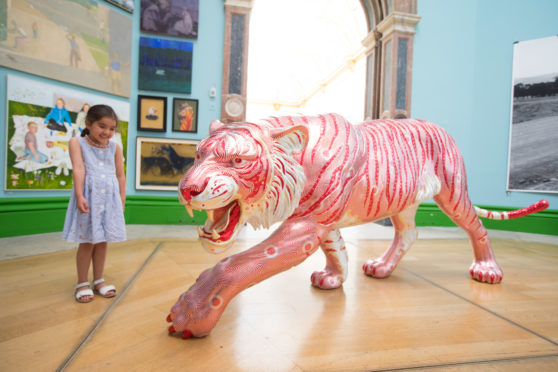 Sometimes, now and again, a place and a time come together and something magical happens.
Paris in the 1920s and London in the 1960s, for example, were hotbeds of artistic inspiration and for two of Scotland's most talented sculptors, at least, Methil in the 1970s can be added to the list. Brothers David and Robert Mach grew up in the Fife town and say the sights and sounds of their childhood has been a lifelong inspiration as they turn unusual material into some of Scotland's best known works of art.
Turner Prize nominee David has used everything from matchsticks to tyres and newspapers to coat-hangers for his famous installations, while Robert's eye-catching use of Tunnock's wrappers has gained fans around the world. Although they have helped with each other's work for years, their first official collaboration is Easy Tiger, a big cat sculpture decorated in chocolate biscuit packaging currently on display at The Royal Academy's summer exhibition in London.
Meanwhile, Robert has also put his love of Tunnock's wrappers to good use for Oor Wullie's Big Bucket Trail, creating not one but two shiny versions of the Sunday Post icon.
Growing up in the Fife town was a sensory experience, according to David, who also made the landmark Big Heids at the side of the M8 between Glasgow and Edinburgh.
"Being raised where we did was incredibly creative – the docks, the oil platforms, the football at Bayview, living next door to the brickworks, the bakery, millions of whisky being casked," said David, whose breakthrough piece was the giant Polaris car tyre submarine installation on London's South Bank in 1983.
"We were both artistic growing up, as was our sister, Cathy, who was a great painter. Robert was one of those annoying kids who was great at everything – art, athletics, chess, and he would win prizes at school.
"But we had another education in addition to school, from our parents.
"They appeared quite ordinary people – my dad was a miner and my mum a housewife – but they were very eccentric and had a strange logic, which has gone on to help me as an artist.
"We never wanted for any type of stimulation and I feel very lucky to grow up at that time. They read voraciously and mum was obsessed with music and film. From Tchaikovsky to Sinatra, she listened to everything.
"I used to think my parents were film stars, because mum talked about all these people like she knew them.
"It was as if our life was choreographed and she couldn't get enough drama out of things. We couldn't watch a film in our house without someone providing a brief history of films.
"And she used to convince me not to do my homework so I would watch a horror film with her, something like Frankenstein. She would close the curtains and build up this drama so you were terrified before the film even started.
"We went on holiday every year to Poland, where my dad was from. He had been in a labour camp in Siberia, sentenced to 10 years' hard labour, and he escaped from Poland when the Nazis invaded."
David went to Dundee College of Art, and was accepted to the Royal College of Art in London, but Robert took a different route into the art world.
He graduated from Edinburgh University with a philosophy degree and worked at a number of different jobs, as well as assisting his brother on big projects.
"I was a systems' analyst and garden centre manager, among other jobs," Robert said. "I then decided to stay at home and look after our two kids while my wife went out to work.In 1984, I helped my brother make a big digger and a tank from Yellow Pages books. It was an opportunity for me to work while looking after the kids. Working with him was of mutual benefit, we both wanted each other to get on."
Robert began working on his own projects, but it was only when he hit on the idea of wrapping objects in Tunnock's wrappings that he found his trademark style.
"There's something about British sweets and cakes – we seem to cover them all in brilliantly coloured foil," he continued. "It's a very British thing to do. And none look better than Tunnock's wrappers.
"I don't know about anyone else, but when I eat a Tunnock's, I want to smooth the wrapper out afterwards, because it's such a nice looking thing.
"The first thing I wrapped in foil was a figure of Jesus, Mary and Joseph. It was something my dad had bought from a local shop. It made it seem so much more valuable."
For Easy Tiger, Robert travelled from his home in Luddon Links to David's art studio in London.
"I spent about 21 days on it, 12 hours a day. People think it will only take a day or two to cover something in the foil, but there are lots of wee squares, corners, tiny tears to fix.
"I cut them to shape and glue them with Pritt Stick. It can be quite boring," he laughed.
To get the effect he and David were looking for, they used more than just Tunnock's wrappers.
"I had to buy a lot of Viscount biscuits and M&S chocolate wafers. M&S do different flavours, five or six of them, and they come in all different coloured packaging."
For the two Oor Wullies, Tunnock's gave him rolls of unused wrappers, but Robert prefers to utilise used ones, because "they've already had another life" before he gets his hands on them.
Up next for the brothers is an exhibition based on the Kamasutra. And they want to carry on the animal theme after the success of Easy Tiger.
David added: "We are both full of ideas and I'd like to promote us as a duo going forward, while still doing our own things, too.
"I'd love to do a life-size elephant sculpture, covered in foil."
Better start buying in those chocolate biscuits now.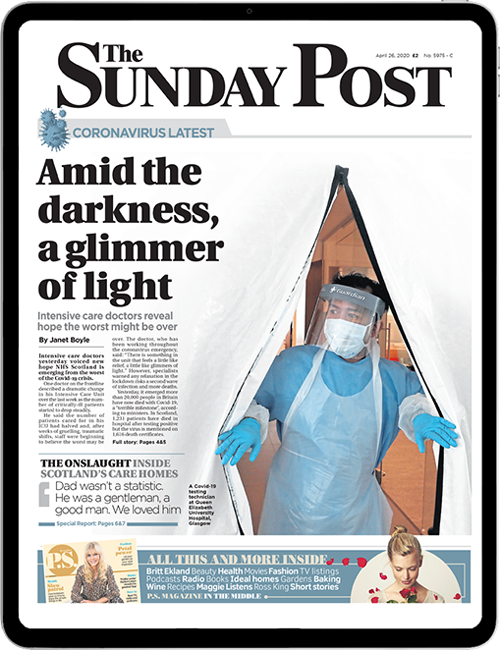 Enjoy the convenience of having The Sunday Post delivered as a digital ePaper straight to your smartphone, tablet or computer.
Subscribe for only £5.49 a month and enjoy all the benefits of the printed paper as a digital replica.
Subscribe