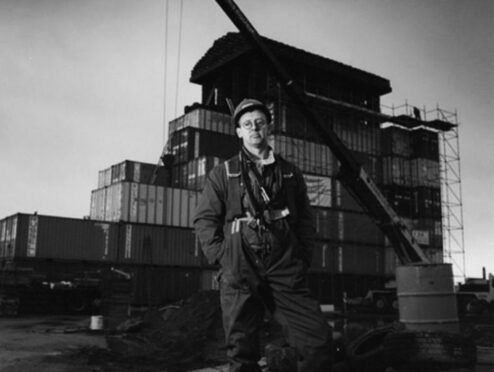 For four decades, his modern, monumental sculptures have dominated skylines and split opinion from the M8 to Kyiv. Now, at 66, David Mach feels like he is starting over.
The artist finds himself in-demand, with commissions around the world while, at home, he is preparing for the arrival of a baby in the summer.
Busy juggling projects and looking forward to becoming a father again, there are no nerves or uncertainty as Mach, who has created some of Scotland's best-known public art, insists he has never felt more inspired and is ready to go larger than ever.
"The projects I'm working on are getting bigger and bigger, more elaborate, crazier," he said. "I hate things to be normal, if you like, or sensitive or reasonable.
"In art terms, I feel I head in the opposite direction of that and I want that to happen, because we have a world busy telling us to pare it down, take it easy, go easy, don't push it too hard; ultra-conservative stuff and I hate the whole flavour of that, and so it permeates everything I do artistically.
"I've always done big stuff anyway; I'm not guilty of working to small scales.
"I'm insatiably inspired right now and in a real state of flux in my dreams. The other night, I designed an entire football stadium in my sleep and I woke up in the morning thinking I was nuts. I'm also dreaming about houses and other things. I feel like I'm starting again."
Mach, who lost his wife and artistic partner Lesley in 2014, is expecting a baby with his partner Lyndsey Gibb, a print maker, in the summer.
"It's bananas but there are worse things happening than me having a child at 66. We are really excited and happy about it. It will be fun, but it will also be crazy, with the art exploding again, life changing in multiple ways, and everything happening at a rate of knots."
His foray into architecture came about by accident. He happened to be in the room a few years ago, he explains, when the company behind the new Edinburgh Park development said they were looking to create a building from shipping containers but had yet to be inspired by any of the architects' designs. As someone renowned for his use of shipping containers in his work, from the iconic Big Heids beside the M8 in North Lanarkshire, to the Temple At Tyre at Leith Docks, Mach felt well-placed to give his opinion.
"They were getting the usual stuff from architects, where containers are placed normally – horizontally and vertically – so I said I had an idea, drew it up and they grabbed it straightaway," he explained. The arts space at Edinburgh Park, known as Mach 1, is expected in the spring and could certainly not be accused of having a uniform design.
"Off the back of that, I was talking to some guys I know in Syria who were working on a new university in Damascus and I asked them if they would like to see some of the things I had, and so I've begun working on a project there with Michel Zayat, an architect who lives in Dubai.
"Then a deal came up in Mauritius with a big company who are running down its sugar cane industry and they have these massive factories they want to do something with, so I've got working on that, and since then there's been a few other things as well.
"I'm really quite excited that it's happening, and now that I've started I'm surprised it hadn't happened before. I'm sure architects will have opinions on what I'm designing, but I look forward to those discussions. I enjoy that sort of stuff."
The son of a miner from Methil, Fife, Mach graduated from Duncan of Jordanstone College in Dundee in 1979 and went on to study at the Royal College of Art in London. He announced his arrival on the scene in 1983 with Polaris, a life-size representation of the nuclear-powered submarine made from tyres and displayed at London's Hayward Gallery. He has spent much of his time in the UK's capital ever since, splitting his time between there and Fife.
"I was trying to get the hell out of London but I've failed miserably," he chuckled. "I have a place in Largo and I was wanting to spend most of my time up there, but I'm still spending less time there. My girlfriend is up there with the dog and cat, and I'm still trying to create my getaway. It's quite knackering splitting time between two places and working in both, but I'm up for it even though the travelling knocks you out a bit.
"I've lived down here for 40 years and I also regard myself as a Londoner, so I have that combination and maybe that's why I haven't quite let go.
"I like being Scottish, especially being from Fife, and people not knowing exactly how to deal with me. After all these years, I've not become one bit more sophisticated and I kind of like that; it has a weird strength to it, which certainly helps me. You're still an infiltrator and I love being an infiltrator.
"You're not quite the establishment. You appear to be the establishment but you're not really; you're just sort of mingling and they're all asking how he got here. Art has something to do with that. I've had lunch with the Queen, had dinner with prime ministers and leaders of countries, and there's no way I'd have been mixing with anyone like that if I was involved in something else – art has led to this. That's important because then you get to say what you think to the person who needs to hear it.
"Quite often I'm sitting in a place and waiting for the tap on the shoulder and me saying, 'Yeah, there's been a terrible mistake, just get me my coat', but now I'd be more bolshie about it and say, 'Excuse me, but why should I not be here?' It's a funny thing but I've never felt more bolshie than this in my life."
That, he says, is a reaction to the way the country is being run as he veers into diatribes about our politicians as he proffers strident support for striking workers and believes they should be given everything they ask for, and believes union leaders are the only voices in the argument who can be trusted to tell it straight.
"There's a terrible gap between the people apparently running the country and those on the frontline of work. They have no idea what these people do, how much they deserve or how much money they can live on," he said. "We have a terrible Labour Party as well. If you can't get rid of the Tories now – and it's not a question of Labour or Tory for me; it's just about getting it right – then Labour are getting it very wrong. Mick Lynch and the other union leaders talk sense and tell you straight, but the politicians don't seem to be interested in that. I'm veering off art here but it all feels part and parcel of the same thing now."
Mach, elected a Royal Academician in 2008, will open a major new exhibition, Heavy Metal, at Pangolin London this week. It features a series of maquettes of some of his biggest and most ambitious projects, including a bronze rendering of Darlington Train, a locomotive train sculpture made from 185,000 bricks, and It Takes Two, a sculpture of two Sumo wrestlers holding up a shipping container, displayed in Paris in 2006.
He will exhibit in Scotland again later this year, teaming with his fellow artist and brother Robert Mach once more, following on from the success of their first joint exhibition, Easy Tiger, in 2019.
"We have a joint show coming up in Stirling. We were talking about wanting to make another large piece – a stag or a gorilla, maybe – and using Robert's technique of foiling on it. We'll both independently also make little works to fill the museum."
As we come to end of our chat, Mach's thoughts turn to politics once again. "I'm just so angry about this useless government and what it is doing," he said. "But the rest of it? I'm having a bit of a ball, to be honest."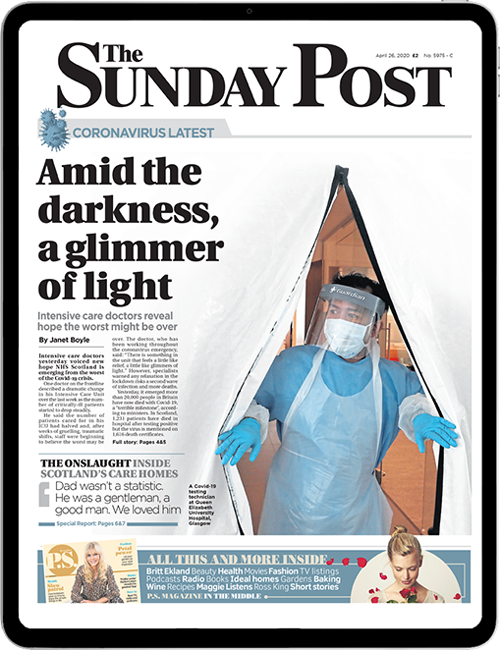 Enjoy the convenience of having The Sunday Post delivered as a digital ePaper straight to your smartphone, tablet or computer.
Subscribe for only £5.49 a month and enjoy all the benefits of the printed paper as a digital replica.
Subscribe