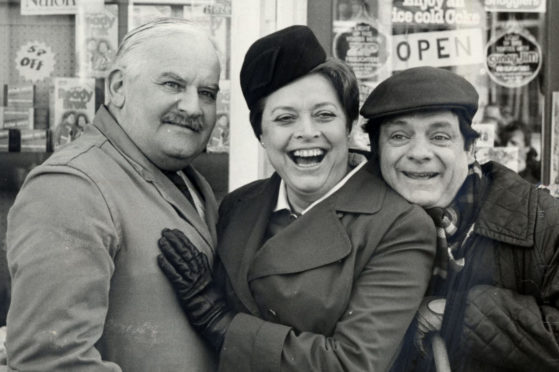 Nurse Gladys Emmanuel might be a character of yesterday along with Auntie Mabel, who was adored by kids in the 1990s, but Lynda Baron who starred in those roles is all about today and tomorrow.
"I loved playing Nurse Gladys and Auntie Mabel but I couldn't name my favourite of the different characters I have played," said Lynda.
"Partly that is because I am really the sort of person who prefers to look ahead and think about what I am doing now and, importantly, what I am going to do next."
Although she will be 81 in March, there are no signs of Lynda slowing down. She is in two productions due to be seen during 2020 including movie Dream Horse which will be on general release in April.
"That was fun to make," she said. "It is about a lady called Jan who is a bartender and cleaner in a Welsh village.
"She decides to train a racehorse and the whole village gets behind her as the horse goes from success to success and finally has to race against the best in the world. It's well worth seeing."
Lynda's own track record is immense and goes back to the late 1950s.
"I actually trained as a dancer," she revealed. "I was with the Royal Academy of Dance so I must have been of some use.
"I went into rep then and learned so much about acting. It was hard work because you were constantly doing one drama, rehearsing the next one and learning the lines of the one after that. It was a great education and I am so glad to have gone through that.
"I actually remember that my first professional job was in panto at Liverpool Empire with a big star of the day – Sonnie Hale.
"I was just 16 at the time and thought it was wonderful.
"It was certainly a start and I have been quite busy ever since. You get your lulls in work and that makes you all the more grateful when the next job comes along and all the more determined to give it your best.
"Television has played a major part in my career but I have been in lots of films as well, all sorts from Carry Ons to crime stories and also working with Barbra Streisand in Yentl.
"I have also kept working on stage because I enjoy it, there is nothing quite like a live audience. You have to get it right first time although I do remember on one occasion, also in a panto, I was flying across the stage when my red silk dress snagged and fell away leaving me dangling and spinning round and round in my underwear. I couldn't stop laughing and neither could the audience."
It is her television work that has made Lynda really famous though from her appearances in The Rag Trade in the early 1960s right through to Open All Hours, Doctors and EastEnders of more modern times.
"I have great memories of all of them and when people start asking me questions about the different shows it is amazing how good their memories are as well.
"I get asked about appearing in Doctor Who for instance, which is not something I am particularly well known for.
"I have a claim to fame on that one though as I was in Doctor Who in the 1960s, the 1980s and then in 2011 so it could be said that I have had two centuries of Doctor Who and played three different characters.
"As well as EastEnders I also played in Coronation Street and Crossroads so I have done my bit in the soaps. There was one I particularly liked and it was a one-off called The Road To Coronation Street and it was about how Tony Warren got Coronation Street on TV.
"I played Violet Carson which was a great honour and it was really nice to actually for a few minutes play Violet Carson playing Ena Sharples."
The Two Ronnies, The Bill, Dinnerladies, Last Of The Summer Wine – the list is endless but probably the two most popular roles were in Open All Hours and in the children's favourite, Come Outside.
"Playing Auntie Mabel in Come Outside was a delight. I used to get wonderful letters from children asking for a signed photo – mostly of Pippin who was Auntie Mabel's dog and a lovely co-star. Pippin stole every scene and why not. Pippin was lovely.
"It was such a nice series, funny, educational, safe and cosy all at the same time. Having appeared in things like Hands Of The Ripper, being Auntie Mabel was lovely."
Auntie Mabel did not have much in common with Nurse Gladys Emmanuel – or did she?
"Probably not, but as a nurse you still are the kind of figure that people want to be friends with," she said.
"The trouble is that Arkwright wanted to be more than just friends and that made for a great and very funny storyline all the way through the nine years of the series.
"Working with Ronnie Barker and David Jason was unbelievable – two great actors in a brilliantly scripted sitcom. There was never a day when we did not have a great laugh ourselves and that carried on when Still Open All Hours became a series.
"I was asked to return as Nurse Gladys for that and I was very happy to do so. We didn't know if it was going to work but the viewers loved it and so it has lasted the test of time.
"We took each series as it came and I didn't particularly want to leave it but I had taken other commitments so I didn't carry on to the present. You never know if that might change though. Who knows what tomorrow might bring?
"That is why whenever I'm asked what is my favourite part I always give the same answer – the next one.
"I have been an actress for a long time now and I hope to go on for quite a while yet. It is hard to imagine a life when I would not be an actress.
"If it had not happened for me I don't know what I would have done although it is quite likely that I might have become a market gardener because I have always had an interest in growing things. I'm quite practical with my interests, I like cooking, knitting, painting, that kind of thing.
"I am fortunate though that I have had such a long career and lots of variety.
"I should hate it if I was recognised for playing just one character although I can fully understand why people get into a soap and stay there as long as possible. Being an actor can be a precarious business, I have been very lucky."
"Skilled" is probably a better word than "lucky" when thinking of Lynda Baron and it sounds as if she will go on performing those skills for a long time to come.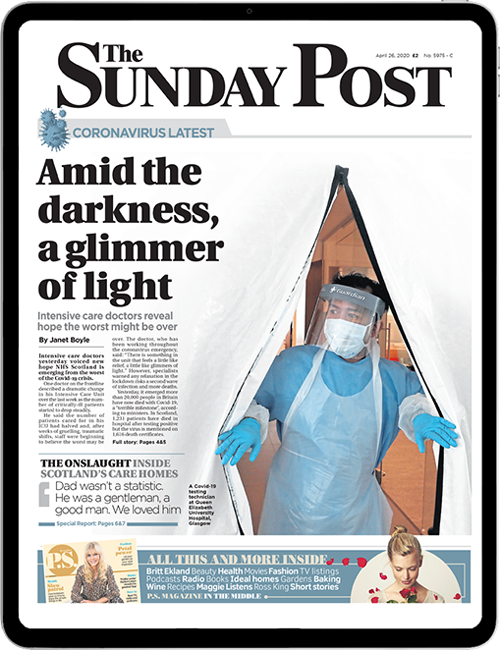 Enjoy the convenience of having The Sunday Post delivered as a digital ePaper straight to your smartphone, tablet or computer.
Subscribe for only £5.49 a month and enjoy all the benefits of the printed paper as a digital replica.
Subscribe