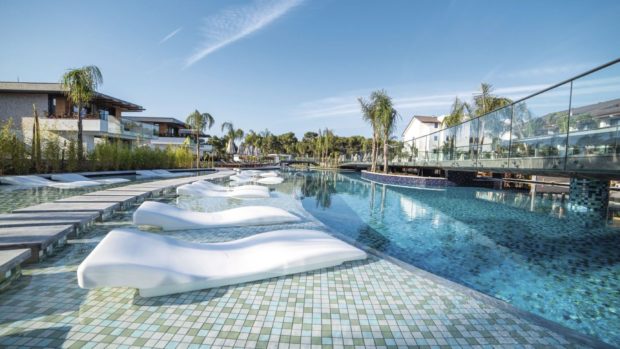 Rhythmically gliding through cool, turquoise water, the hot sun baking my shoulders, I begin to relax. I'm surrounded by vibrant green palms and ornamental grasses, and the soothing scents of white jasmine and soft musk fill the air.
Rivalling a tropical lagoon, this lake-sized swimming pool is part of adult-only, upscale holiday resort The Residence at TUI Sensatori Barut Fethiye. Located on the seafront, with its own section of beach and private forest, it's 13km from Fethiye, near Dalaman.
The Residence is all bright, white buildings, wooden accents and smoked-glass screens arranged around the pool area. A winding, lazy river cuts through the resort in sparkling shades of mint-green, turquoise and navy, separating raised sunbathing terraces linked by secret walkways. The overall vibe is hushed and relaxed.
My open-plan bedroom is decorated in soothing hues of soft greys and pale blues. Adjacent to the bed, which is a huge affair, stacked high with squashy pillows, there's a freestanding whirlpool tub with space for two. A marble bar area is stocked with premium-branded spirits, and there's an option for an in-room cocktail-making class.
I pour a flute of sparkling wine and head out to my private balcony to watch the sunset and a saxophonist begins to play gentle, down-tempo jazz.
Simply swimming or walking around the resort is enough to induce relaxation. But anyone determined to unwind can take advantage of a programme of wellness activities.
The first activity I try is gong bathing, which takes place under a cool canopy of trees next to the beach. An instructor guides us through several stretches, then asks us to lie in a position we find comfortable. Eyes closed, she slowly strikes a gong, which reverberates like rolling waves, beginning as a gentle vibration and eventually rising to a crash.
The vibrations have a therapeutic effect as they flow through the body and mind.
My next activity is a mindfulness meditation session, taking place in a wooden cabana adorned with soft streams of voile flowing in the breeze. I lie down, soften my gaze and focus on our surrounding environment. The instructor asks us to register the sound of birds flying overhead and the scent of the plants that surround us. I think about the present and block out any other stray thoughts.
Yoga and meditation are both useful relaxation techniques, but nothing is quite as effective as a visit to the resort's Viola spa. The candlelit treatment rooms feature Jacuzzis, beds covered in thick towels, and shelves stocked with Elemis products and bottles full of exotic oils.
I opt for a back, neck and shoulder massage, and am surprised to discover an area of tension in my lower back. The therapist identifies the cause of the problem and I feel a warm sensation flooding across my back as the pressure is released.
She cracks my spine in a variety of different points, before using oil and running her thumbs in deep grooves across my muscles. Afterwards, I lie comfortably swathed in big, soft towels.
The following day, I pack my bikini and head off for on a private VIP Blue Cruise boat tour (£59pp). I spend the day sunning myself on the boat's top deck as it glides across the sea. We dive and swim in private coves and enjoy a cooked Turkish feast aboard the boat, before disembarking in Fethiye.
Exploring the port's colourful side streets, I stop to gaze at items for sale in pottery shops, inhale the aromas of spice stalls, and can't resist sampling some sweet Turkish delight. A visit to Mori Restaurant is the perfect finish to the day, as we dine at candlelit tables overlooking Fethiye harbour.
I spend my final day back at The Residence, reclining on a beach cabana (£49 per day). Our private butler brings us platters of Turkish pide (a type of flatbread) and champagne. I settle back on the soft white bed and enjoy the murmur of the sea, feeling fully pampered.
---
P.S. 
Fethiye's Tuesday market is a major attraction so expect a huge crowd. Hundreds of stallholders sell carpets, ceramics, jewellery and clothes. Friendly haggling is part of the deal, so be ready to get stuck in. There's a colourful display of fruit and veg, too. If it makes you feel peckish, snack on a gözleme, a tasty Turkish pancake.
---
Factfile
TUI offers seven-night holidays to Fethiye, Turkey, staying at The Residence at TUI Sensatori Barut Fethiye on an all-inclusive basis. Prices from £984 per person. To book, visit tui.co.uk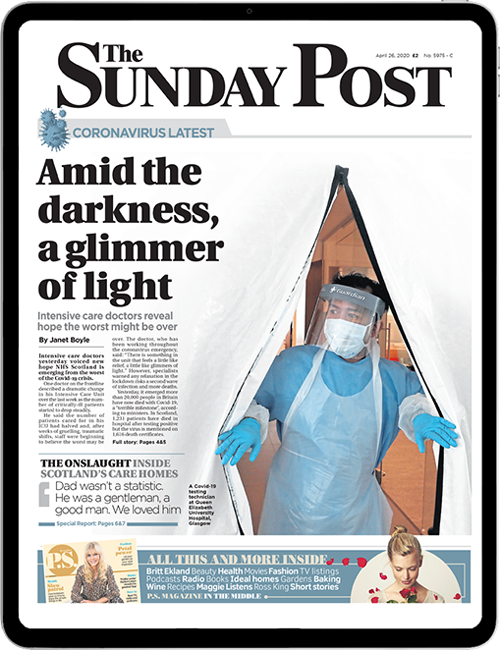 Enjoy the convenience of having The Sunday Post delivered as a digital ePaper straight to your smartphone, tablet or computer.
Subscribe for only £5.49 a month and enjoy all the benefits of the printed paper as a digital replica.
Subscribe