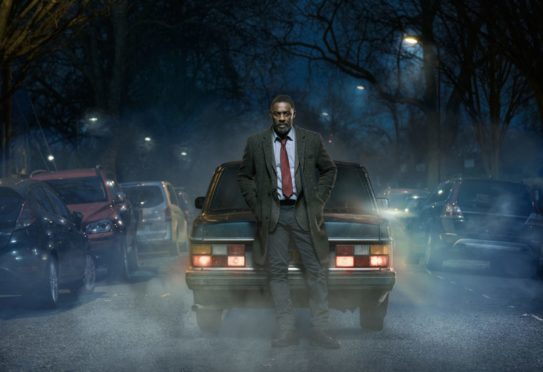 He is one of the world's most in-demand screenwriters thanks to the phenomenal success of Luther.
But Neil Cross, the show's creator, says his love of reading and writing is intrinsically linked to his childhood years in Edinburgh – and one classic book in particular, Robert Louis Stevenson's Kidnapped.
"The first book I really enjoyed reading was Kidnapped – it's one of the fountainheads of my imagination, and Stevenson, Edinburgh and that time is all tied up in that for me," said Neil, who was seven when he moved from Bristol to Edinburgh with his mum and new stepfather, Derek Cross.
"There are few places I have lived where I have such an emotional and powerful connection as I do with Edinburgh. It's a very particular place to me and I have a love and fondness for it."
Neil was awkward and not great at making friends when he moved north, but a new world soon opened up to him when, two weeks after they arrived in the city, his stepfather Derek gave him a carrier bag full of second-hand children's books. Novels hadn't been a part of Neil's life in Bristol, so they completely opened up his imagination.
"Derek Cross was a magnificently bifurcated character," 51-year-old Neil continued.
"He was an amazingly good stepfather, a model stepfather, but he was also a deeply troubled man and everything he was and seemed to be was something he wanted to want and wasn't real. He was a conman. He moved from family to family and town to town, coming into people's lives and enjoying the person they made him until he emptied out and moved on again. So he was a complicated man.
"But everything I've ever written since has had its wellspring in him and in Kidnapped. Alan Breck Stewart was a bifurcated character as well – a fantastic swordsman but a pompous ass."
Derek later moved the family from Edinburgh to a small Lanarkshire village called Tarbrax, before he fell in love with another woman and moved out, with Neil and his mum returning to Bristol as a consequence.
Neil began his writing career as a novelist, publishing his first book in 1998 before turning to television, scripting several episodes of spy drama Spooks. But it was his creation of psychological crime drama Luther, starring Idris Elba as the titular London detective, that struck gold. Having been first shown 10 years ago, and with each of the five series showing an increasing jump in audience numbers, there is huge anticipation around what is next for the character, with a film rumoured to be in the works.
"All I can say, I'm afraid, is there will be an announcement soon," Neil shared. "Idris and I are both really excited and neither of us can wait for the announcement to come so we can properly talk about it, as we love the show so much, but something big is coming." Yet Neil believes had the show come out now, it might have been cancelled after the first series.
"I hesitate to say this, because we owe a great debt to the BBC and I respect the BBC, but the first show was marketed appallingly, focusing on the elements of other cop shows. It looked like Lewis but with Idris, and that's not what it is at all," dad-of-two Neil explained.
"So the audience was baffled and switched off in hundreds of thousands. Something new takes a few months to seep into the public conscience. Like a good cup of coffee, you need to let it stand, but today we would be cancelled. So many TV shows need a series or two, not even to find their feet but for people to 'get' them.
"Line Of Duty was allowed to find an audience and grow, even Only Fools And Horses didn't really work until the third series. If you look back at TV greats that became phenomena, an awful lot were given a bit of rope."
Another one of those, Columbo, is one of Neil's all-time favourites. One of his prized possessions is a vintage Columbo board game given to him by a member of the NYPD whose two favourite fictional cops are Luther and Peter Falk's dishevelled detective.
"I'm a ridiculously huge Columbo fan," Neil smiled. "Even now, my wife and I will spend at least two Sundays a month watching Columbo."
Neil will hope viewers spend their evenings this week watching his new four-part mini-series, The Sister, a spooky thriller based on his novel, The Burial, about a married man whose terrible secret comes back to haunt him.
The writer revealed earlier this month that the story was born from an incident he had as a teenager in Bristol. Following a night of heavy drinking, he woke up with a clear memory of coming across a homeless man the evening before and stabbing him to death. It didn't feel like a dream to Neil, but there was no blood on his clothes and no evidence he committed a crime. When the internet came into being, he searched for any details but found nothing. He knows now it wasn't a real memory, but doubts about revealing the story to the public remained.
He said: "I'm really still a bit uncomfortable talking about it, but I've had people contact me saying they've experienced the same thing. It's a completely groundless anxiety but a small part of you says, 'What if it did happen?'
"I've been told about something called Pure O, a type of obsessive compulsive disorder, but rather than it being a ritualised condition like washing your hands, it is based on the emotion of having done something."
Post-production of The Sister was completed in lockdown from all corners of the world, including New Zealand, where Neil lives with his family.
Prime Minister Jacinda Ardern has been almost universally praised for her approach to the virus, which has seen New Zealand remain virtually coronavirus-free.
"It's a peculiar thing for me, a new experience, to have a politician in whom I have faith," he said. He has spent lockdown working on his new television series, an adaptation of Paul Theroux's 1981 novel The Mosquito Coast, which was adapted into a Harrison Ford movie and is about a family who leave their old life behind to move to the Central American jungles.
"We were halfway through filming the season, which we're making for Apple, when Covid hit. We were in Mexico City and I got the last plane out to New Zealand," Neil said. "I've been working on it every day since in one way or another but didn't know if it would be possible to get it going again. But filming re-started last week. It's been moved to Guadalajara and there is now rigorous protocols in place to make sure we keep everyone safe, which is the priority."
---
The Sister is on Mon-Thur, STV, 9pm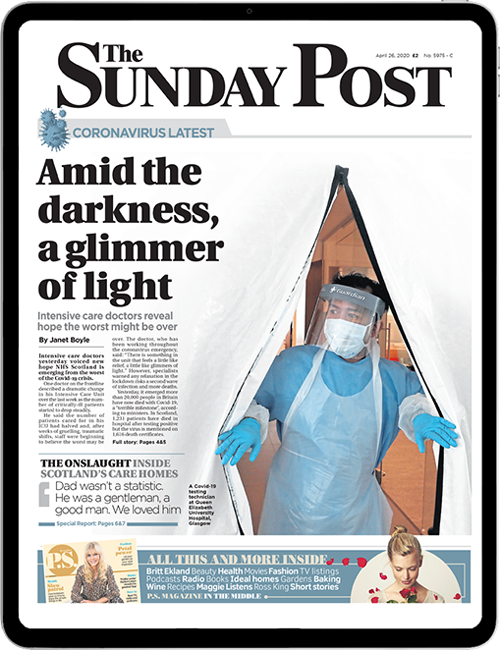 Enjoy the convenience of having The Sunday Post delivered as a digital ePaper straight to your smartphone, tablet or computer.
Subscribe for only £5.49 a month and enjoy all the benefits of the printed paper as a digital replica.
Subscribe