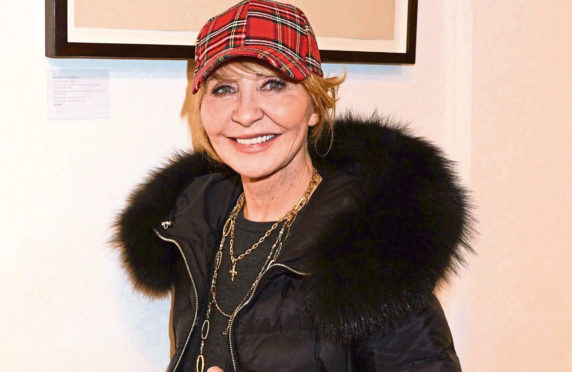 She's worked all over the world, been lauded and applauded from Perth in Scotland to Perth in Australia, had hit after hit, won the Eurovision Song Contest, recorded a James Bond theme and is still in huge demand to sing everywhere.
Yet Lulu has never been dazzled by her own success, never forgotten where she comes from.
"It doesn't matter where you are," she said. "You can be sitting in a dressing room in New York or a hotel room in Tokyo but where your feet are is almost unimportant. It is where your heart is that really counts and while my career has taken my feet over thousands of miles, my heart has always been in one place – Scotland."
As has been said many times, Lulu was born Marie McDonald McLaughlin in Glasgow in 1948 where her dad was in the meat trade.
"Maybe we were not particularly well off but we never starved, that's for sure and there was always a good atmosphere about the home," she said.
"My mum and dad always liked to laugh and they had the radio on just about all the time, singing along with it as well and we all joined in.
"Yes, they were a normal married couple and had their fallouts but I mostly remember the music – that's what motivated me to sing.
"I sang at a Coronation party in 1953 when I was four, my first public performance and that led to going in for talent contests when I was 14.
"I started singing with a band called The Gleneagles around pubs and wherever they would have us in Glasgow. We got a pound a night between us and we were thrilled to bits about that.
"One night we were seen by a lady called Marion Massey who said she could manage us and get us better gigs. She did too and at 15 I went off to London and we became Lulu and The Luvvers. I owe that brilliant lady for being there and seeing us that one night in Glasgow when we were sharing a pound.
"I vividly recall growing up in Glasgow, being there with my parents, going to school, getting those early gigs and none of that has ever left me. Perhaps that is why I have never been anything but close to my roots and to Scotland.
"It is funny that when you travel and you meet people from different areas and different countries and perhaps you live in those countries for a while, your accent can change a bit. You don't work at it – it just happens.
"But as soon as I meet someone from Scotland or I am either visiting or working in Scotland my full Glaswegian accent returns almost straight away. I don't do it on purpose, it never really leaves you.
"I have never understood people who turn away from or even deny their roots. Why would anyone do that? What is really great is that whenever I am back in Scotland it hardly feels as if I have been away and people treat you as if you are still living among them. I really love that."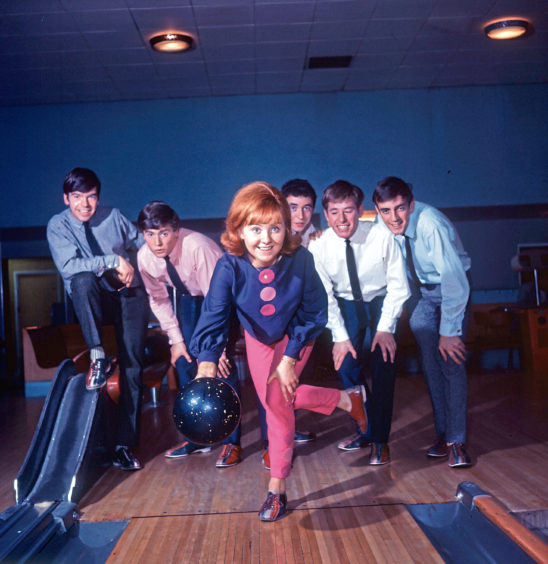 She has been away, of course. That trip to London when she was 15 is still going on nearly 57 years later!
"It has been a great journey and I am still loving every bit of it," she said. "Last year we did another tour which was fantastic. I am never happier than when I am on stage and singing to a live audience.
"I have appeared in things like 42nd Street and they are magical, I have had done countless television shows, including my own series and they are all very special to me but there is nothing quite like walking out on stage in a packed venue and getting such a warm welcome from the audience.
"You want to give them everything and you might be exhausted by the end of the evening but the sheer thrill of it keeps giving you renewed energy. I just love it, from those days in the band going round the pubs in Glasgow right the way through to today.
"When I played Glastonbury a couple of years ago I thought that there would never be another moment like that but I realised later that every night can be a Glastonbury night no matter where you are or how big the venue is.
"It is the relationship between you and the audience that really counts, whether it is tens of thousands or just a few hundred. It is something that you can hardly put into words and I am so glad that I am still doing it – may it never stop."
There is simply not enough space here to catalogue everything Lulu has done but her Eurovision Song Contest win in 1969 with Boom Bang-a-Bang is still talked of as one of the best of all time.
"That was a great night in Madrid," she recalled. "We didn't win outright but shared with Spain, France and Holland. I think that was a fair result really, although at the time I wished we had won outright of course. The song itself was hugely popular and sold all over the place, so perhaps we were outright winners on sales.
"I don't know why our entrants have not done so well in recent times but the competition itself has changed and it seems now to be more about quirky presentations than the actual quality of the songs and the singers. Perhaps we haven't quite tuned into that yet."
World acclaim landed on her doorstep when she recorded To Sir, With Love in 1967 having also starred alongside Sidney Poitier in the film of that name.
She topped charts all over the globe with that and again in 1974 when she was chosen to sing The Man With The Golden Gun, the theme song of the James Bond film of the same name, which starred Roger Moore.
"Looking back, it was very successful but I think there have been better songs for Bond films," she said. "To be a part of the James Bond story though is very special, it kind of means that you are part of some movie history and I like that. It would be nice to do another sometime but we shall have to wait and see."
There is no end to what Lulu has achieved and why would there be? Yes, she will be 72 in November but she really does not look it.
"I don't feel it either," she said. "People say some kind things about how I look and I do take care of myself but mostly by making sure I use the right variety of cosmetics, some exercise and being careful about what I eat.
"That is not always easy because I was brought up on a typically Scottish diet and I don't naturally have a sprig of parsley and a hint of an olive for my main meal of the day.
"I do recognise the benefits of being sensible though, so that's what I do – enjoy but be sensible. The exercise is also important but you probably won't find me running marathons – some yoga is good though."
What is next for the girl from Glasgow?
"More of the same I hope," she said. "I have an open mind and I do consider everything that is suggested. I don't say 'yes' to everything of course but if I think it might be fun or if it gives me a chance to do what I like best then there is a good chance that I will do it. I like to perform, I like to dance and I like to meet people.
"I certainly wouldn't rule out another tour around Britain and that would have to include some dates in Scotland. I hope I am still welcome."
There's only one answer to that – yes!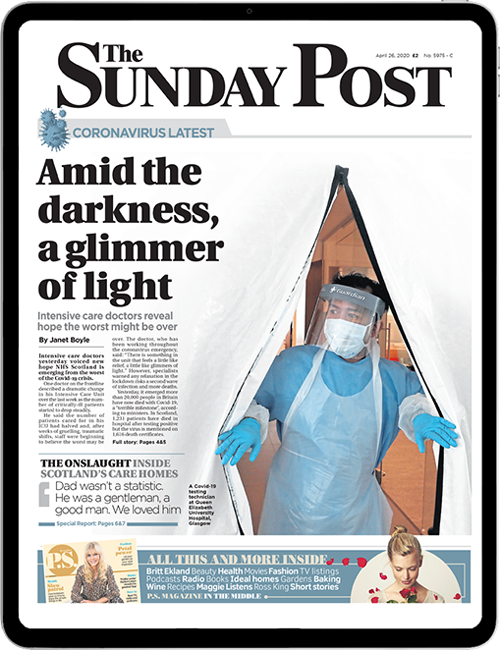 Enjoy the convenience of having The Sunday Post delivered as a digital ePaper straight to your smartphone, tablet or computer.
Subscribe for only £5.49 a month and enjoy all the benefits of the printed paper as a digital replica.
Subscribe