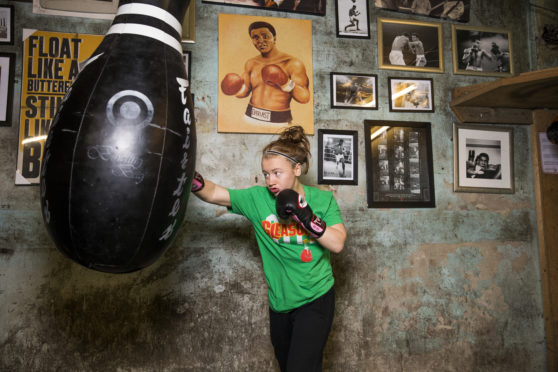 A rising ring star has won a dream chance to follow in the footsteps of ring legends Muhammad Ali, George Foreman and Mike Tyson after a lucky break in the Big Apple.
Tomorrow, Cassidy Todd will fly to New York to begin training at the world-famous Gleason's Gym.
Gleason's – in the shadow of the Brooklyn Bridge – is hallowed ground for both boxers and fight fans alike, having trained 136 world champions since it was established in 1937.
The list includes Ali, Foreman, Tyson, as well as Joe Frazier, Larry Holmes and Floyd Patterson.
The gym currently has three female champions and owner Bruce Silverglade reckons Cassidy could become number four. But her big break isn't thanks to a fighter, it was down to… Mick Jagger.
In July, Cassidy, 21, went to New York for the first time with a friend, Lesley Ferguson, to see The Rolling Stones play at the Metlife Stadium in New Jersey.
As a treat, Lesley booked her friend a one-to-one session with Don Saxby, a leading trainer at Gleason's.
When Cassidy laced on the gloves and climbed into the ring to spar with a male fighter, Saxby was so impressed he offered the young Scot a full-time training deal on the spot.
She also caught the eye of gym boss Silverglade, who told Lesley: "You've just brought me a future world champion from Scotland."
Cassidy still can't believe she's been given the chance. She said: "Just visiting New York was a big deal in itself.
"I knew Gleason's was the most famous boxing gym in the world.
"I was very fortunate to get the chance to train there.
"My session was booked for my first day in New York. I ended up being invited to work out for the full week of my holiday.
"I was overwhelmed by the size of the place which has four different rings. The other boxers were really nice and welcoming."
On that first morning, Cassidy got down to work, skipping, shadowboxing and hitting the pads under the watchful eye of trainer Saxby.
Cassidy recalled: "When you are new to a trainer it takes a while to get used to them, so I was a bit nervous. I wanted to do well and impress Don.
"We started work on the pads and after just one round he said: 'I want to work with you on a more permanent basis'.
"It was probably the toughest week of my life, training-wise. It was also more than 80 degrees in the gym.
"I've never experienced anything like it. Gleason's currently has two female world champions – one is 37-years-old and the other is 33.
"But they were shocked at how young I was at 21. Don said: 'You're a baby…we could really do something here'."
The trainer said: "I've had the pleasure of working with numerous world champions and top contenders.
"But it's rare that I see great potential in such a gift to the boxing world.
"The sky is the limit for this young lady and I'm looking forward to helping her achieve her goals."
Cassidy started boxing at 14 and has had 16 fights in her amateur career. She is currently the Scottish Novice and Intermediate champion and she is a twice Scottish Elite silver medallist.
Now, the winning team at Gleason's are confident she could turn professional and become a real star.
They put Cassidy into the ring to spar with male fighters and she gave a very good account of herself.
Cassidy said: "One guy I went in with had more than 100 fights, and I also sparred with one of their female fighters who is the best amateur in the country.
"Both were good spars. I didn't feel out of my depth. I did pretty well."
Cassidy was swept along with the unique atmosphere in Gleason's and was inspired by some of the big names – not just in boxing – who've used the facilities.
Actor Robert De Niro trained at the gym to prepare for his Oscar-winning role as boxer Jake La Motta in the 1980 classic, Raging Bull.
La Motta – known as "The Bronx Bull" – was Gleason's first world champion when he won the middleweight title in 1949.
Actress Hilary Swank worked out at Gleason's for her Academy Award-winning role as a female boxer opposite Morgan Freeman in the 2004 movie, Million Dollar Baby, directed by Clint Eastwood.
Cassidy said: "Hector Roca, the guy who trained Hilary, came over after watching my sparring and said: 'You are some fighter, you're gonna be a world champion'."
Cassidy is hoping to gain sponsorship for her initial three-month stay in New York. Due to US immigration laws, she is not allowed to do any paid work so has to retain her amateur status.
She is financing her trip via crowd funding and personal savings.
But Silverglade is so confident she has what it takes to turn professional and make the grade his legal team are backing her application for a sports visa.
Cassidy said: "They helped me get somewhere to live and said they think I could go all the way. That's when I realised just how serious they were.
"To experience the training at Gleason's was like night and day compared to what I get at home.
"The level of one-to-one attention – working on my craft – helped me really focus.
"The level of fighters who come into the gym every day is at a much higher level. To be around people like that is very inspiring."
Cassidy will have to leave her friends and family behind in Glasgow, but she is more than prepared to make the sacrifice, if it means she can fulfil her ambition to become a professional fighter.
She said: "I come from a family of three brothers and one sister, so I'm sure there will be times when I get homesick, but I'll just have to deal with it.
"Also, I don't yet know my way around New York so I'll have to get out and really explore the city.
"Training in any gym is a pleasure, but Gleason's is the most famous boxing gym in the world, so it's unreal.
"It's also every boxer's dream to fight in America."
Cassidy said: "So many people have walked through Gleason's door as champions – or have gone on to become champions. I want to be the next one.
"I'm just ready to go for it. I like challenging myself, and it has given me a real goal.
"I need to go there and prove myself," she added.
"It's a dream come true and I'm ready to give it my all."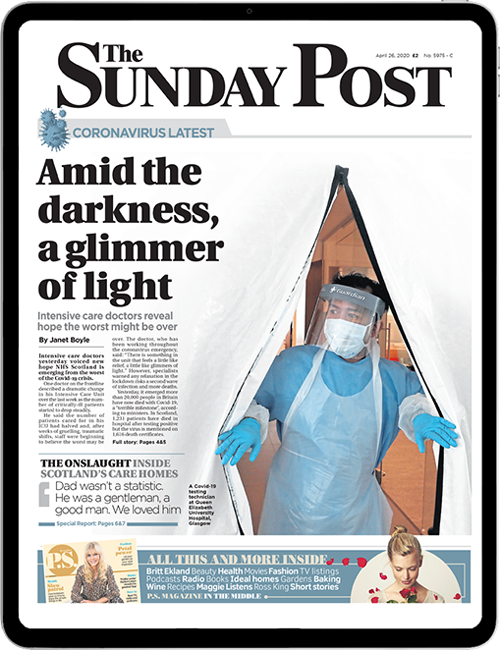 Enjoy the convenience of having The Sunday Post delivered as a digital ePaper straight to your smartphone, tablet or computer.
Subscribe for only £5.49 a month and enjoy all the benefits of the printed paper as a digital replica.
Subscribe