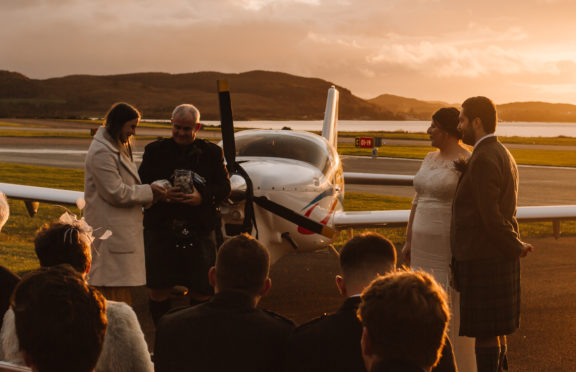 Most people would never choose to marry at work.
But when the venue is one of the most scenic airports in Scotland, the bride is an air traffic controller and the groom is a pilot, romance is very much in the air.
Lizzie Farrell, 25, and Danny Fleming, 24, met when they were studying aviation at university.
Their love affair took off through their student year before Lizzie graduated.
She then began working in air traffic control at Glasgow while Danny became an airline pilot, based at the same airport.
"Our lives have revolved around aviation and I even wave to him from the control tower when I see his plane take off from the runway," said Lizzie.
"Danny popped the question four months ago but when he suggested getting married at an airport I was floored.
"I was speechless, but could see how it would be a fitting place to tie the knot, as our lives have revolved around aviation.
"But we only had weeks really, to organise it all."
Danny had his heart set on Oban Airport.
He is a member of Connel Flying Club, based at the Argyllshire aviation base.
The couple knew it would take a lot of planning, not least getting the permission from the aviation authorities.
Danny said: "Lizzie was stunned at my idea of a wedding location but Oban Airport is one of the most picturesque settings in the world.
"It had always been my wish for us to marry there but I knew I would have to pick the right moment to suggest it."
The couple, who live in Renfrew, had the task of getting 35 guests and four babies to the Argyllshire airfield.
"The airport apron was an ideal location," he said.
"We were praying for good weather and decided that if it did pour down, we could always seek cover in the airport hangar."
A gentle autumn afternoon sun shone down on them as Liz and Danny prepared to exchange vows last Saturday.
Lizzie says she had everything planned down to the last detail.
"An airport is always a windy place and with Oban being by the sea, it was going to be even more so.
"However, I chose a dress which would look stunning but not balloon up as I walked down the makeshift aisle." Even the vows had been carefully thought out.
Lizzie's vows had the usual promise to love – but also a more unusual commitment, specific to their situation.
"When we planned our wedding vows I promised to always wave to Danny from the control tower at Glasgow Airport when his plane took off.
"It's not something you will hear in many wedding vows, but ours was not the usual wedding.
"This raised a few smiles from our guests.
"Danny waves back when he can and it's become our routine.
"It certainly raises a bit of a smile among our colleagues at the airport."
The couple had timed the wedding to take place after the last flight had landed at Oban.
But in the middle of the ceremony, an aircraft carrying pupils from school in Oban back to their island homes, landed on the runway.
"The pilot and passengers must have been surprised to see a wedding party on the ground," said Danny.
"I could imagine what they were all wondering as they watched us from the air. As a matter of courtesy, the pilot switched off the engines quickly on landing to avoid any background noise."
The couple say they felt it was a fitting addition to their ceremony.
"We couldn't have planned it better," said Lizzie.
Wedding photographer, Chloe Burns, said it was her most unusual location to date. She had captured couples tying the knot in castles, beaches and hilltops… but never an airport.
"It was as romantic a venue as you could imagine, especially as Lizzie and Danny both work in aviation," smiled Chloe.