NINETY world records will be attempted at the London Marathon 2018.
A team of Guinness World Records adjudicators will be there on the day to check costumes, verify times and confirm who'll be featured in the 2019 record book.
This year's record attempts include…
Fastest marathon dressed as a toilet (male)
To beat: 02:57:28
This year will be Bob Prothero's eleventh London Marathon.
Between 2009 and 2010, Bob held the record for the Fastest marathon dressed as a vegetable.
Bob is a strong supporter of WaterAid for many years and also works full time for the charity. His costume nods to the organisation's aim of providing clean, working toilets, along with clean water and hygiene education.
 Fastest marathon on stilts
To beat: 06:50:02
In 2008, Michelle became the first person to set the record for the Fastest marathon on stilts and she's aiming to claim back her title ten years later.
Michelle works for the Motor Neurone Disease Association and will be fundraising for them on the day.
She says: "Every day I speak to those affected by and living with this dreadful disease, so I'm proud to be able to raise some much-needed awareness by taking on the marathon, hopefully I'll be easy to spot!".
Fastest marathon by a mascot (male)
03:17:57 to beat
Lee is running the Virgin Money London Marathon as Paddington for his Guinness World Records title attempt for the Fastest marathon by a mascot.
The marmalade-loving bear is the mascot for Action Medical Research.
Action Medical Research (AMR) work to fight children's diseases, a cause close to Lee's heart as he lost a daughter in 2005.
Lee has taken part in six London Marathons and wishes to commemorate his 10-year London Marathon anniversary by earning a Guinness World Record.
Fastest marathon dressed as an Emoji (female)
To beat: 04:30:00
For Victoria's first marathon she'll be dressed as a well-known emoji.
The runner will be raising money for WaterAid and said the poop emoji was an obvious choice.
She said: "It had to be the poop – everybody's favourite emoji! It's recognisable, kids love it and it will make people laugh. Plus, it's perfect for WaterAid who work tirelessly to ensure everyone in the world has access to clean water and decent toilets."
Fastest Marathon dressed as an insect
To beat: 03:32:41
Barnaby has run so many marathons he's lost count of how many races he's finished.
After running the London Marathon dressed as Captain America last year, he's decided to try and break the record for the fastest marathon dressed as an insect at the 2018 race.
Barnaby is raising money for the charity Refugees at Home, where he is a regular volunteer. The organisation helps refugees to find temporary accommodation until they are entitled to work.
 Fastest Marathon dressed as a stationary item (male)
To beat: 03:45:00
Alex has completed a whopping 34 marathons.
After achieving his lifetime goal of running a sub-3 hour marathon at last year's Virgin Money London Marathon, Alex is taking on a new challenge.
This year, Alex is raising money for Ellie's Friends, a part of Maggie's Cancer Charity, in honour of a good friend and a family member who recently passed away due to cancer.
Fastest Marathon dressed as Darth Vader
To beat: 04:57:00
34-year-old Philip Powell is taking on the world record after his brother was given A New Hope, receiving a life-saving stem cell transplant in January, made possible by blood cancer charity Anthony Nolan.
Last year, Philip ran the marathon dressed as Mr Potato Head.
With the Mr Potato Head record officially roasted he decided he had bigger spuds to fry, and turned to the Dark Side, but he says attempting the world record run as Darth Vader is no simple feat.
"It's at least 10 times harder to run in the costume than to run normally. The current record is 4 hours and 57 minutes and I should be able to smash it but running in the suit is actually really tough. If I don't regulate my breathing the mask fogs up and I can't see and I also can't really see below my nose."
Other records attempts will include fastest marathon dressed by a leprechaun, fastest marathon dressed as an ironing board and iron, and fastest marathon dressed as a whoopee cushion.
The 2018 Virgin Money London Marathon takes place on April 22nd.
The Guinness World Record book comes out in September.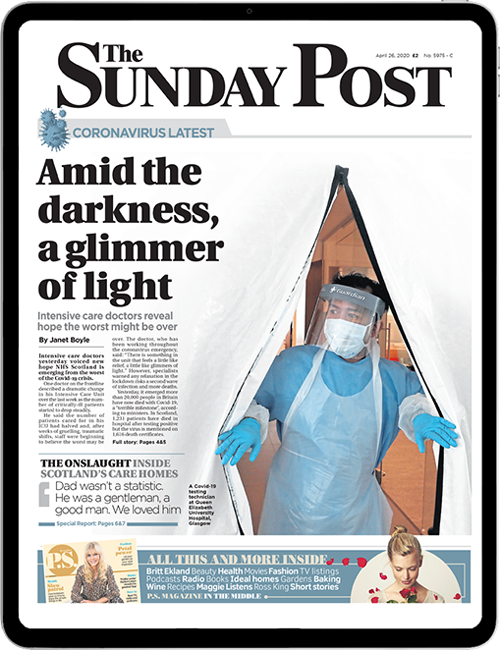 Enjoy the convenience of having The Sunday Post delivered as a digital ePaper straight to your smartphone, tablet or computer.
Subscribe for only £5.49 a month and enjoy all the benefits of the printed paper as a digital replica.
Subscribe