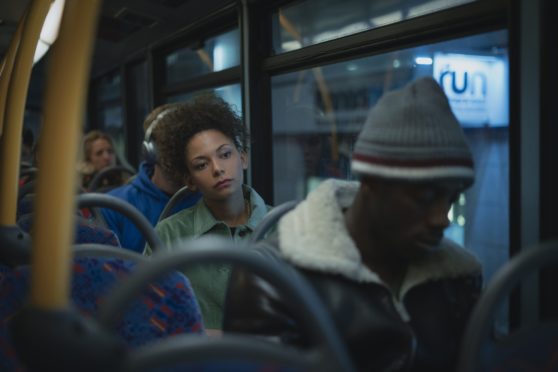 Lois Chimimba was soaking wet and freezing cold in the middle of the Welsh countryside, struggling to breathe in a costume corset, when she got the career-making phone call from Netflix.
Two years on and she's now set to become one of the hottest names in television with the much-hyped drama The One launching on the same weekend as her new sitcom.
The actress stars in the new Netflix drama about using DNA to find your genetically compatible soulmate as well as hotly tipped hospital-set comedy Beep, which debuts on BBC Two tonight.
Lois – pronounced "Loyce" – can't quite believe that both big projects are hitting screens at the same time and her pals have been talking about holding online watch parties to celebrate her big weekend.
The London-based Scot, who was nominated for a Scottish Bafta for Group, has already worked on other huge shows including Doctor Who, Casualty and Trust Me but she was thrilled to get her biggest break to date with The One, an eight-park futuristic thriller based on the book by John Marrs.
"When I heard I'd got it, I was doing a wee bit in Sky's A Discovery Of Witches. It was a night shoot in a storm so there was a lot of sitting about. I was wearing a corset, which I absolutely loved at first but within about an hour I was feeling pretty uncomfortable," recalled Lois.
"It was cold and my feet were damp but then I got the call in the trailer about The One, and any grumps I had about being cold and wet were instantly gone because I was just so thrilled.
"I only just had time to phone my mum and tell her between takes. It was so exciting, because I knew it was for all eight episodes and something I could really get my teeth into."
The One has just launched on the streaming service, coinciding with the premiere of Beep, an eagerly awaited comedy from Scot Squad writer Bryce Hart and the production company behind BBC Scotland smash-hit Guilt.
The pilot for the sitcom based around a Scottish family and featuring The Replacement and Unforgotten star Siobhan Redmond, The Thick Of It's Paul Higgins and Two Doors Down's Victoria Balnaves is being screened tonight.
Lois, from Stepps, near Glasgow, said: "It's funny that both shows are on now. I'm very excited but it does mean I'm also quite nervous for what the weekend holds for me. Ideally I'd love to be able to work in both comedy and drama.
"Beep is a comedy, but it's also very heart-warming. It's about a family sitting by the bedside of someone in a coma. My character Becks is visiting her own family member in hospital and that's how she meets the central family.
"It's great, I had such a nice time doing it and the cast were all lovely. I'd really enjoy coming back to it to work with them and the writer, producer and director.
"Becks is lovely – she's smart and confident and going through her own stuff. She was a lot of fun to play."
Being back in a hospital setting for Beep thankfully proved less stressful than her screen debut on a ward seven years ago.
The talented Glaswegian took performing lessons in her home city aged 11, and then moved to London 10 years ago to study drama. After graduating from Mountview Academy of Theatre Arts, her first major part came at the prestigious National Theatre before she made her television debut as a patient in a three-episode run of Holby City in 2014, where she found out the hard way that the medical equipment on set was fully functional.
https://www.facebook.com/156400551056385/videos/884895828976013?__cft__[0]=AZUxHL7wHYdP9HdGkPmV8xuC0nVoV96IhQcoQPdJe1rtydV4ca5KFDcNTzNXElybeqsCk8HwyM8VogW-oE49Rw-YdUl3KkKkBk9gY1TfCroxYkV__gO4xrP-EzLMsWGwNO7kQB5NALsn5diUDF1Aatj9
Lois said: "I'd done lots of plays and been on stage since I was 11 but I was so nervous because I hadn't done TV at all. Being in front of a camera was so new to me. For the part I was hooked up to a pulse monitor and after the first take my heart rate shot right up and I was absolutely mortified. I was trying to hide it and was like 'get them off'. It was a pure red neck."
Lois's career has steadily been building to this weekend's double bill. She rose to prominence alongside Jodie Whittaker in Trust Me and then the 2018 Doctor Who episode The Tsuranga Conundrum, starred alongside Sheridan Smith in Jimmy McGovern's powerful family drama Care, and returned to Holby City in Casualty, before an attention-grabbing run of recent roles.
Lois appeared as Catherine Streeter in A Discovery of Witches earlier this year then, after Beep and The One, will next be seen in BBC Scotland submarine drama Vigil, as well as Stephen Merchant's upcoming sitcom, The Offenders.
It's fair to say her pulse is still racing at the prospect of such stellar projects like her new Netflix gig, even when it's not being inadvertently and embarrassingly monitored on set.
In The One, families are thrown into chaos when a charismatic scientist launches the DNA test to find their genetic love match. Millions flock to the service, with marriages destroyed and affairs sparked all over the world. The thought-provoking box set explores the consequences that occur when technology is allowed to dictate personal relationships.
Lois plays Hannah who, along with her husband, played by Harlots' Eric Kofi-Abrefa, is tempted to take the soulmate test.
It's a killer hook, and Lois, who is single, said she's been giving it plenty of thought.
"Some of the choices Hannah makes aren't maybe always the most sensible but I could really relate to them. I feel like it was an interesting dynamic for us to play with," she said. "I've thought about it a lot, and I would take it. But I would only do it when I was ready to handle any repercussions, how I feel today with managing being in a pandemic and trying to be good at my job, that's enough excitement for now.
"People are obsessed with love, with all the endless apps and new ways to meet people and even shows like First Dates."
Lois paid tribute to co-star Eric. "When we were on set, it was about our story. I felt like I had a voice and my opinion mattered and the thoughts I had about the character were important. I really loved working with him," she said.
"I was nervous because there are scenes of a sexual nature and that was the first time I've ever had to do that, but Eric made me feel so comfortable in all our scenes and we got on straight away. When we had discussions about sex scenes or character development, and had to approach directors or producers, we were always together."
Now, she can't wait to find out what viewers think. "I was really excited by the concept of the series and that Netflix reaches so many people. The idea you could find your true match is one people can relate to, so this could reach a lot of people – fingers crossed.
"All my pals have said we should do a 'watch party' but there's part of me that's so nervous I almost feel I don't want the attention on me – which is quite out of character – but no plans have been made. But I can probably guarantee I'll have a glass of prosecco."
---
The One is available on Netflix now. Beep is on BBC Two tonight, 9.45pm, and on iPlayer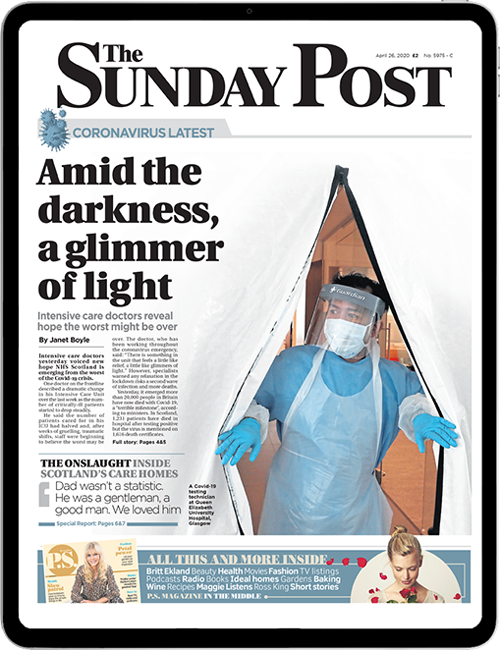 Enjoy the convenience of having The Sunday Post delivered as a digital ePaper straight to your smartphone, tablet or computer.
Subscribe for only £5.49 a month and enjoy all the benefits of the printed paper as a digital replica.
Subscribe