Scotland will move to Level 0 on July 19 as planned, Nicola Sturgeon has confirmed.
Speaking during a virtual meeting of the Scottish Parliament, the first minister announced the next phase of easing lockdown, which will see more people able to meet up indoors and outside.
Areas currently in Level 2 of restrictions, including Edinburgh and Glasgow, will see the biggest changes.
But there are a small number of modifications to previous Level 0 plans, including the postponement of returning to offices.
Sturgeon also stressed that that mitigations such as mandatory face coverings will remain in place, saying that lifting them would "put all of us at greater risk".
The first minister told MSPs: "While Scotland will move to Level 0 from next Monday, we will do so with certain modifications to our indicative plans.
"This is intended to ensure that our pace of easing restrictions is sensible in light of the challenge we continue to face from the Delta variant.
"And I will confirm that certain mitigations – such as the mandatory wearing of face coverings – will remain in place, not just now but, in all likelihood, for some time to come.
"Measures like the continued wearing of face coverings are important, not just to give added protection to the population as a whole, but also to give protection and assurance to those amongst us who are particularly vulnerable and previously had to shield."
On masks, she added: "It is my view that if government believes measures like this matter – and we do – we should say so, do what is necessary to ensure compliance, and take any resulting flak from those who disagree.
"We shouldn't lift important restrictions to make our lives easier and then expect the public to take responsibility for doing the right thing anyway."
Modifications to plans
The first minister announced a number of slight changes to what had previously been announced.
The upcoming phase initially included a gradual return to office working, but that has been postponed until beyond Level 0.
Scots should continue to work from home where possible, Sturgeon said.
She said: "I know this will be disappointing for many businesses – and also some employees who are finding home-working hard.
"But this will reduce the extent to which people are meeting up in enclosed environments or travelling together, and so will help to contain transmission during this phase."
Indoor hospitality will be required to close at midnight, rather than following local licensing conditions for operating hours.
Distancing indoors in public places will remain at one metre between households.
In outdoor gatherings, 15 people from 15 households will be able to meet without distancing within that group. They will, however, have to remain one metre away from other group gatherings.
Sturgeon said that she still hopes to lift all restrictions on August 9.
What Level 0 means
up to EIGHT people from FOUR households can meet in homes and stay overnight
up to TEN people from FOUR households can meet in an indoor public place
up to FIFTEEN people from FIFTEEN households can meet outdoors
Weddings and funerals can have up to 200 people
Mass stadium events will also be able to admit more people, with 2,000 seated patrons and 1,000 standing
Soft play centres in areas moving from Level 2 also able to open
Nightclubs and adult entertainment venues are the only places and businesses that will remain closed
Indoor events will be limited to 400 people
Pressure on NHS remains a concern
Covid-related pressure on the NHS is "of concern" to the Scottish Government, Nicola Sturgeon said.
Hospital admissions and intensive care cases had spiked in recent weeks, rising from 171 people in hospital and 18 people in intensive care three weeks ago to 506 and 42 respectively in the latest data.
The first minister said: "Hopefully, with new cases starting to fall, we will also see hospital admissions fall over the next few weeks.
"But, at the moment, the pressure on the NHS is of concern.
"First and foremost, it means a significant number of people suffering illness. It also means more pressure on a workforce that has already given so much.
"And, of course, it holds back NHS recovery. Every hospital bed occupied by a Covid patient is one less available to tackle the backlog of non-Covid care."
Long Covid
Nicola Sturgeon has said Scotland must not treat young people "as an experiment" when it comes to long Covid.
The first minister said the recent spike in cases, hospital admissions and intensive care admissions should be taken seriously to limit the amount of long Covid seen in Scotland.
She said: "Indeed, it is one of the main reasons that we cannot be complacent about young people getting the virus.
"To say that it doesn't matter – when we don't yet fully understand what the long-term consequences might be – would risk treating the younger generation as an experiment. We should not do that."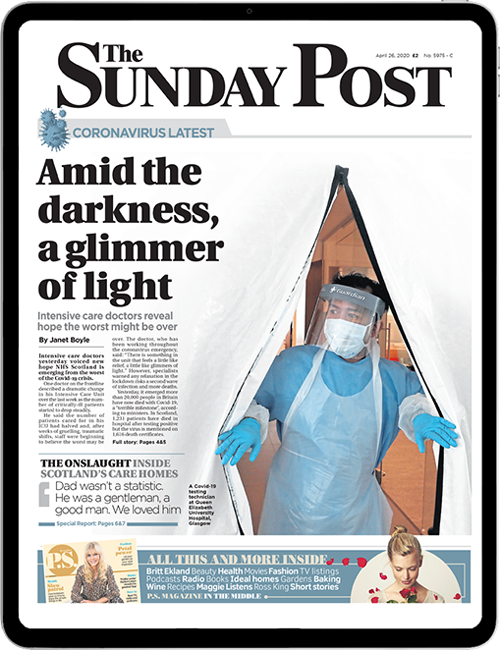 Enjoy the convenience of having The Sunday Post delivered as a digital ePaper straight to your smartphone, tablet or computer.
Subscribe for only £5.49 a month and enjoy all the benefits of the printed paper as a digital replica.
Subscribe