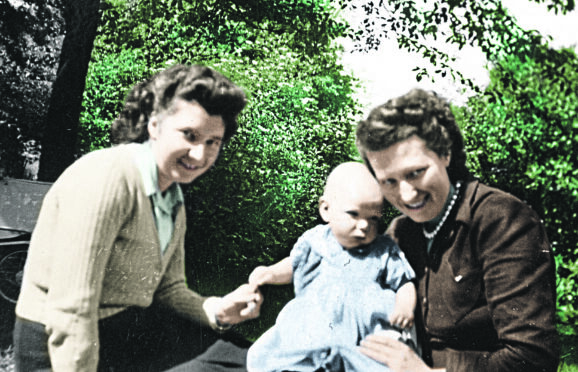 They were born together and as close as only twins can be. Growing up, the young girls would grow to become women ahead of their time and rarely apart.
When the Second World War plunged them into the Blitz-battered East End of London, however, their lives diverged forever.
Maureen, who earned her medical degree at the University of Aberdeen, was one of the first female doctors at the Royal London Hospital while linguist Margaret, fluent in French and German, "went into uniform" in Central London before – her family suspect – becoming part of the top-secret Special Operations Executive.
While Maureen was to become a GP, surgeon's wife and mother of three, Margaret spiralled into a suicidal depression after being jilted hours before her wedding to a mysterious Polish lover.
She spent most of her remaining days in Dumfries's Crichton Royal where doctors performed a lobotomy – drastic surgery on the brain – they believed would save her from herself. She never saw the love of her life again.
Now the sisters' lives have inspired a fiction, a novel written in memory and tribute to Margaret, the wartime linguist who lost everything to love. Maureen's daughter, Isabelle Grey, revealed she wove the novel out of what she doesn't know about her aunt and the man she believes may have been in intelligence with the Polish Government in Exile based in wartime London.
The London-based crime author and former editor, journalist and screenwriter – who penned 25 episodes of TV's The Bill, as well writing for Midsomer Murders, Casualty and Accused – said: "I want to honour my aunt. She led, in the end, such a forgotten, invisible life.
"Even though the character of Shona in the novel is not at all my aunt, I wanted to put her spirit on the page. I hope I have done that."
Set in 1944 in the war-ravaged capital, her novel follows Freya and Shona, identical twins. Freya is a newly qualified doctor in a London hospital, while Shona is recruited by British spies. They swap roles, threatening the lives of them both.
Nearly half a century later, Freya is watching TV as the Berlin Wall comes down, wondering what secrets will emerge and whether her own will be among them.
Grey, who writes under the pen name VB Grey, said: "My mother was quite the opposite of the cold and distant Freya, but I have completely taken her physical courage and daring for the character."
The author, whose late father Tony was English but who considers herself a Scot, revealed: "My grandfather was from Dollar and was a teacher. My grandmother's family were originally from the island of Rum. I remember her speaking Gaelic to me. This is why I feel Scotland is in my blood. Come Indyref2 I want a Scottish passport," she laughed.
The family moved to Aberdeen and the twins went to its then-High School for Girls, before heading to university. "When war came, my aunt went into uniform, we believe the Women's Auxiliary Territorial Service, while my mother remained in Aberdeen until she qualified.
"When my mum got to London my aunt had already been there for a couple of years and had met Jozef, who was older than her.
"I was told he had been editor of the Warsaw equivalent of Punch magazine. My mum said they took her under their wing.
"There were parties at an embassy building overlooking Hyde Park. It was all very glamorous, and they were perfect for each other."
She suspects her aunt – as a fluent German speaker – may have been part of the Special Operations Executive, also known as Churchill's Secret Army, while she believes Jozef was perhaps in intelligence with the wartime Polish Government In Exile, that had its own embassy in London.
"There weren't that many young women with degrees in modern languages in the services in 1942. Why was she in central London? Most of the SOE women went to France but some were in the back office. It could well be that my aunt met Jozef because of some political or secret work.
"Speaking French and German, the authorities must have put her to some good use. The fact that my mother was so vague about it was maybe because my aunt had never told her.
"From what I know, my aunt and Jozef were going to get married. But after the war, almost on the eve of their wedding, Jozef made some kind of confession, possibly that he had been married in Poland before the war but had since been unable to trace his wife. My aunt suffered a breakdown and was eventually hospitalised and lobotomised."
"I think my aunt was suicidal and it seemed the best alternative at the time. My grandfather who had to sign the paper, agonised over it, but in the end believed it was the right thing to do. She had the lobotomy in 1951. She never lived outside of a hospital again. Apparently my grandfather wrote to Jozef after my aunt had the breakdown and said it's best that he didn't contact her again."
Grey spent holidays with her aunt and visited Dumfries often. "I saw a lot of her. I knew her best, after my mother. I was in my 40s when she died in August 1998, age 77, in a care home in Lockerbie.
"She'd been moved earlier that year after Crichton Royal was closed. My father, a retired general surgeon, died in December that year, age 75, and my mother in November 1999, age 79. It was a tough time.
"The idea that people who had a lobotomy became 'vegetables' is simply not true. Most, like my aunt – who had a slightly lighter version – did not lose their personalities. I loved and admired her wit and spirit, her sarcasm and lack of self-pity.
"I did German O and A levels at school and she could quote the poet Heinrich Heine from memory and with full feeling but she would put toast on the toaster, walk away and burn the house down. Her short-term memory was not good. Sometimes she was very paranoid, but she knew her own condition and her limitations.
"I wonder how much of her I have in me. It would have been lovely to have known her when she was well. She would have been the most amazing aunt. The war damaged many people in lots of ways, and she was a casualty of war, just as Jozef was.
"My mum was collateral damage; the twinship went very deep. She had survivor guilt. They were not identical but the twins inspired by them in my book are identical."
Of the novel that she first thought about writing in 1990, she said: "I created the entirely fictitious characters of Freya and Shona in honour of all that we can never know of the past, and of a life only half lived.
"It is the book I am most proud of. I do feel it is for her, my aunt and for my mum."
Sisterhood, VB Grey, is published by Quercus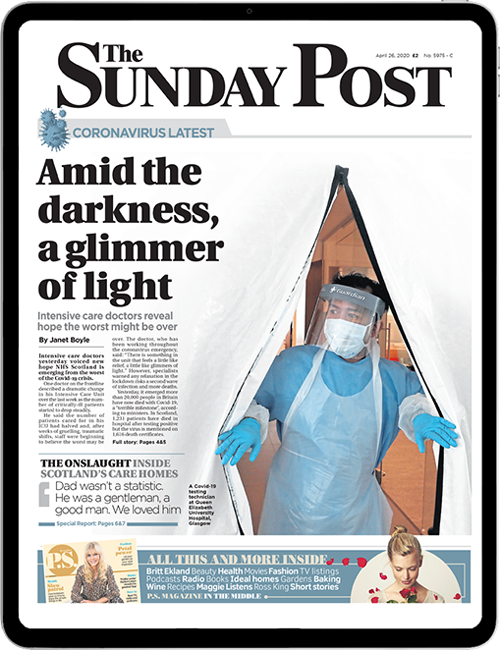 Enjoy the convenience of having The Sunday Post delivered as a digital ePaper straight to your smartphone, tablet or computer.
Subscribe for only £5.49 a month and enjoy all the benefits of the printed paper as a digital replica.
Subscribe