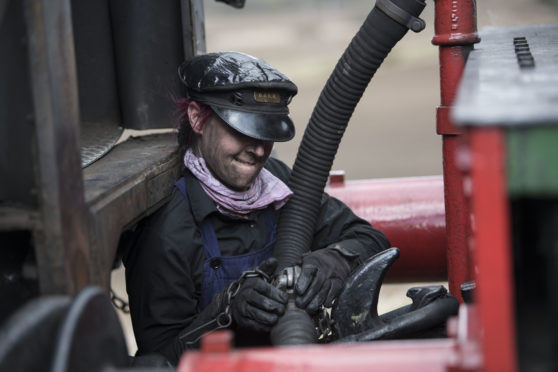 Her passion for steam engines began as a little girl playing Lego trains with her dad but it's only now, as a 40-something mum-of-two, that Jayne Wright has achieved her ambition.
The family portrait photographer has become the first qualified female "fireman" on the Bo'ness and Kinneil Railway, a heritage steam train line on the banks of the Forth, after a year of training.
Her love of steam trains means she's happy to make the 45-minute journey from her home in the Borders at least once a week to reach the train yard next to the station at 6am.
She then cleans out the smokebox and fills up the water tank before spending the day shovelling coal to keep the engine stoked and pulling passengers along the five-mile heritage line.
And, with Jayne now qualified and allowed to work with a female trainee of her own, the heritage line has also achieved another first – having two women on the footplate, "which was awesome," says Jayne.
She adds: "I've always loved trains even from really young and playing Lego trains with my dad. When I was 14 my dad bought me a camera and we would go down to the East Lancashire Railway, a nearby heritage line, and I just got hooked.
"But it wasn't enough to go and photograph, I wanted to know how they work and how they are put together. My dad was an engineer by trade so I think some of that has rubbed off on me."
As a teenager growing up in Manchester, she worked in the sheds, cleaning the engines and learning the ropes from two old hands, Joe and Frosty. "Joe was like a grandad to me. He died very suddenly of a heart attack and it just wasn't the same without him."
At 18 she got a job as a photographer, and steam trains were put to the back of her mind as she focussed on her career.
But, decades on, the restoration of the Flying Scotsman three years ago sparked the 41-year-old's interest again and she started volunteering at Bo'ness, this time juggling running her own photography business, Vanilla Moon, and being mum to Emilia, now six, and Lewes, now four.
"I divide my time up; my family comes first but I need that escape from the real world. Heritage lines give you that. The modern world doesn't exist – you're in a bubble, it's escapism."
In the mornings, once she's arrived from her home near Peebles, cleaned her smokebox and got her water levels correct, she'll start to build her fire.
"And you do that slowly, you don't just go in and turn a key. You get all your brasses polished – and I am quite particular about my polishing. I also have a nice doily for my oil can on the warming plate.
"On a trip you are constantly shovelling – the way up to Manuel is one of the steepest gradients on a heritage line. You need a lot of energy and a lot of water. You have to keep your water levels up and at the right pressure – it would be very dangerous if not. It's quite a responsible job when all is said and done – you are in charge of people's lives."
As there is no turntable, Jayne also has to unhook the engine at the end of the line so it can move to the back of the carriages to pull the train home. "That's hard work but there is a knack to it. I also need to keep an eye on the road, the signals, the crossings…"
During summer, she fires around four trains a day, finishing by winding the fire down by around 4pm, by which time she admits she is exhausted – but happy. Her first official trip as a passed fireman took place last month – with trainee Faye Moore on the footplate with her.
The 19-year-old, who lives in Lanark, and whose ambition is to work full-time on trains, said it had been an amazing day. Amanda Kilburn, the heritage railways business development manager, says: "We're really pleased to have Jayne as a volunteer on our heritage railway. She's an asset to the team and an inspiration to others.
"We have 300 volunteers of all ages and experience from many different backgrounds and without their goodwill we would not be able to preserve and operate our steam trains."