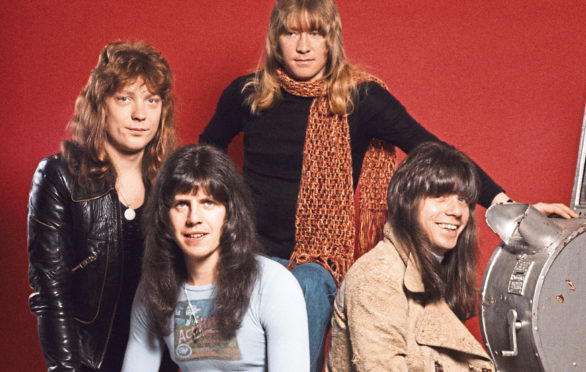 Glam rock giants The Sweet dominated the charts in the 1970s, notching up eight top five hits, including Co-Co, Little Willy, Wig-Wam Bam, Hell Raiser and Blockbuster, their only British No 1.
But the band's success stretched far beyond our shores. Across the globe, they notched up 34 No 1s and record sales exceeding 55 million.
The band – comprising singer Brian Connolly, drummer Mick Tucker, plus guitarists Steve Priest and Andy Scott – was adored by millions of fans, many of whom became hysterical during concerts.
Scott, 70, will never forget a gig in Glasgow. "Brian and I were pulled into the audience and carried along on a sea of bodies. It was frightening because girls were grabbing scissors from their handbags and cutting chunks out of our hair."
Sadly, Connolly died in 1997 and Tucker five years later, but Scott and Priest still perform. While Priest is active mainly in the States, where he's lived for years, Wrexham-born Scott and his own version of The Sweet regularly tour the UK and Europe.
Reflecting on the early days of The Sweet, Scott explains that the original line-up grew out of another group.
"Brian and Mick wanted to form their own band so recruited bass player Steve Priest. They called themselves The Sweet Shop because they rehearsed above a confectioners. This was later shortened to The Sweet after the word 'shop' was accidentally left off a notice advertising a gig. No one minded, though – in fact, they thought it sounded better."
Scott, who'd performed in a group called Elastic Band, joined in 1970 when a guitar player was needed.
"I'd just moved down from North Wales, where I grew up, and attended two auditions the same day. The first was with the Alan Brown Set because Robert Palmer had left. The other was with The Sweet. When they asked me to join, I didn't hesitate."
Scott comes from a musical family. "My dad was a children's entertainer and we had regular family singsongs. I started playing guitar as a teenager. A friend bought a new guitar and left his old one at our house. I fiddled around with it and, before long, was playing in local groups."
He turned professional while performing with Elastic Band, ditching his day job at the then Midland Bank in the process. As for other members of The Sweet, Brian Connolly had been a carpet fitter, Mick Tucker a motor mechanic and Steve Priest had worked in a solicitor's office.
Within six months of Scott joining The Sweet, the band enjoyed their first hit – Funny, Funny – which reached No 13 in the UK, followed by Co-Co, which peaked at No 2.
Their biggest seller, Blockbuster, topped the UK charts in January 1973, while even greater success was achieved abroad. This was the heyday of glam rock and the band couldn't have been busier.
The '70s proved to be the group's most lucrative decade. "A lot of money went through the bank accounts during that period. We moved into the millionaire status, although the taxman had more than his fair share," says Scott, who admits to occasionally splashing the cash during those heady days.
"I enjoyed myself, especially when it came to cars. The most I had at any one time was six, including an Aston Martin and Jensen. But my favourite was a Rolls Royce Silver Shadow."
Rightfully enjoying the trappings of success, he also bought a six-bedroom property in Buckinghamshire with tennis court and swimming pool.
Even today, more than four decades since The Sweet's last hit, Andy Scott continues to receive royalties linked to the band's back catalogue.
"A few songs do particularly well, including Blockbuster. But I receive most for those I wrote, such as Fox On The Run and Love Is Like Oxygen.
"Meanwhile, our 1975 hit, Action, was a theme tune on an Australian sports channel for years, has been covered by Def Leppard and used in films so that one has done well, too.
"But Love Is Like Oxygen has collected most royalties over the years. Mind you, it's probably a drop in the ocean compared to what people like Sir Paul McCartney earns in a day."
That song proved to be the band's last big hit and signalled the end of the original line-up.
"We embarked on a tour soon after that hit, but Brian's alcohol consumption was becoming noticeable. We started working on another album, hoping things would change, but deep down realised a parting of the waves was near."
The beginning of 1979 saw Connolly leave and, eventually, start touring with his own band. The remaining members carried on but, by 1982, they faced the stark fact that the group had run its course.
"There was nothing more to offer," says Scott. "By this time, Steve was living in America and Mick, whose wife had died a couple of years previous, didn't want to carry on touring, so we called it a day."
But never for one moment did Andy Scott ever consider hanging up his guitar. Nowadays, he performs with his own band.
"I might be the only original member in my group, but we're extremely authentic and make our performances look and sound like the original Sweet."
Scott remains as dedicated as ever to his music, investing much money into equipment, touring and recording.
"I don't waste money with lots of unnecessary purchases, but do invest in equipment for my recording studio. I have more than 100 guitars, although only use six or so regularly."
But while he loves his guitars, Scott states that being alive is what he treasures most.
"I had a brush with prostate cancer in 2009, and that was a reality check. It didn't take long for me to realise that possessions weren't worth worrying about – all that really matters is being happy and staying healthy."
Since the cancer scare, Scott has played a key role in supporting cancer charities. Together with a friend and the landlord of his local pub, Rock Against Cancer was launched.
As well as The Sweet, top artists such as The Boomtown Rats, Brian May, Midge Ure and 10CC have performed, entertaining large crowds which turn up to enjoy the annual Wiltshire-based concert.
The first was staged in 2012 and has happened every year since, raising in excess of £182,000 in the process. But this year's two-day event in September will, sadly, be the last.
Inevitably, it will be an emotional event for everyone involved in Rock Against Cancer, but they can feel proud of their achievements in raising awareness and much-needed funds for so many cancer charities.
If you get the chance to catch Andy Scott and his band at the Wiltshire gig or, perhaps, in concert at some venue across the UK, grab it because you won't be disappointed.
It's clear that Scott is enjoying himself as much as ever. He says: "Life couldn't be busier and I feel extremely lucky to still be involved in the music business after all these years."
For information on The Sweet, visit www.thesweet.com. For the Rock Against Cancer concert, go to www.concertatthekings.co.uk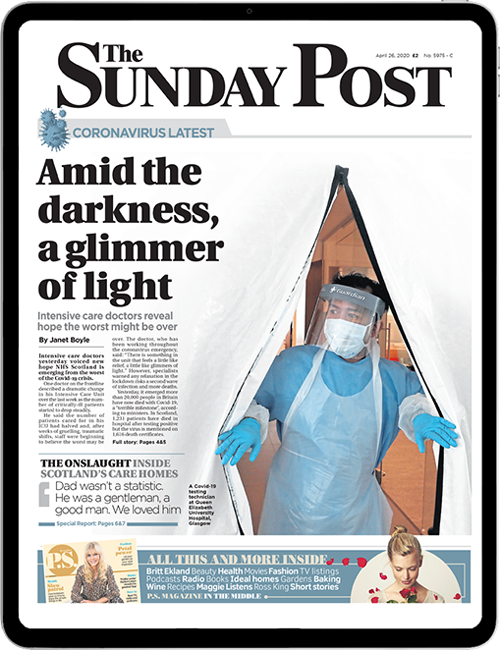 Enjoy the convenience of having The Sunday Post delivered as a digital ePaper straight to your smartphone, tablet or computer.
Subscribe for only £5.49 a month and enjoy all the benefits of the printed paper as a digital replica.
Subscribe