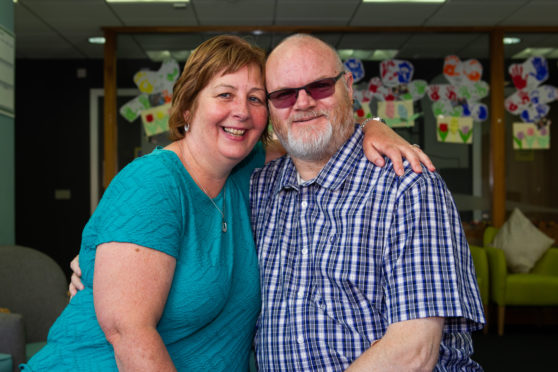 As a former lay preacher, Danny McDonald is no stranger to addressing a crowd.
But when he stands in front of an audience of hundreds in Edinburgh tomorrow, never could he have imagined, just a few years ago, what the subject matter would be.
Aged just 55, Danny will talk about living with dementia.
The Clydebank man and wife Catherine will both speak at Alzheimer Scotland's annual conference, which kicks off Dementia Awareness Week, at the Edinburgh International Conference Centre.
Diagnosed with vascular dementia three years ago, Danny has had to learn to adapt to a new way of life alongside Catherine, who is also his carer, and their children, Connor, 21, and 18-year-old Caitlin.
"The message will be that it is life-changing, but there are lots of positives," said Danny.
"The secret is to surround yourself with good people. Do that and you're halfway there."
Danny and Catherine, teenage sweethearts who have been married 33 years, have thrown themselves into activities at the local dementia resource centre and are part of the Every Voice dementia-friendly choir, which will perform at the conference and also at Haymarket Station later in the day.
The Alzheimer Scotland resources were a godsend after the shock diagnosis.
"The news was delivered quite bluntly," continued Danny. "It felt like my world had come to a shuddering halt."
Catherine said: "I found the number for the local dementia centre. The next morning, Fiona Kane, a dementia advisor, came to our house with a lot of information.
"Having knowledge is a big thing. We knew we had to tackle it head-on."
Catherine says Danny was good at disguising the symptoms at first, but she knew something wasn't right.
He was working with Falkirk Council, helping men recently out of prison to get back on their feet, when he realised there was an issue.
"A colleague showed me a new computer system and, within a couple of hours, I had forgotten it all," he said.
"Shortly after, my manager pulled me aside and said he didn't know what was wrong, but I was not remembering the simplest of things."
Danny went to the doctor and was sent for scans to rule out dementia, because they said he was too young. At first it was suspected he had depression.
But a scan revealed vascular dementia and also a previous stroke.
"I had to give up driving and my job," he continued.
"You go from a parent looking after kids to at times having your kids looking after you."
Catherine, a part-time learning assistant at an additional support school, was carer to her mum, who also had dementia.
Having sung in the past with a church group, Catherine and Danny joined the dementia-friendly choir two years ago and have seen the benefits.
"Singing lifts the spirits and makes you feel good," she said. "The camaraderie of having other people in the same position is beneficial."
Danny and Catherine don't know how quickly his dementia will progress, but are determined to face the future together in a positive manner.
"We take it week by week," Catherine said. "We don't look too far ahead.
"But the future is the same for everyone – no one knows what is ahead. There is no point dwelling on what might happen."
Danny added: "I do wonder where we would be if Catherine hadn't made that call to the dementia centre. I see the place as a home from home.
"We want to do our bit to make people aware that dementia is not just an old person's disease.
"This isn't what we expected to be dealing with in our 50s, but we are, and we are dealing with it well."
---
Be dementia aware
To get involved with Dementia Awareness Week, which runs from tomorrow until next Sunday, go to alzscot.org/daw
Alzheimer Scotland believes no one should face dementia alone, so there is a 24-hour Freephone helpline available on 0808 808 3000.
Visit the website to find more information about the work of the charity and the services provided in your area.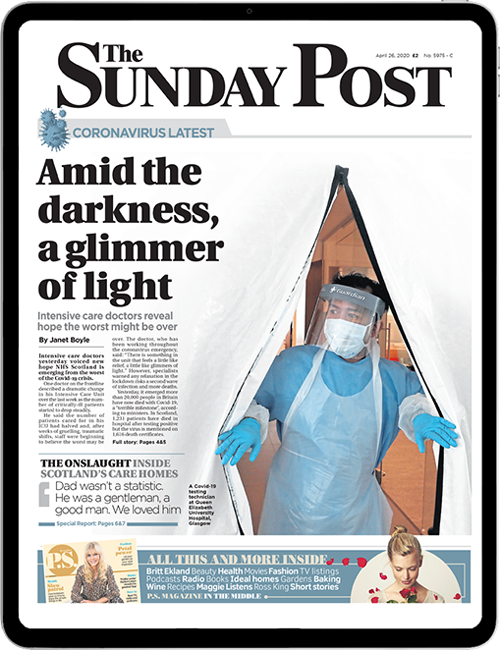 Enjoy the convenience of having The Sunday Post delivered as a digital ePaper straight to your smartphone, tablet or computer.
Subscribe for only £5.49 a month and enjoy all the benefits of the printed paper as a digital replica.
Subscribe