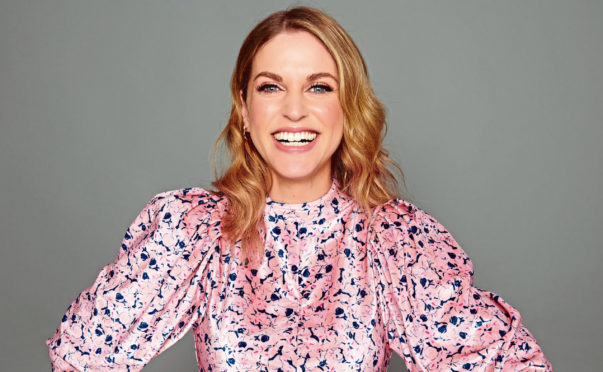 What is Finding Joy?
My co-creator and I had this idea in our head to do a sitcom on wellness and people trying to find happiness in their lives. Here in Ireland the local community was based entirely around the church and now that's changed so people are looking for something else. So it's about how people are going from feeling quite isolated to taking care of their own wellbeing. But people are challenging themselves to do all these fun things. So in episode one we see Joy jumping off a building into a new world…
Have you ever had an unwanted job?
I'm lucky because I'm an actor and I get to be on set and I genuinely love it. It's a genuinely joyous thing. But I've done plenty of other jobs. I was a waitress in Jersey but the shifts felt about 24 hours long. Being out of her depth hopefully makes you sympathise with Joy.
Were you inspired by a real heartache?
I'm different to Joy in that she's hiding that she's heartbroken but I wear my emotions on my sleeve. I was more inspired by moving to London when I was younger. I didn't know anybody else. I started writing as a bit of a coping mechanism. But this is the first TV series I've written so I felt like I was pushing myself off the precipice like Joy.
You're a bit of a fashion icon. Do you feel pressure to step out looking fantastic?
Not day-to-day, there's not that sort of pressure here in the Irish countryside! But my mum always said if you're going to go to town, put your make-up on or brush your hair. So that's what I do. I'll dress up if it's a red carpet thing but that's part of the game. You feel great if you do it right. But don't let it stress you out.
Your husband is rugby legend Brian O'Driscoll – does he find you funny?
He's my harshest critic. Sometimes he watches me and says: "Come on, you can do better than that." I'm like: "Jesus, Brian!" That's part of a good relationship, though – you want to make each other laugh. I hope he does – but he might give you a different answer…
Do you find filming fun? Do you have to remind yourself to enjoy it?
I hate to sound like a total cliché but I can't tell you how much I enjoyed filming Finding Joy. There's no comedy I've filmed that we haven't been p***ing ourselves with laughter. Although when I'm hanging off a mountain freezing and hungry I don't feel particularly good. But you need to find a way to enjoy it because it's hard to make something funny if no one's having any craic!
---
Amy writes and stars in Finding Joy which airs Wednesdays at 10pm on W.