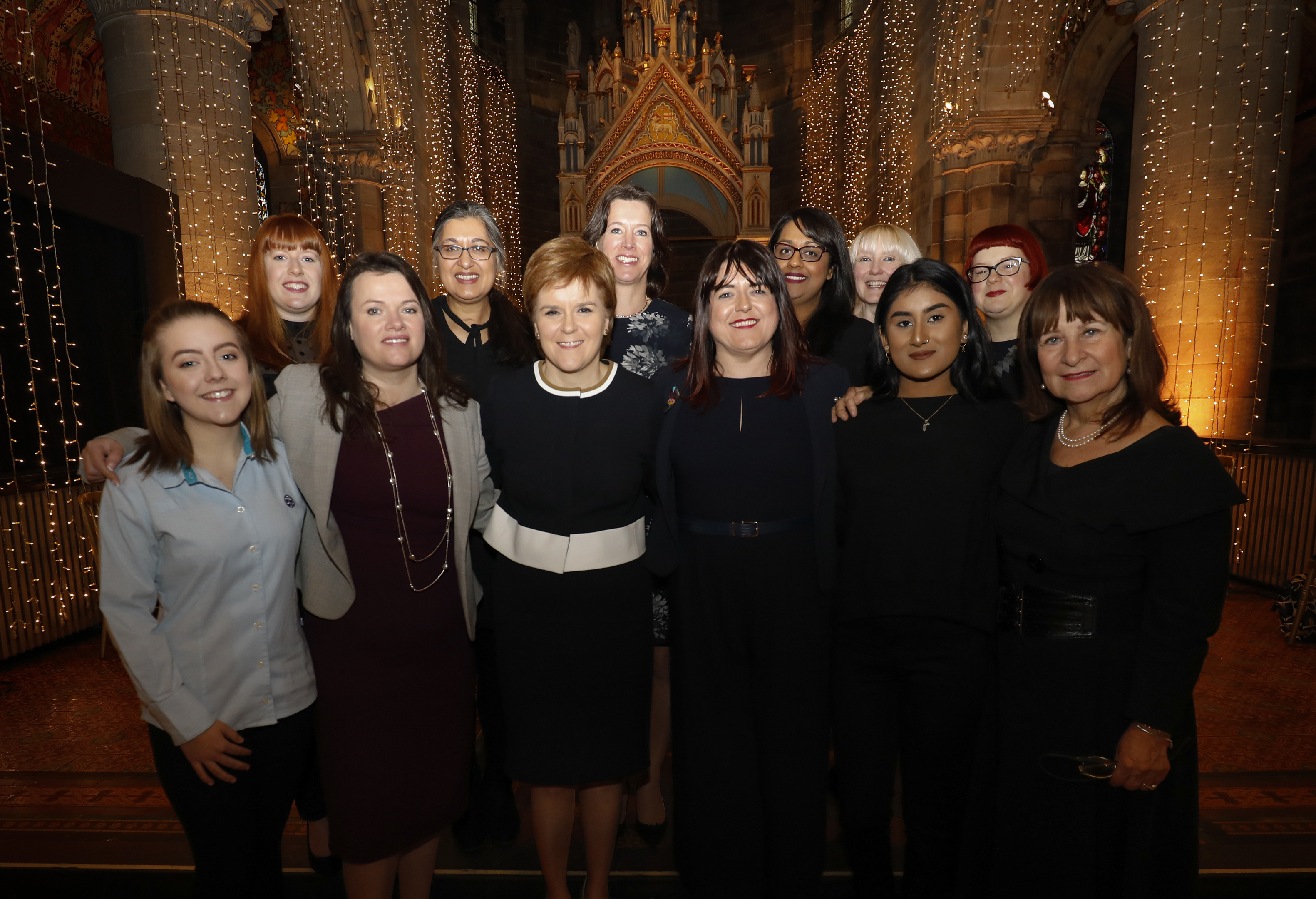 MEET the taskforce of talented women launched to win equality of the sexes in Scotland.
The Scottish Government has set up the Advisory Council on Women and Girls to identify and help eliminate inequality endured by women and girls.
Led by Louise Macdonald, chief executive of Young Scot, the team features members from the Third Sector, government and business, and includes three teenagers.
Announcing the new group, which will gather evidence and report to the Government, First Minister Nicola Sturgeon said: "Taking steps to secure gender equality is, of course, a moral obligation of government as well as being the right thing to do. Inequality stops women from achieving their full potential, holds us back as a nation and damages the economy.
"That is why we need more action and I have established this new group to offer a strong and challenging voice, helping us continue to achieve progress on the representation of women and girls.
"My thanks go to Louise and all of the members of the Advisory Council. I look forward to their findings and advice, which I am sure will be instrumental in informing policy development in Scotland."
Louise said: "Our ambition is big – quite rightly – and we want to create something different, something which leads to the entire population of Scotland being alive to the issues and feeling empowered to do something about it."
Here, we ask the inspiring team to choose their inspirational woman.
Nicola Sturgeon
First Minister
I take inspiration from women and girls every day – those in my family, my colleagues, my friends and the many incredible women and girls I have the privilege to meet in my duties as First Minister.
Chief among these are my advisors on this panel.
They come from a wonderful range of backgrounds, specialisms and professions but what I find most inspiring about each of them is their extraordinary commitment to achieving equality and giving their time and expertise for the benefit of us all and I am extremely grateful to them for their hard work
Louise Macdonald
Chief executive, Young Scot
Inspirational Woman: Rachel Carson
A tough choice – so many inspiring women to choose from!
But I've gone for the US marine biologist, author and activist Rachel Carson, whose incredible book Silent Spring was a rallying point for the development of the modern global environmental movement.
She began her career as an aquatic biologist in the U.S. Bureau of Fisheries, and became a full-time nature writer in the 1950s, when she turned her attention to conservation, especially problems that she believed were caused by synthetic pesticides. She was a visionary, who combined her deep scientific expertise with beautiful writing – speaking to both head and heart.
Dr Catherine Calderwood
Chief Medical Officer
Inspirational Woman: Dr Elsie Inglis
Dr Elsie Inglis was a keen suffragette and pioneering doctor who founded the Scottish Women's Hospitals during WW1.
She and her nurses helped treat an estimated 200,000 Allied soldiers and endured some horrific conditions on the front line in Europe.
Her bravery, resilience, kindness and unwavering determination to make a difference, qualities as relevant today as they were then, make her an inspirational role model for women in medicine.
Katie Horsburgh
Young advocate, Girlguiding Scotland
Inspirational Woman: Malala Yousafzai
When I think of an inspiring person, I think of Malala Yousafzai.
She risked her life to get her education, and since then has taken up the mantle to fight for the rights of girls.
Her fearlessness amazes me, as does the dignity with which she handles herself.
Although I don't think anyone could ever match her bravery and work ethic, hope one day to follow her lead; dauntlessly and with equal care and empathy to make a difference, however small, to the world.
Baroness Helena Kennedy
Leading human rights lawyer
Inspirational Woman: Eleanor Roosevelt
My iconic woman is Eleanor Roosevelt, who was a great influence on the New Deal policies of her husband, the wartime American President – Franklin D Roosevelt.
Most importantly she was the power behind the Universal Declaration of Human Rights and created it after the horrors of the war and the Holocaust.
It really did engender a huge shift in how people and societies should relate to each other – respecting the dignity and humanity of each other, irrespective of who were are, where we are in the social ladder, the colour of our skin or the nature of our being.
We still have a long road to travel but for me that challenge to the old order started the journey for true equality. It is why reactionaries hate human rights and feminism. Celebrate Eleanor. She must be turning in her grave at Trump being in the White House.
Satwat Rehman
Chief Executive, One Parent Families Scotland
Inspirational Woman: Angela Davis
I am no longer accepting the things I cannot change. I am changing the things I cannot accept'. Angela Davis
So many inspirational women have had a profound impact on my life. Of those, I choose Angela Davis. As a young woman of color in a white working class neighbourhood I could relate to her words and activism.
Her book Women, Race and Class helped me make sense of my experiences and made me realise I was not alone. I hope we can create connections so all women can see themselves represented in the work of the Council.
Jacqui Ferguson
Non-Executive director, WoodGroup
Inspirational Women: Katherine Johnson, Dorothy Vaughan and Mary Jackson
For me it is the three brilliant African-American women at NASA (mathematicians and engineers) — Katherine Johnson, Dorothy Vaughan and Mary Jackson, known as the 'hidden figures'.
These women represent for me the many unsung women heroes of making significant impact to the world , yet unseen/unknown/unrecognised.
These women served as the brains behind one of the greatest operations in history: the launch of astronaut John Glenn into orbit, a stunning achievement that restored the nation's confidence, turned around the Space Race and galvanized the world!
Amina Ahmed
Scottish Government Fairer Future Codesign Panel
Inspirational Woman: Pink
There are many inspirational women out there however the one person that inspires me is Pink. In the VMA awards pink shows how strong she is as a women and a mother.
She constantly talks about overpowerment and how to conquer that power. Pink is a genuine role model to look up to for confidence!
Kara Brown
Lead, Young women's engagement, World YWCA
Inspirational Woman: Fatou Baldeh
FGM activist Fatou Baldeh is the most inspiring person I know. Many women and girls like me owe a debt of gratitude to Fatou for the positive way she has influenced our lives, saved young girls from harm and played an instrumental role in making Scotland a more equal place to live by influencing policy and practice around FGM and maternal healthcare.
Tressa Burke
Chief exective, Glasgow Disability Alliance
Inspirational Woman: Maureen McPeak
Maureen McPeak was an activist for disabled people's human rights for over 40 years. A founder member of Glasgow's 2 leading disabled peoples' organisations, GCIL and GDA, Maureen was an inspirational role model to myself and other younger disabled women.
She devoted decades to her role at Glasgow Centre for Inclusive Living, championing rights to freedom, dignity, choice and control and the right to live an ordinary life, with support. Her determination, humour and no-nonsense approach are very much missed and her canny ability to challenge discrimination remains legendary in Glasgow.
Talat Yaqoob
Director, Equate Scotland
Inspirational Woman: Audre Lorde
There are so many phenomenal women to choose from, but Audre Lorde – author, feminist and civil rights' activist is amazing.
Her writing overflows with insight and challenge on how we must dismantle institutionalised inequality. A particular quote: "I am not free while any woman is unfree, even when her shackles are very different from my own," are words to live by, reminding us that progress must be for all women of every race, religion, sexuality, class, age and disability.