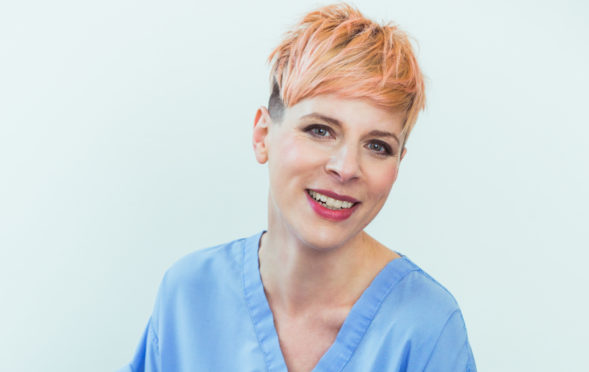 I was born and grew up in America. I did my first degree in English literature at Harvard University and came to Scotland in 1999 to pursue a Masters degree in theatre directing at The Royal Conservatoire in Glasgow.
I met Alan, the man who was to become my husband, not long after I came to Scotland and I have been here ever since. I worked in TV as a researcher for an independent company and then for BBC Scotland.
My first daughter was born in 2003. I had a difficult birth experience. It was quite a long labour culminating in an emergency Caesarean section. The whole thing was a shock to my system.
Everybody I met who had babies around the same time had similar stories. I became interested in why that was and I started thinking there had to be a better way.
At the time I was becoming disillusioned with my job, and did think about retraining as a midwife. But I had just had a baby and couldn't face going back to school, so I worked as a doula – a non-clinical birth companion.
I had my second child in 2006. She was born at home and it was a completely different experience. Although we had planned a home birth, she arrived quicker than expected – before the midwife made it.
My waters broke in the afternoon but I wasn't in any pain, so I thought nothing was going to happen immediately. I went up to my room to try to relax and things developed rapidly.
Alan phoned the hospital but the midwife on call that day could not be reached so they decided to send paramedics. The ambulance came and the paramedics charged up the stairs as I was literally pushing the baby out.
Alan was asked who we wanted to catch the baby. I told him he was doing it. We had come this far together and I trusted him. All that needed to happen was for our baby to come out into his waiting hands.
The midwife appeared a couple of minutes later.
We have two beautiful children and both births were special, but the first felt uncontrolled and clinical with lots of interventions I had not planned or wanted. The second was an experience my husband and I shared 90% to ourselves and was much better.
As our girls got older I thought it was time to make the leap and pursue midwifery. I did my training in Scotland in a three-year full-time course and have been qualified for almost six years.
I have lost count of the babies I have delivered but it will be many hundreds.
Every story in my book is a composite of a number of experiences that I have had or the women I have looked after. The memorable ones are those where the mums might have had to overcome difficult obstacles to get to that moment – whether it is numerous cycles of IVF, significant illness or personal struggles.
You are so aware of the specialness of the moment when the birth of a baby is a triumph against the odds.
As a student, I was idealistic. But as I worked more and more in our overstretched and under-resourced maternity system, it became apparent that I couldn't always give the care I wanted to give. That becomes frustrating. It was difficult but important to talk about that in the book.
There is a significant proportion of women who are not healthy – they are bigger and older than they used to be, and some have chronic complex illnesses.
Women are having babies now who would not have had them in the past. It means midwives have to be skilled to manage their needs with the same resources we have always had, and in some cases, even less.
There has also been a huge drop off in numbers, with midwives taking early retirement. The problem now will be in not only training the next generation, but in retaining them.
I think about my girls having babies in 10 to 20 years' time and I am quite concerned. There are good experiences for women giving birth but it can be hit and miss. That uncertainty is quite worrying.
Yet I don't regret my career choice. I am very privileged to say that I know I have made a difference to people.
When I was at Harvard I could never have imagined that I would become a midwife in Scotland and would write a book.
It is a love letter to the women I serve and to the NHS, but also a battle cry for help. A copy was sent to First Minister Nicola Sturgeon. I hope she reads it.
---
Hard Pushed: A Midwife's Story, Hutchinson, £16.99