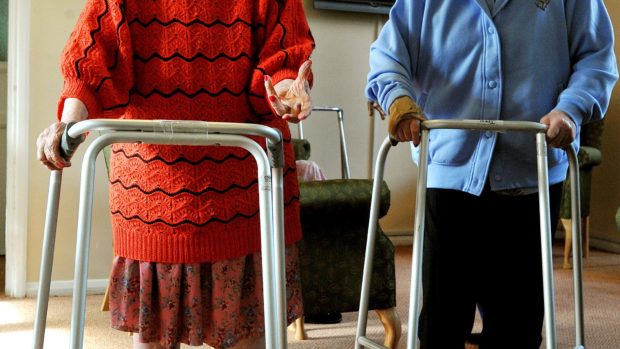 Patients with muscle, bone or joint problems are having to wait longer for appointments, with just 43.9% of people seen within the four-week target.
New NHS Scotland figures for musculoskeletal waiting times reveal a fall in patients seen within the target time to below half the 90% target for the health service.
Of the 83,089 patients getting appointments, including for treatment by physiotherapists, chiropodists and occupational therapists, 46,617 (42.5%) had to wait longer than the Scottish Government's target of four weeks.
The figures from July to September show a drop from the previous quarter, when 49% of Scots with musculoskeletal issues had their first appointment in the required time frame.
Conditions needing musculoskeletal referrals include injuries and diseases of joints, bones, cartilage, tendons and ligaments, in addition to patients seen before or after orthopaedic surgery.
More than a third (36.4%) of patients in Scotland waited more than nine weeks to be seen, including 13.5% of patients whose wait was 16 weeks or more.
Across the 14 Scottish health boards included in the official statistics, people waiting for physiotherapy accounted for the majority of treatment, at 42.5% of the 54,873 patients who were seen in four weeks or less, compared to 44.9% in the previous quarter.
Developmental #AHP musculoskeletal data for 14 Boards show 43.9% of patients seen within 4 weeks #MSK (Jul – Sep 19) #isd #waitingtimeshttps://t.co/pJsX4IY5Wo pic.twitter.com/pB5BzediEB

— ISD_Scotland (@isd_scotland) December 17, 2019
Although occupational therapy was the profession with the fewest patients seen (1,274), more than a third (67%) received appointments within the target time.
Regionally, the figures suggest the Grampian health board is the worst-performing, with 39.1% of patients having their first clinical outpatient appointment by the four-week mark, and is behind only Forth Valley in the percentage of people made to wait over 16 weeks (36.8%).
Patients in Shetland have the highest proportion of appointments within the first four weeks at 64.1%, followed by the Borders (56.1%) the Highland region (53.2%) and Orkney (52.4%).
A Scottish Government spokeswoman said: "We know that musculoskeletal (MSK) services make a vital contribution to helping people stay active, preventing persistent pain and reducing the need for specialist orthopaedic treatment.
"That's why we set this ambitious waiting time target, however, performance against this target is falling short of our expectations.
"Our integrated workforce plan – the first in the UK – published earlier this week commits to creating 225 more advanced MSK practitioners in primary care.
"We continue to work with boards to drive improvements, including pushing ahead with a redesign of MSK services, which will create a more efficient system of referrals, extra capacity and reduced waiting times."