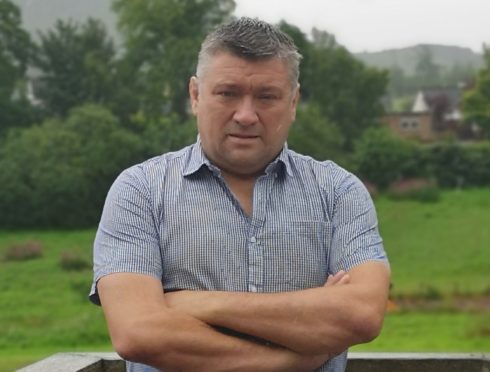 Landscape photographer John Ellis spends much of his free time travelling to some of Scotland's most remote beauty spots, so having reliable transport is essential.
The 49-year-old dad from Strathpeffer, Ross and Cromarty, also needs a dependable set of wheels for his day job as a window cleaner.
This time last year John thought he had found the perfect vehicle for doing both when he paid £10,500 for a 2016 Peugeot Expert van from Arnold Clark Citroen in Inverness.
"It seemed ideal for travelling around the country to take photos and also to sell them at events like Highland Games and craft fairs," he said.
"I often visit out-of-the-way locations, so having something I can rely on is pretty vital.
"The van was also just the right size for transporting my window cleaning equipment."
At first, John was happy with the vehicle – but things changed when he fitted winter tyres.
"I noticed a judder when the steering wheel was on near full lock," he said. "I put it down to the softer compound tyre."
In February, John became concerned that the issue was still there so he took the van back to Arnold Clark to have it checked as its three-year warranty was due to expire at the end of March.
"The mechanic diagnosed a sheared bolt on the steering column and said they would send off a report to Peugeot for repair approval," said John.
The repair was finished two days before the warranty was due to run out but when John collected the van, he noticed the same issue was still present. This time it was reckoned there could be a problem with the steering pump.
"I was told the warranty would still be fine as this was an ongoing issue, so the job ticket was still open," said John.
However, he was then told that the steering fluid was black and was full of particles – and that it might have been contaminated by washer fluid as they are situated next to each other, and that this would affect the validity of the warranty.
What followed was months of toing and froing between John and Peugeot over the repair costs which would run into four figures.
"I felt that I shouldn't be paying anything as the issue was ongoing from before the warranty ran out and I also couldn't afford that sort of cash to get it fixed," he said.
Last month John wrote to Raw Deal and we asked Peugeot to investigate.
A few days later a representative from the car giant emailed John, saying it was willing to reduce the cost by 75%.
"The total cost of repair including diagnostic is £2,545.53. This is inclusive of VAT," said Peugeot. "If you'd like to accept the offer above, the new cost of repair will be £956.77 inclusive of VAT.
"I understand this is still a costly repair, but as the vehicle is now outside of its contractual three-year warranty, we would be unable to cover the costs 100%."
However, John held his ground and a few days later Peugeot came back to say it had reviewed his case and, as a result, it had decided to cover the full repair bill.
Parts have been ordered for his van and he is looking forward to being back on the road with confidence to take more of his spectacular photographs.
"Peugeot suddenly offering to cover the costs was like a bolt out the blue," he said.
"It is a very good result."