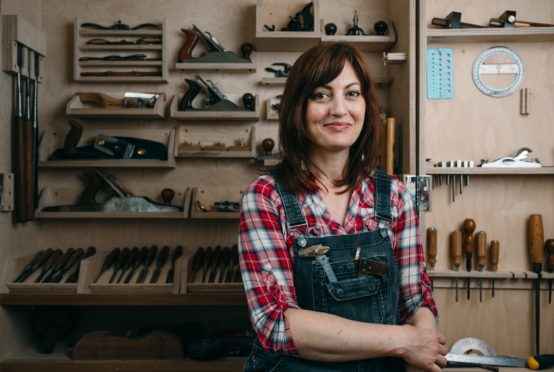 Many of us have spent the past 18 months stuck in our homes in what used to be office jobs. Now, prompted by the pandemic, more and more people are choosing to make desks rather than become trapped behind them.
Interest in ceramics, furniture-making, pottery and a host of other traditional crafts has risen as a result of lockdown, according to Craft Scotland. The organisation for crafters says enthusiasm from those looking to get into traditional pursuits has rocketed over the past year.
Applications to the prestigious Chippendale International School of Furniture in East Lothian have more than tripled in the past year.
"The course, starting in October of this year, has been fully booked for some time," said Tom Fraser, principal of Chippendale. "We're now booking students on to the course starting in October 2022.
"The next course has 14 different nationalities out of 27 students so the scope demonstrates the wide range of appeal that we have.
"The number of inquiries we've received means we've had to take on more administrative staff to serve that demand."
Rather than young apprentices, Chippendale is seeing mostly middle-aged applicants looking for a career change.
"Most of these people are used to steady-paying desk jobs; bankers, insurance, doctors, dentists," said Fraser. "These people are looking for more satisfaction in their work, are thinking 'what next?'
"Perhaps 10 years ago these people would have considered a change but thought it was too brave a decision to make.
"Now, people have had the time during lockdown to assess what they want from their work, and how that balances with personal lives and this decision has been easier for them to make."
Crafts aren't just a hobby, however. Anyone making a career change has to commit to the hard work that is associated with becoming a master tradesperson.
"I wouldn't guide someone who sees this as a hobby towards a professional course, because it's a big investment, both in time and tuition fees," added Fraser.
"You've got to be committed 100% to the idea of doing it for the rest of your life. If you're not committed. It's not going to work. It's like learning a new language, you've got to dive headfirst into it and fully immerse yourself in the language of what you're doing."
Irene Kernan, director of Craft Scotland, says the pandemic has given people a greater appreciation of traditional skills.
"There has been a refocusing on the value of craft as people appreciate the time and skill that has gone into the production of craft objects, and are buying objects in a more considered way," she said. "Early on in the pandemic we heard from a basket-maker who was seeing a significant increase in sales of their work because people were being careful about visiting supermarkets and shops, and buying their own baskets to use when shopping. There is a lot of evidence demonstrating the positive impact on mental and physical wellbeing that comes from making things with your hands, which is known by anyone who had taken up a craft activity.
"I think people have been returning to craft for that reason."
Vanessa Johnston, who swapped a life of "corporate drudgery" to enrol at the Chippendale School and shape a new career working with wood, says that in the past few years more and more Scots are moving away from flat-pack furniture towards more traditional fittings; a desire heightened by being locked in our homes.
"There have been a lot more people interested in high-quality and real wood furniture because of the last 18 months," she said.
"We've all been sitting looking at a piece of MDF and it's frustrating when you spend a lot of time with a piece of furniture that's not comfortable or well made.
"We're starting to look at our homes differently. People want more natural materials, they want things to be more cosy and their homes to have welcoming atmospheres."
---
My life was full of corporate drudgery when what I wanted was to sit on a beach and whittle sticks
A few years ago Vanessa Johnston was trapped, she says, in a life of corporate drudgery in Seattle.
These days, the American has carved out a new life for herself in rural Perth as a traditional furniture maker.
She's one of many people going against the grain by pursuing a traditional craft career.
Vanessa switched from working with huge global brands such as Amazon to study at the leafy grounds of Chippendale School of Furniture in Haddington.
Now living in Coupar Angus, the 39-year-old has opened a workshop along with her Scottish partner.
Vanessa, who taught herself the basics of woodwork with the help of YouTube videos, decided to take the bold step of moving to Scotland after years of being unhappy as a graphic designer in the fast-paced world of tech companies.
"I was in the middle of all of that corporate drudgery – long hours, commuting and even the political landscape in America – and all I wanted to do was sit on a beach and whittle sticks into little animals," she explained.
"Instead, I bought a houseboat, which sort of became my beach. It was in a fair state of disrepair and I basically rebuilt the whole thing.
"I added various pieces that I learned how to make. It was when I was building the dining table that I thought, this is what I want to do.
"This is the creative, hands-on, tangible thing that shows that I've actually accomplished something. So it was that table that made me start looking for ways to learn properly."
Having regretted not studying abroad, Vanessa began to search for places where she could learn how to make a career out of making furniture.
"I started looking at schools in Europe and found Chippendale," she recalled. "The school is an old steading where you're surrounded by hills and fields, and it's not far from the forest. It's this gorgeous brick building with a courtyard that's full of flowers.
"It's just so beautiful, everything you would expect from Scotland." After selling her motorbikes and cars to pay for her trip Vanessa came to Scotland accompanied only by her dog, the delightfully named Captain Jack Sparrow.
She then set about the task of becoming a skilled furniture maker. It was a year-long process involving long hours at the lathe.
"The classes would be from 9-4 but the school was open from 8am until 8pm and most of us stayed as long as possible," said Vanessa. "Really, we were all keen to learn as much as we could from the tutors. I would stay until Sparrow started growling at me to say he was hungry."
After qualifying, she returned to the US after her student visa expired but returned in December after falling in love with – and in – Scotland.
"I grew up on a farm in Montana so I'm used to a slower pace and a smaller town with welcoming people," she said.
"I found a lot of that pace in Scotland too but without the nonsense of religion and politics that I grew up with. It's really easy to settle in and talk to people at a pub, everybody's nice and so welcoming here.
"People are more than willing to let you be and settle and not judge you because you don't fit into their kind of cliche."
Vanessa has now set up a workshop with classmate Adam who is also her partner.
"We build things together but we also each have our separate business," she added. "Right now I'm building jewellery cabinets and he's building mirrors and floating shelves and all kinds of other things.
"We're moving away from a really stark kind of industrial material with hard edges towards more touchable, natural materials.
"People are spending more time with their furniture and want something high-quality that they can love."
And as well as purchasing handmade craft pieces, there are plenty willing to wield saws and hammers to create their own.
Vanessa's new workshop holds classes for those making their first tentative steps into the world of crafts.
"We've had people come to us and say they just want to learn how to turn a bowl, or just that they want to do something with their hands," she added.
"People have been sitting at their desks for months and now they want to learn how to make something tangible, so they come into the workshop to find out how it's done.
"And people will definitely become furniture builders from that experience. But I think that percentage is smaller than the people who just want to take a class and learn how to build a small thing.
"That's good, too, because I think once people know what goes into making these things we have often taken for granted, they'll value handmade furniture more."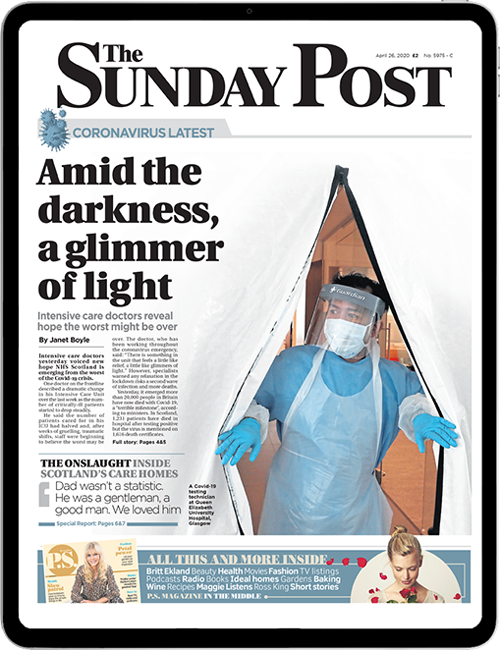 Enjoy the convenience of having The Sunday Post delivered as a digital ePaper straight to your smartphone, tablet or computer.
Subscribe for only £5.49 a month and enjoy all the benefits of the printed paper as a digital replica.
Subscribe