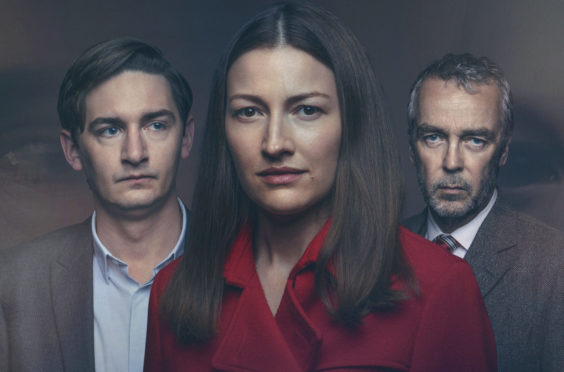 The producer behind Bafta-nominated programmes Elizabeth Is Missing and The Victim believes Scotland's booming TV drama industry will come back stronger than ever after the coronavirus lockdown.
Both shows were made in Scotland by STV Productions and the company's head of drama, Sarah Brown, says the country is "having a moment" when it comes to making high-end television drama. She says the trend will not be upended by the pandemic but the priority for drama production in Scotland is to create series that will come back again and again.
"There is a real resurgence of quality Scottish drama – shows like The Cry, The Nest, Deadwater Fell, The Victim – and that is brilliant," said Sarah, who joined STV Productions in 2014, after 16 years in London with the BBC. "It really feels like there's an opportunity right now and it's exciting to be part of it.
"A combination of things has happened that led to this. The BBC and Channel 4 have put their money where their mouths are in terms of commissioning a lot more from the nations and regions, and Screen Scotland's TV fund has been important – it invested in both Elizabeth Is Missing and The Victim.
"I also think viewers are hungry for dramas that take you into different worlds – there's now more of an appetite internationally for dramas not necessarily set where you live. The Victim has sold in 130 territories, while Elizabeth Is Missing has so far sold in 60."
Actors such as Kelly Macdonald, John Hannah and Jamie Sives, who all starred in The Victim, have been able to come home to work in recent times, having previously had to move away to pursue their careers. Sarah says that is a good sign, but more has to be done to entice the best talent to make Scotland their permanent home. "Sustainability is the key thing," she explained. "We need more returning series to do the job Taggart once did – to create jobs for crews and actors to make a good living in Scotland.
"The key thing for producers is to find shows that return again and again, and to create a real production industry here. That's our goal and it's beginning to happen. As far as STV Productions, we needed to re-establish ourselves and show what we could do, to say, 'Look at how we can be trusted to create a returning show for you'. Making something sustainable is the Holy Grail."
Sarah describes STV Productions as being like any other of the 300 independent drama companies in the UK jockeying for contracts. Both The Victim, which is vying for best mini-series at next month's Baftas, and Elizabeth Is Missing, nominated for best single drama and best actress for Glenda Jackson's performance, were made for the BBC.
"People assume we only make for ITV, but we do, for example, Antiques Road Trip for the BBC, Inside Central Station for BBC Scotland, and have done dramas for Channel 4, Channel 5 and Sky.
"We're in competition with nearly 300 companies in terms of winning contracts, but we feel our Scottish identity helps us to stand out. Scotland definitely punches above its weight when it comes to talent, particularly in acting, which is exported around the world."
With no new dramas due to begin filming until next year, this next period will allow Sarah's team to observe how other productions adapt to filming in a socially distanced environment.
She said: "A lot of work is going on around the approaches and testing will be a part of that. I also think it will affect how scenes are written – the number of extras used, moving scenes outside because the risks are lower, and so on.
"Sex scenes will be difficult in the future, frankly, unless it's between actors who happen to be couples. Already we've seen Staged, which was filmed during lockdown, feature real-life partnerships. I think if you're part of an acting couple, there will be lots of work for you in the next couple of years."
Sarah doesn't believe there is a demand for a swathe of shows based around the coronavirus pandemic. "My instinct as a viewer is people don't want to watch shows about it. But it will be horses for courses. It's part of our new reality so it would be strange not to acknowledge it. It's hard to predict what the world will look like by the point a show goes to air. It will be on a programme-to-programme basis."
With TV channels already filled with repeats, there is concern over a destitution of originality in the forthcoming schedules. But Sarah doesn't believe it will be as bad as some expect, predicting an autumn lull followed by a strong spring. "It depends on where dramas were on the cycle when they were shut down," she added. "I imagine some shows will have to be pushed into next year.
"Autumn TV won't look like how it usually does, which is traditionally when the big dramas are launched. There will be a lull, but not for as long as some might think. Producers are problem solvers, and the creativity I've seen in finding ways to still make interesting shows has been incredible."