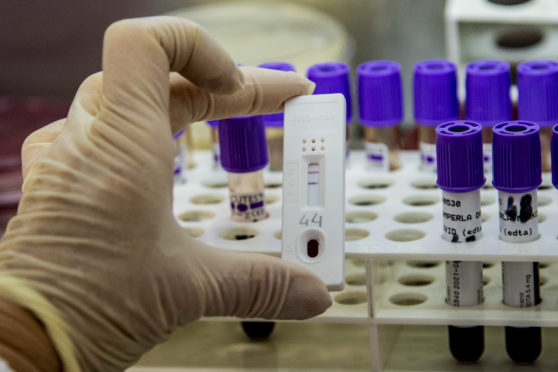 An urgent inquiry must identify failures around the official response to the Covid-19 pandemic within months to help prepare for a second wave, Scotland's former chief scientific adviser has said.
Professor Dame Anne Glover said it would be "inexcusable" for ministers to repeat "mistakes that have already been made" should there be a second spike of cases this winter.
Her comments come as 27 medical and scientific experts signed a letter warning many more Britons may die if solutions are not found to "some of the structural problems that have made implementing an effective response so difficult".
Prof Glover said: "Given that second wave is likely to come at a time that is likely to coincide with seasonal influenza, we really need to understand what the failings have been in our apparent inability to be able to deal with this pandemic appropriately."
The UK Government and Scottish Government have largely pursued the same policies in response to the pandemic with some variation around the lifting of lockdown. A series of exercises, including Silver Swan in 2015 and Iris two years ago, brought together Scotland's public health and emergency services to assess readiness for a pandemic but critics say the lessons were not learned.
Yesterday, Prof Glover said the UK could be faced with "very many more needless deaths" during the winter without a "rapid and transparent" inquiry.
She said: "This inquiry needs to be delivering in a matter of months, not a matter of years, because the purpose of it is to ensure we do not make the same mistakes should we get a second wave of the virus."
Meanwhile, Scottish Labour has called for an independent investigation to be launched into the spread of coronavirus in hospitals after it emerged more than 900 patients were infected while in for other treatment.
Some 908 patients caught the disease in non-coronavirus wards, with at least 218 dying since the start of the outbreak.
Scotland's Health Secretary Jeane Freeman has been accused of keeping the true figure a secret "for as long as possible" after initially stating on Thursday there were only 125 "incidents" of suspected Covid-19 transmission in hospital.
The Scottish Conservatives have also called for Ms Freeman to make an urgent statement to Parliament, accusing her of attempting to mislead the public.
Monica Lennon, Scottish Labour's health spokeswoman, said: "The whole time they've been telling the public to stay at home to protect the NHS they failed to mention that the virus was spreading through our hospitals. An urgent independent inquiry is needed."
A Scottish Government spokesman said: "Any claims that the Scottish Government has sought to mislead or hide figures are utterly unfounded."
"We are committed to transparency and openness while ensuring that all figures that are published have first been robustly validated to ensure accuracy."