One of Scotland's leading pathologists has questioned police officers' decision to let tragic student Scott Calder wander off alone after a night out.
The body of the 23-year-old student, who had been drinking heavily, was found hours after officers say they dropped him at a bus stop.
Forensic pathologist Anthony Busuttil, 73, said if Scott, who was picked up by officers alerted by worried members of the public, had not been left alone by police in East Lothian he may have survived.
The former forensic medical examiner to Lothian and Borders Police said, given Scott's condition, officers should have taken him home or to a police station or hospital.
Professor Busuttil, one of Scotland's most respected pathologists, who has given evidence at a series of high-profile criminal trials, said: "He should have been taken to a place of safety. He was very, very drunk."
Scott's death certificate states the cause of death as a combination of alcohol poisoning and immersion in water. He had also taken cocaine, according to post-mortem tests. Professor Busuttil, the Regius Professor of Forensic Medicine Emeritus at the University of Edinburgh, said: "His legs were bare, so that would tend to suggest he's losing heat. With the alcohol on board and the water around, that would make things much, much worse for him. It was a recipe for disaster."
The student had been picked up by police after leaving a beer festival at an East Lothian stately home on October 13 last year.
However, officers say they left him at a bus stop on the outskirts of Port Seton even though he was struggling to walk or talk and wearing only flimsy Lederhosen fancy dress. His family believe he was abandoned without a mobile phone or enough money to use public transport.
His body was found on Longniddry beach at 7.45am the next morning. His family, who are campaigning for a fatal accident inquiry, claim the police officers who picked him up near the Octoberfest event at Gosford House should not have abandoned him. They also question why police initially, and wrongly, told them he had been dropped off in the centre of Port Seton.
Police Scotland reported the circumstances to Kate Frame, the Police Investigations and Review Commissioner, but after a preliminary review her team decided no investigation was necessary and that officers had acted "appropriately". The Crown Office chose not to report the circumstances to PIRC.
In January, Scott's mum Karen, who lives in Ayr, said police told her Scott was "being evasive" before they left him next to the beach where he was found dead.
She said: "They probably thought he's been at this do, he's had a few drinks. Let's just leave him here. I don't think he was in a fit state to be left. If they had done one thing differently we wouldn't be having this conversation." Yesterday, PIRC said: "Following our assessment of the evidence, we are satisfied that Police Scotland's actions were appropriate and that this is not a matter for us to investigate." Meanwhile, the Crown said: "The investigation under the direction of the Scottish Fatalities Investigation Unit is ongoing."
Chief Inspector Stuart Reid said: "When we receive the Crown's response, arrangements will be made to fully update the Calder family with the outcome and discuss the circumstances surrounding Scott's death."
---
"He was very drunk"
According to sources with knowledge of Scott's final hours, the student had been drinking heavily before attending the Oktoberfest event with friends from Napier University where Scott was a member of the rugby club.
They said Scott and his friends had drunk Buckfast tonic wine before going out and drinking at least eight steins of beer – the equivalent of 16 pints – at Gosford House in East Lothian before finishing with two rounds of double vodkas.
---
Pathologist's illustrious career covered biggest cases
Professor Anthony Busuttil is one of Scotland's leading forensic pathologists and has had an illustrious career involving many of the most important judicial investigations and criminal trials.
The scientist, now 73, was tasked with identifying all 259 passengers and 11 Lockerbie residents who died after Pan Am Flight 103 was blown out of the sky in 1988.
In 1996 Professor Busuttil worked in the aftermath of the Dunblane Primary School tragedy, later describing the investigation as "the hardest thing I ever had to do".
He has also been an expert witness in some of Scotland's most high profile murder cases, including the killing of teenager Jody Jones by Luke Mitchell in 2003, and the crimes of serial killer Peter Tobin.
Born in Malta, Professor Busuttil was awarded Membership of Order of Merit by the President of Malta in 1998 and was recognised in the New Year's Honours List in 2000 with an OBE.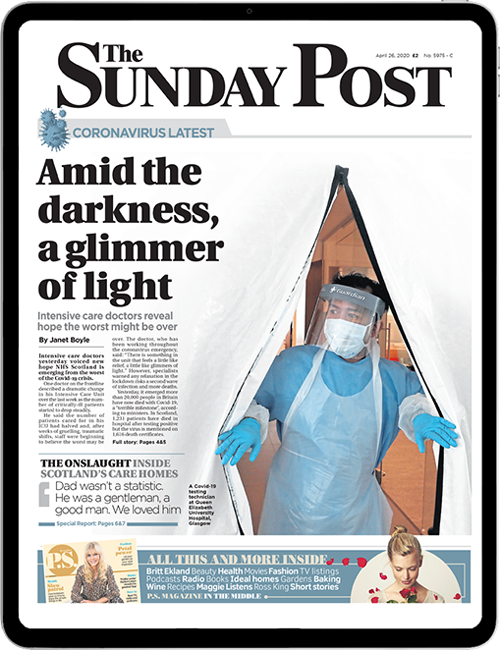 Enjoy the convenience of having The Sunday Post delivered as a digital ePaper straight to your smartphone, tablet or computer.
Subscribe for only £5.49 a month and enjoy all the benefits of the printed paper as a digital replica.
Subscribe