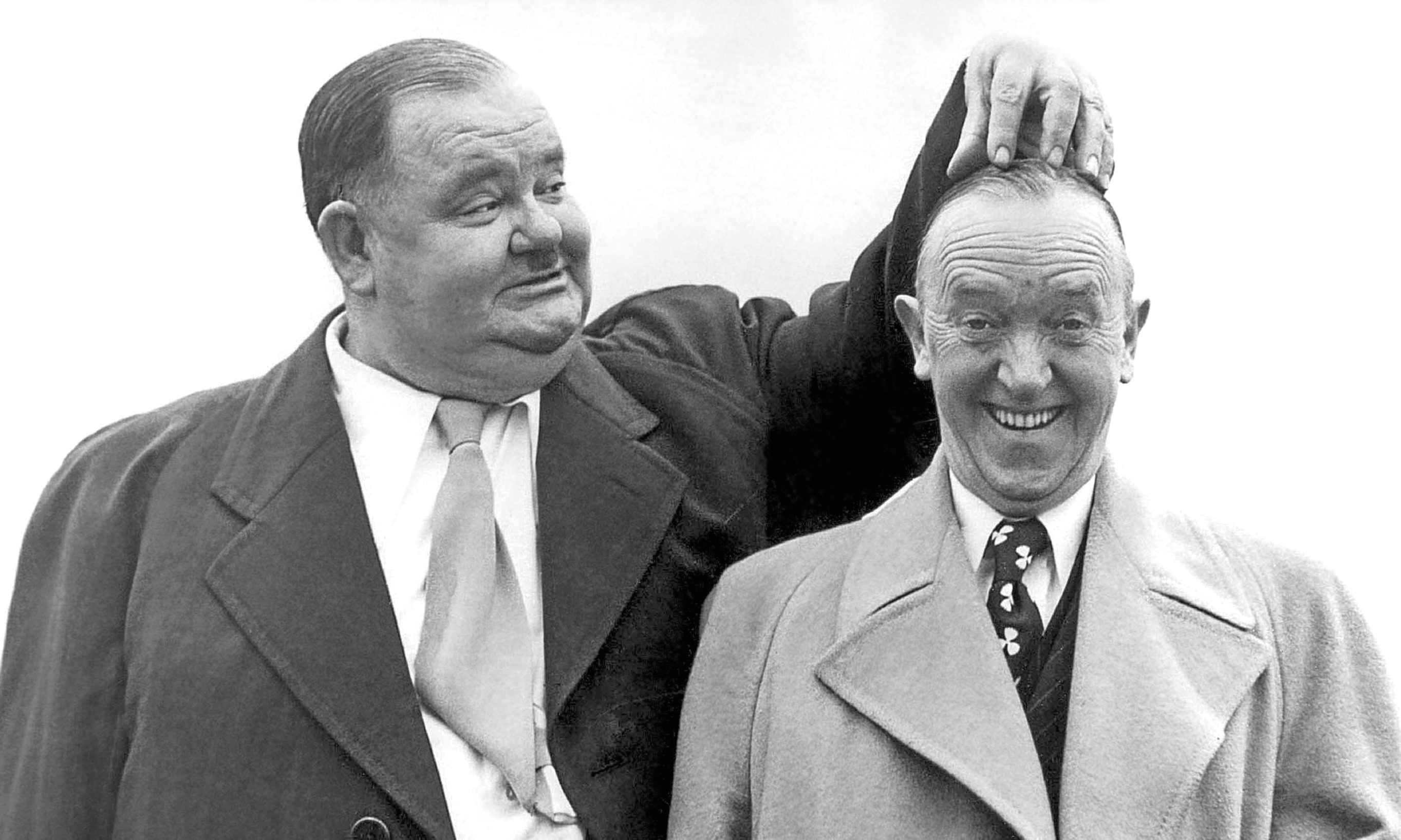 YOU may not recall Putting Pants On Philip, but it was the start of something very big 90 years ago.
It was in 1927 that a certain Stan Laurel and Oliver Hardy got together for the first time as a comedy double act, and boy, did their partnership work well!
In that largely-forgotten debut, English-born Laurel appeared in kilt and full Scottish Highland dress, with his exasperated American uncle, Hardy, desperately trying to get him to try trousers.
Ollie played the wonderfully-named Piedmont Mumblethunder, and there is a striking Marilyn Monroe-like scene in which Philip stands over a grate, only for his kilt to blow up and leave several American ladies fainting.
A daft idea, like the plots many people would write for them — but when Laurel and Hardy came together, laughter would follow, guaranteed.
Sadly, this year is also the 60th since Hardy passed away, aged 65.
His sidekick would live to 74, a few years after getting a Lifetime Achievement Academy Award. Together, they have often been voted Best Comedy Double Act Of All Time.
It's fascinating to get some Laurel and Hardy on for today's kids, and you will note that many a skit from 80 years ago, or more, still makes all age groups giggle.
This is mainly down to the brilliant chemistry, with the usually-frustrated and raging plump man being driven round the bend by the hapless, childlike thin man.
They were box-office gold and ruled the world together.
Funnily enough, both had done tons of work before being teamed together, with Stan having established his film career in more than 50 movies.
Ollie had been in lots more!
It seems many a studio boss missed an incredible chance, when you think they appeared together in 1921 comedy The Lucky Dog.
It would take a further six years before anyone figured, hey, this pair are good together.
Stan was born Arthur Stanley Jefferson a long way from Tinseltown, at his grandparents' home in Ulverston, Lancashire, in 1890.
His parents were heavily involved with theatre and often so busy, he didn't see much of them, and his father's work took the family to Glasgow.
They always say if you can survive a Glasgow crowd, you'll do OK anywhere, and Stan took his first performing steps here.
Stan would be known at first as Stan Jefferson, but soon decided that was an unlucky 13 letters, and opted for the Laurel name that would become synonymous with world-class comedy.
He arrived in the United States alongside Charlie Chaplin, a member of the same entertainment troupe, but could never have dreamed of the success ahead.
Norvell Hardy, the future Oliver, was two years younger than Stan, born in Harlem, Georgia, and had a Confederate veteran father — Oliver — who'd been wounded in the Civil War.
Emily, his mother, had been married and widowed before she fell for his father.
Oliver would take his dad's name after he died before Ollie was a year old, and his early life was touched by further tragedy when his brother drowned, despite Oliver dragging him from a river and attempting to resuscitate him.
Like Stan, he had a different stage name early on — an Italian barber would often say, while applying talcum powder to his chubby cheeks: "Nice-a baby!" and he became known as Babe Hardy!
Many of us know The Marx Brothers' classic film Duck Soup, but Laurel and Hardy would also have a hit with their own comedy of that name, one of their other successes in that landmark year 1927.
Fans remember Laurel and Hardy as Holywood films movie starring Steve Coogan
The Battle Of The Century was another, and in the years to come, the likes of Another Fine Mess, Brats, Blotto and others would bring one success after another.
Definitely makes you wonder how nobody put them together years before!
All in, they'd go on to appear in 107 films, 32 short silents, 40 shorts with sound, 23 full-length features, and a dozen guest appearances in others' work.
On December 1, 1954, they even made a TV appearance together, when they were taken by surprise for the US This Is Your Life.
It's hard to pigeonhole their humour as the slim guy failing at things, and the fat guy getting mad at him.
In some films, there are surreal moments, such as Stan lighting an imaginary lighter, and smoking an imaginary pipe. He called this stuff White Magic, and it pops up here and there throughout their career.
You have to go back to 1885 for another thing that appears in many a classic.
"Well, here's another nice mess you've gotten me into!" was uttered in The Mikado long before Ollie used it, but he made the phrase his own.
A large part of all of that magic, of course, comes from the brilliant comedy mind of Stan Laurel.
Although there were several top writers hired, Stan would often tear up their scripts and rewrite them.
His rotund colleague wasn't in the least bit envious, pointing out: "Just doing the gags was hard enough work, especially if you have taken as many falls and been dumped in as many mudholes as I have! I earned my money."
Many stress that Laurel and Hardy managed to successfully straddle both the Silent and Sound eras precisely because most of their gags and routines were so visual.
Stan's weeping and Ollie's rants might have been funny to hear, but they would have worked with the sound down just as well.
Unaccustomed As We Are, from 1929, saw them poke fun at themselves and the early speaking actors.
The title came from "Unaccustomed as we are to public speaking," and our heroes spoofed the whole Sound thing with a deliberately slow, silly talking style.
Despite losing lots of his weight, Ollie would be hit by multiple heart attacks in later life, while Stan struggled with prostate problems.
But it is nice to know that they at least had some years after their heyday, to sit back and look at all their awards and millions of fans and appreciate just how utterly adored they were.