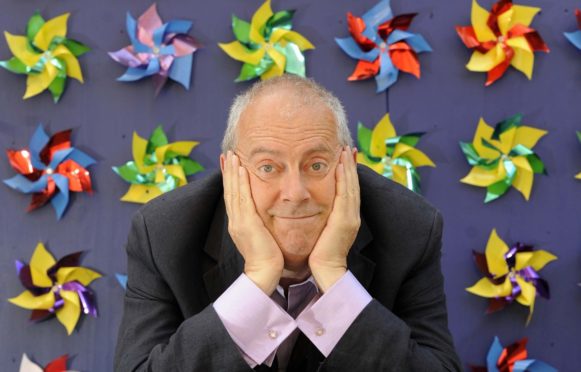 He is often regarded as the quintessential Englishman but Gyles Brandreth has revealed his funnybone was forged in Scotland.
The actor, writer, TV presenter and former politician has been collecting – and writing – jokes all his life, and now, in these difficult times, he has gathered them together in a collection he describes as both the best and worst joke book in the world.
From his love of DC Thomson comics like The Dandy and Topper in his childhood, to idolising Scots comedy greats Duncan MacRae and Stanley Baxter, to having his life changed at the Edinburgh Fringe, Gyles, 72, says he has always looked north for laughs.
"My mother's family was from Glasgow and, growing up in the 50s, I used to read all the Dundee comics and collect the jokes from them," explained the former Conservative MP.
"The first letter I ever sent to someone who wasn't a family member was to DC Thomson. I sent a joke – it was a joke about a joke…have you heard the joke about the pancake? Probably not, it fell flat.
"As a child, one of my role models was Duncan MacRae, who was a wonderful man. He had this lugubrious manner and waved his fingers around while performing these extraordinary poems. I tried to learn the poems of William McGonagall as a child. Duncan used to do similar poems and was hilarious.
"I worked on some books together with Kenneth Williams and one of his best friends was Stanley Baxter. I got to know him and went to see him in Mother Goose at pantomime. I thought he was the funniest man I'd ever seen. There is no doubt Stanley's Mother Goose is the greatest panto performance since Dan Leno, the English comic who was the first Mother Goose in 1902.
"Stanley told me a couple of Scottish knock knock jokes that I've included in the book. Knock knock. Who's there? Thistle. Thistle who? Thistle'll be the last time I knock on your door. And then there is The Krankies. I used to go to their shows, but then they told me about their swinging lifestyle, so my wife stopped me, she said it would lead me into temptation and was too dangerous."
Gyle's love of jokes can be traced back to his father.
"Everything he did was full of jokes, so I was brought up on them. He had a collection of joke books I loved.
"I remember he had a dribble glass, which was a crystal glass with little cuts in it, so whenever you drank from it, you dribbled. My sisters were 10 years older than me and when they brought their boyfriends round, he would give them the dribble glass."
When Gyles and his wife, Michele, had three children, he dusted down his dad's joke books, which were from the Victorian era. But Michele said some of the jokes were politically incorrect and threw them out, so Gyles began writing his own, as well as collecting them.
After complaining about the quality of jokes in Christmas crackers, a manufacturer employed Gyles in the 70s to write his own. He then wrote jokes for Kellogg's Rice Krispies cereal boxes. He amassed piles of notebooks full of wisecracks, and when lockdown began he went into the basement and dug them out, both to entertain his seven grandchildren and with a view to compiling a definitive book.
And scientists now back up his long-held belief that even bad jokes are good for us. "Recent research by Oxford University and Aalto University in Finland has shown that not only is laughter good for us, but groaning at bad jokes is too, because it's something we do as a collective, a community."
At this time of year, Gyles would usually be spending the month in Edinburgh at the Fringe.
"I lost my seat when Tony Blair came in and I didn't know what to do, and a friend said I should go to the Fringe. I thought they would loathe me, but my friend said they didn't know what a Conservative MP was up there because it had been so long.
"I did a show called Zipp, which was 100 musicals in 100 minutes, and we received a standing ovation and won awards. Since then, for the last 20 years, I've been a regular. It's been a wonderful thing for me – it was like being reborn. It's strange not being there. I always associated the Fringe and Edinburgh with Nicholas Parsons, who last appeared on stage there last year. He was actually taken ill there and I had to host a couple of Just A Minute shows in his place.
"We would take a flat up there, go for dinner together and have good times. He carried on until he was 96, which is not a bad innings. He was a great role model. If I can equal his record, I'll still be appearing at the Fringe in 2045."
What's Black And White And Red All Over? is published by Puffin.
---
Funny ha ha?
Here are just a few of Gyles Brandreth's favourite jokes as featured in his new book of gags that may be so bad they're good…or just so bad.
A team of small animals and a team of big animals decided to play football. During the first half of the game, the big animals were winning 2-0, but during the second half a centipede came on the pitch and scored so many goals that the small animals won the game. When it was over, the captain of the big animals' team (a gorilla) asked the centipede where he was during the first half. The centipede says: "Putting on my boots".
Knock knock
Who's there?
Mikey
Mikey who?
Mikey doesn't fit in the keyhole!
Knock! Knock!
Who's there?
A little old lady A little old lady who?
Wow, I didn't know you could yodel!
Why did the giraffe do badly at schools?
He had his head in the clouds.
What do you call a bear with no ears? B
What has four legs and goes "Oom, oom"?
A cow going backwards.
Which animal is out of bounds?
An exhausted kangaroo.
"Waiter, there's a dead fly in my soup!"
"Don't be silly, dead flies can't swim."
Father Tortoise ordered vanilla ice cream, Mother Tortoise ordered strawberry ice cream and little Tommy Tortoise ordered chocolate ice cream. The family was just about to start eating when Father Tortoise said: "I think it's going to rain. Would you pop home please, Tommy, and fetch my umbrella?" Off went Tommy. Three days later, he still hadn't returned. "I think," said Mother Tortoise to Father Tortoise, "that we had better eat Tommy's ice cream before it melts. A voice from just by the café door yelled out: "If you do that, I won't go".
"Doctor, doctor, I can't get to sleep."
"Lie on the edge of the bed and you'll soon drop off."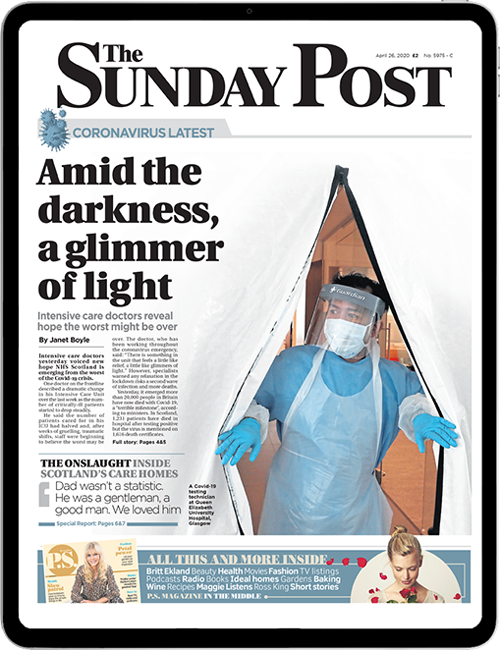 Enjoy the convenience of having The Sunday Post delivered as a digital ePaper straight to your smartphone, tablet or computer.
Subscribe for only £5.49 a month and enjoy all the benefits of the printed paper as a digital replica.
Subscribe