She is a top forensic scientist who has helped crack some of Britain's toughest and most monstrous murders.
Evidence provided by Professor Angela Gallop and her teams were key to solving the murders of Stephen Lawrence and Damilola Taylor. And it was their findings that finally put behind bars the real killers responsible for the slaughter of both Lynette White and Rachel Nickell.
Her entry into the gruelling world of forensics as a fresh-faced "apprentice" in 1974 saw her probe the depraved murder of a woman by her crazed husband, followed by her first crime scene – the Huddersfield wood yard where the body of 18-year-old Helen Rytka had lain after being butchered by Yorkshire Ripper Peter Sutcliffe. There have been many horrors since.
But 45 years on from her bloody baptism with the then-Home Office Forensic Science Service, the 69-year-old scientist-turned-author, who will appear at the Bloody Scotland crime writing festival, admits: "Although I have never been afraid of my work, it has affected me.
"I don't like to walk on my own in isolated areas in the countryside and I absolutely would not walk about the city late at night in the dark.
"I think it is simply because I have seen too many bodies in too many different sites. While I don't think of individual bodies, I think of the general circumstances.
"It can be the most beautiful countryside and I love it when I am with somebody. It's just on my own that I don't like it. I think it has wrecked me to that extent. I am sure I wouldn't have been like this if I hadn't done what I have done." When The Dogs Don't Bark – her authorial debut – is a review of her career, and it's not for the faint-hearted.
The Oxfordshire-based professor, who is strategic director of forensic science at Strathclyde University and chief executive of Axiom International providing forensics, security and justice services worldwide, says she had no difficulty reliving the crimes for the book.
"If I had a problem emotionally I don't think I would be doing the job I've been doing. But when I first started doing it, I did worry about whether or not I would be able to cope.
"The first case I had was horrific; a man who was exorcising his wife and their pet dog because he thought they were possessed of evil spirits. He basically pulled her to death with his bare hands.
"I had only been in the lab a few days. I remember thinking, 'I don't know if I'll be able to cope with all this.'
"But quickly, what took over was an interest in 'what am I going to find?' Very shortly after that – as soon as I got a bit of skill and knowledge – came the 'I've got to help.'" It is likely she has inherited her dogged pursuit for truth and justice from her own mother whose forebears were Scots.
She reveals: "She was a Baines from Nottingham. But her ancestors were Langbaines from Scotland – or Longbones. I am intimately connected with the University of Strathclyde."
Professor Gallop says an inspirational teacher and a love of botany turned her academic life around. She joined the world of forensics after replying to a Home Office ad in a newspaper.
But the scientist fears cuts are undermining forensics services south of the border.
She cites a House of Lords review which shows 80% of forensic work is now conducted by police forces themselves, rather than outsourcing them to experts who are independent and quality standard-led.
She fears this can increase the risk of bias and wrong conclusions being drawn.Scotland, she says, is faring better with its forensic science services which have been taken out of the direct control of police forces and transferred to the Scottish Police Services Authority, a government body.
"In Scotland they have also integrated fingerprints and scenes of crime examination with other aspects of forensics – which I have been calling for for a long time for England and Wales. It's an obvious and excellent idea."
The avid gardener and opera lover admits: "As a girl I never would have believed I would be doing this."
---
Angela Gallop will appear at Bloody Scotland at Albert Halls, Stirling, on Sept 22. When The Dogs Don't Bark, Hodder & Stoughton, £20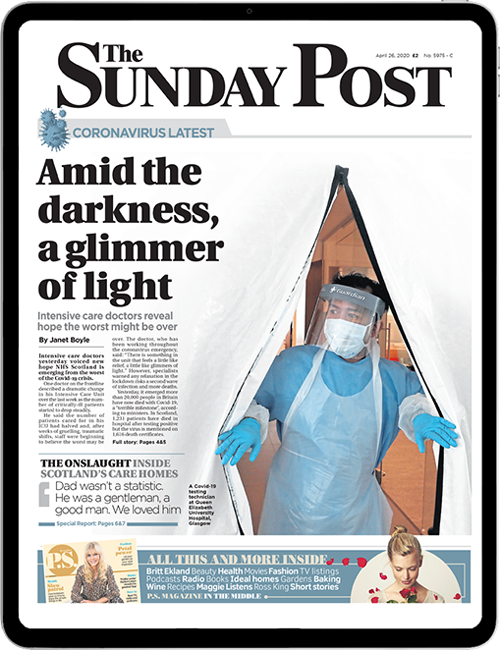 Enjoy the convenience of having The Sunday Post delivered as a digital ePaper straight to your smartphone, tablet or computer.
Subscribe for only £5.49 a month and enjoy all the benefits of the printed paper as a digital replica.
Subscribe