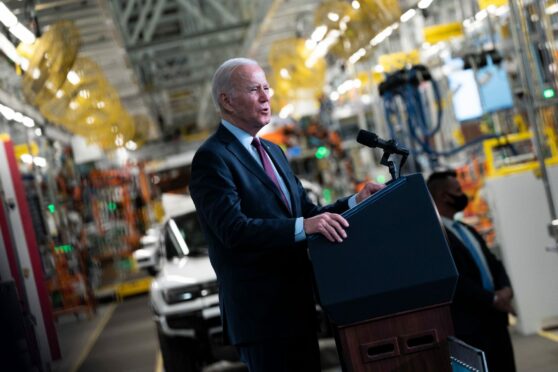 At the Cop27 environment summit next month, US climate envoy John Kerry might be forgiven for having a degree of swagger in his walk.
The talks in Egypt will come three months after President Joe Biden signed into law America's biggest climate bill, which contains £321 billion in funding for clean energy and electric vehicles.
For a nation that is the biggest ­carbon ­polluter in history, it was a major achievement expected to ensure the US has the credibility to persuade China and other nations to lower their emissions.
But even the name of the bill points to the challenges of it being accepted in the US, where large parts of the population are hooked on big cars and climate-change scepticism. This is, after all, the land where some influential Republicans regard the solution to the energy crisis as, in the words of former vice-presidential candidate Sarah Palin: "Drill baby, drill!"
The Inflation Reduction Act barely reduces inflation but was given the name by Democrats in a Trumpian piece of branding to make it more palatable to voters.
Experts and analysts told The Sunday Post that, while the law is a giant leap forward for tackling climate change, the cultural challenges demanded are significant.
The legislation seeks to tackle America's record as the nation responsible for a third of the carbon dioxide heating the planet despite having just 4% of its population.
Although it is no longer the world's single largest emitter of greenhouse gases – that would be China – the US is still historically responsible for more pollution than the entire European Union put together.
Previous US attempts at serious climate change policy have been ­torpedoed by lobbying from the powerful fossil fuel industries, which have close ties to senior Republicans and Democrats.
This time is different. According to an analysis by the Rhodium Group, the laws will cut pollution by about 40% below 2005 levels by 2030, keeping the US on track to hit the targets of the Paris Accords that Biden signed America up to.
There is £53bn for investing in solar panels, batteries and other clean technology. For the first time there will be limits on methane leaks and penalties for excessive emissions of the highly damaging gas.
Another £4.4bn will support fire-resilient forests and forest conservation while £24bn will be allocated for a National Green Bank to finance clean energy technologies.
For consumers, the act offers up to £6,600 towards the purchase of an electric vehicle and a 30% tax credit for installing residential solar panels. Homeowners can apply for up to £12,000 for home energy efficiency upgrades, more than half of which is for a heat pump alone. All said, these changes could save an average family £1,650 per year on their energy bills.
The legislation was passed with the Democrats' razor-thin majority in Congress and to keep all Democrats onside contained measures that angered some environmentalists. These included forcing the US Government to lease at least 60 million acres – an area the size of Michigan – for oil and gas before any leases can be issued for offshore wind development. Meanwhile, tax credits for carbon capture could extend the life of dirty coal plants.
Alice Hill, a senior fellow for energy and the environment at the Council on Foreign Relations, said she was sympathetic to the compromises. "Making legislation is like making sausage," she said. "You don't want to have to look too closely at what's included to reach a compromise. It's a political process, it's messy and nobody gets what they want.
"Are you better off in the long run? Yes. There is no question this is a giant leap forward for climate action."
The first major challenge for the act will be implementation. The White House hopes 50% of new cars will be electric by 2030 but the lack of charging stations could hamper that. Currently there are just 50,000 across the US, 10% of the goal for 2030. Even if that target is reached, it may not be enough coverage for electric ­vehicles to make long-distance trips.
Then there is the challenge of ­hiring enough people for all the work in a tight labour market – even the US Government will have to go on a hiring spree. The Environmental Protection Agency will need thousands of staff to manage the more than £35bn it got from the legislation.
Local and state governments will be responsible for spending a significant chunk of the money, which could prove challenging in those resistant to green policies. That's where the cultural factor comes into play.
According to the Pew Research Centre, 82% of Republicans think Biden's climate policy is going in the wrong direction while 79% of Democrats think the opposite. While 84% of Democrats are in favour of increasing use of electric vehicles, just 46% of Republicans gave them their backing.
So, how will the Biden ­administration sell the green revolution in places like West Virginia where, as Hill put it, coal is a "way of life"?
She said: "One of our challenges is lack of understanding of climate change at a very basic level. The polling is just brutal on the political divide when it comes to the environment. There's a demographic challenge as well. Older people don't do this with the same seriousness, especially if they're Republican and they have a lot of power in this country."
Then there is the challenge of ­persuading Americans to give up those giant SUVs and turn down their air conditioners. Peter Norton, an associate professor of history in the Department of Engineering and Society at the University of Virginia, said: "History demonstrates that Americans can change. Culture doesn't change so fast, but marketing can work wonders.
"The numbers indicate that, today, the children of millions of Americans who were quite wedded to their little, fuel-efficient Japanese imports are today wedded to their oversized SUVs. If we inherit most of our culture from our parents, then culture apparently is not the predominant factor in this.
"I feel sure that, for millions of Americans, a real car has a combustion engine. They will not switch easily, and the elected officials they vote for will ensure they don't have to. Almost half of Americans vote Republican and Republican candidates reassure these voters the climate emergency is nothing to worry about. It's ­perfectly horrifying but there we are."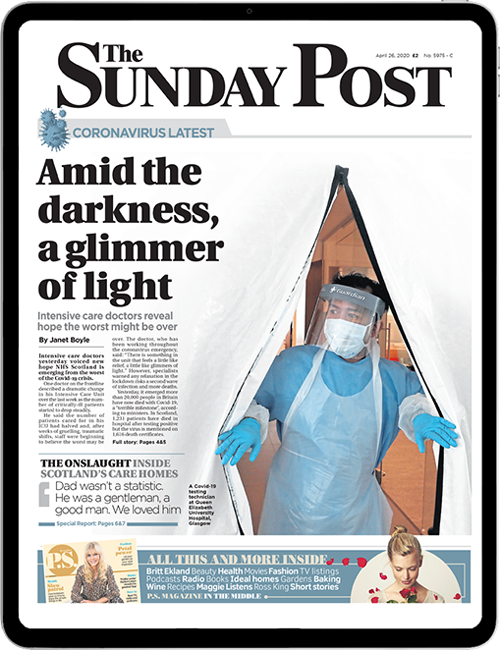 Enjoy the convenience of having The Sunday Post delivered as a digital ePaper straight to your smartphone, tablet or computer.
Subscribe for only £5.49 a month and enjoy all the benefits of the printed paper as a digital replica.
Subscribe